STEFANIE – Stefanie (2017)
And here's comes a great surprise this year; "STEFANIE", the fantastic debut cd from American female singer Stefanie Johnson, yet released by a UK record label. It happens that the woman does classy AOR / melodic rock, a style not so much appreciated by the current US musical industry.
Singing and writing songs since a young girl, Stefanie Johnson hails from the Lehigh Valley region of Pennsylvania. Her professional musical experience is varied and significant: performing at Allentown's popular Musikfest, appearing in local television station WLVT's Steel Sessions, performing at Nashville's legendary Bluebird Cafe and 12th & Porter, and then on to perform at the Rock and Roll of Fame in 2011.
This year she releases her self-titled debut album, "Stefanie", through England's Escape Music specialized label.
To describe her voice, Stefanie has a bold melodic presence, both strong and smooth. Her style ranges from a classic rock singer to soaring pop diva, and you may hear that American FM AOR waves as well.
Similarly, her music and songwriting style traverse those same motifs. It would be fair to drop her music into the overarching genre of AOR / melodic rock without diminishing either her talent or the depth and breadth of her songs.
Suffice to say, you will be captured by both her voice and her music, equally and exceptionally paired together.
As for the songs, there's simply not a runt in the litter or, stealing a cliche used often in hard rock and heavy metal: it's all killer and no filler.
Certainly, I can say that I liked some songs over others. But considered as a whole, these eleven tracks are beautifully well-crafted and pleasing AOR / melodic rock tunes.
You get some fine rockers with 'All I Know', 'Stranger', 'Master Of Disguise', or the very catchy 'One Life'. Something more akin to '80s pop with a melodic rock envelope comes with 'Everything You Need' with it's playful piano line.
Then you get to hear Stefanie's smoother and softer side, yet wrapped in her powerful vocal presence, with anthems and ballads such as 'Word Man', 'Hello Love', 'The Song I Was Meant To Write' and 'We Will Fight'. Those last two showcase the emotion in her voice and, for you guitar fans, the latter has a killer guitar solo.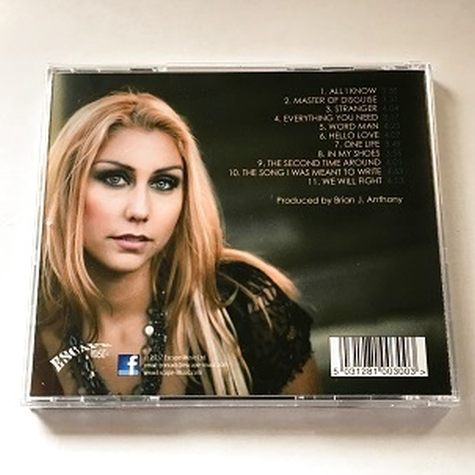 It's pretty much all good. Stefanie Johnson's self-titled debut is an exceptional album of delightful AOR / melodic rock, featuring her immense vocal talent within well-crafted songs and a crisp production.
They do not make albums like this anymore, so if you love that classy late '80s female fronted sound & melodies with an updated touch, "Stefanie" is must.
HIGHLY Recommended
01 – All I Know
02 – Master of Disguise
03 – Stranger
04 – Everything You Need
05 – Word Man
06 – Hello Love
07 – One Life
08 – In My Shoes
09 – The Second Time Around
10 – The Song I Was Meant to Write
11 – We Will Fight
Vocals – Stefanie Johnson
Acoustic Guitar – Paul Franceschini
Guitar, Bass, Drums, Keyboards – Brian J. Anthony
Special Guests:
Guitar – Paul Crook (Meat Loaf), Ken Dubman (Prophet)
Keyboards – Charlie Calv (Shotgun Symphony, Punky Meadows)
Backing Vocals – Hasan Smith, Tonya Price, Shekinah Glory Kee
BUY IT !
www.nehrecords.com/SHOP/StefanieStefanie.htm
.