THE MUTE GODS – Tardigrades Will Inherit The Earth (2017)
I didn't listening to THE MUTE GODS first album, but according to the press release, for their new album "Tardigrades Will Inherit The Earth" (to be released at the end of this week) the band aim of a heavier, more rocking tinged album.
The Mute Gods line-up feature some excellent musicians; Nick Beggs (Steven Wilson / Steve Hackett), Roger King (Steve Hackett) and Marco Minnemann (Steven Wilson / Joe Satriani), and their style basically go for progressive rock with lots of melody and a punchy, vibrant sound.
Indeed, on a track like 'We Can't Carry On' you can hear the emphasis on heavier guitar parts and Nick Beggs singing in a heavier mode – but this isn't prog metal by any means. The overall sound is groovy, with a crisp production sound and a 'rocking' approach.
It's a very vital record and truly dynamic, despite the dark lyrics; it takes a look at the somber side of humanity and how we can't continue on our current path without devastating consequences.
A tardigrade, or 'water bear', is a tiny water dwelling micro-animal that can survive in the most extreme conditions. Hence the album's title as these fellows will inherit the Earth at some stage.
The title track is the most instant tune on here, reminding me a little of Rush. It has the sort of chorus you will remember after just one listen and the various musical nuances then reveal themselves on each subsequent play.
'Animal Army' is another a great song peppered with hard rock rhythms, all accentuated by a dramatic string section. As soon as Beggs' lofty vocals float in, it's clear that the trio put a premium on memorability, evident in the indelible chorus.
There is one little ray of light in the album on the closing track 'Stranger Than Fiction', a lovely piece of music and vocal that hopes that love can help in changing things for the better, even if just on a personal level.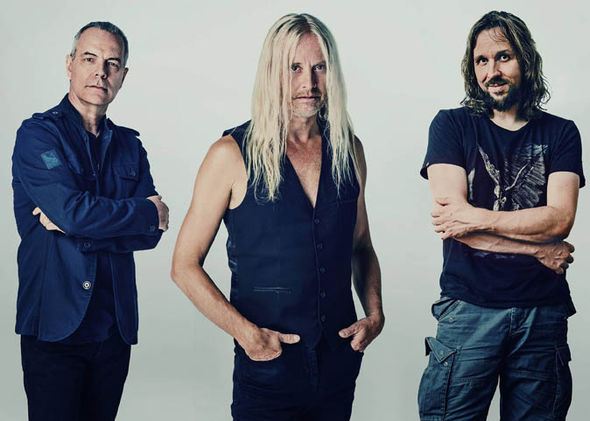 This is my first experience with this band and I must say it resulted truly impressive.
The Mute Gods are already something akin to prog royalty. Beggs / King / Minnemann are all tried and tested musicians, and it's impossible to imagine artists of this caliber ever creating something musically bad. Unsurprisingly then, the album smacks of quality through and through, full of intelligent lyrics and thoughtful compositions.
But I was expecting a relaxed prog album, and "Tardigrades Will Inherit The Earth" kicks some serious ass. It rocks, has lots of bright melodies, even catchy choruses.
Hopefully The Mute Gods will do another album as in a recent interview they said that would depend on how well this album was received and sold.
It certainly deserves a place in any modern progressive music fans collection, and also for those looking for more rocking stuff but with brains.
HIGHLY Recommended
01 – Saltatio Mortis
02 – Animal Army
03 – We Can't Carry On
04 – The Dumbing of the Stupid
05 – Early Warning
06 – Tardigrades Will Inherit the Earth
07 – Window Onto the Sun
08 – Lament
09 – The Singing Fish of Batticaloa
10 – The Andromeda Strain
11 – Stranger Than Fiction
Nick Beggs (vocals, bass, chapman stick)
Marco Minneman (drums)
Roger King (keyboards)
BUY IT
www.amazon.co.uk/Tardigrades-Will-Inherit-Earth-Mute/dp/B01NAQPUP6
.