FM – Atomic Generation (2018)
The mighty British AOR / Melodic Rock band FM will release their new album "Atomic Generation" on March 30, 2018 via Frontiers Music. FM's eleventh studio album was recorded at Coal House Studios in Staffordshire and West3 Productions, London, engineered by Scott Ralph and mixed by Jeff Knowler, who worked with the band's last albums.
This decade have seen a reformed FM provide consistently high quality product. Where some bands have failed, FM still has the bite, fire and desire to still knock out a great tune all these years later. Especially as they have the ace up their sleeve in one Steve Overland. Since they came back in 2007, they have been knocking one out albums what feels like every year. If there hasn't been an album then they have kept interest going with a few EPs along the way.
'Black Magic' starts the album in uptempo fashion, complete with catchy 'who-oahs', even if there is a bit too much going on including a funky mid-section groove, while the next two songs are among the closest the band have come to their AOR roots since the debut – 'Too Much Of A Good Thing' has the lush, soulful voice of Steve Overland at its finest, complete with backing vocals, while 'Killed By Love' has some classic late Eighties hooks on the chorus and sweet but concise solos from the ever tasteful Jim Kirkpatrick.
'In It For The Money' has a slightly beefier groove with blues-y overtones, one of the heavier songs on the new album. 'Golden Days', mining a nostalgic lyrical theme they have used on more than one occasion, is graced by a blissfully melodic chorus, big backing vocals and a rich sound which catapults you back to the mid 80's.
FM have never been above a bit of musical magpieship and the chorus of the sunny 'Make The Best of What You Got' is rather too obviously influenced by Bad English's near namesake, with some Bryan Adams also in the mix.
The recent FM touring activity with Foreigner seems to have had a musical influence on the intro to 'Follow Your Head' where another catchy chorus is followed by an outro in which Jem Davis' synth and Jim's guitar solos do battle, and again on 'Stronger' which kicks in on a fine keyboard intro from Jem, unleashing his inner Jon Lord.
'Do You Love Me Enough' is a remake from the days of The Ladder, whose 2004 album was at the time the closest us fans thought we would get to an FM reunion, and is a semi-ballad with prominent piano and an orchestrated feel that was well worth exhuming from obscurity.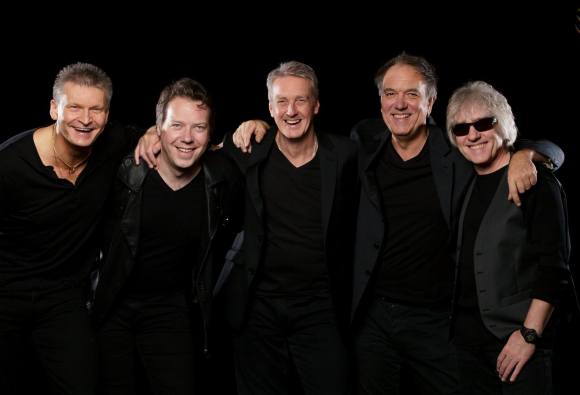 But the band's utter confidence in their own skin has led them to branch out into a few fresh musical directions – 'Playing Tricks On Me' boasts horns and has a soulful vibe somewhere between Santana's 'Smooth' and (gulp) The Style Council and 'Love Is The Law', a stripped back ballad with acoustic guitar and country-style picking, concludes another top album from the undoubted British standard bearers of melodic rock.
"Atomic Generation" is the most varied on the FM's post-reformation albums.
It packs 2 of the most pure '80s AOR-style tracks the band has recorded since their glory days – and that worth the album alone – but also at places the CD flirts with classic rock, bluesy arrangements.
Certainly a mature FM, and a clear example that they can wrote anything they want and make it sound great.
HIGHLY RECOMMENDED
01 – Black Magic
02 – Too Much Of A Good Thing
03 – Killed By Love
04 – In It For The Money
05 – Golden Days
06 – Playing Tricks On Me
07 – Make The Best Of What You Got
08 – Follow Your Heart
09 – Do You Love Me Enough
10 – Stronger
11 – Love Is The Law
STEVE OVERLAND – Vocals, Guitar
JIM KIRKPATRICK – Guitar
MERV GOLDSWORTHY – Bass
PETE JUPP – Drums
JEM DAVIS – Keyboards
Additional Musicians:
SCOTT RALPH – Horns on "Playing Tricks On Me"
CHRIS CLIFF – Cello on "Follow Your Heart"
PRE ORDER:
www.amazon.co.uk/Atomic-Generation-FM/dp/B078X941V4
.