KILMARA – Across The Realm Of Time (2018)
KILMARA are a five-piece from Spain formed in 2003. Now, with a new singer, the band are set to release their fourth album "Across The Realm Of Time" tomorrow August 31. Produced by skilled guitarist Roland Grapow (ex Helloween, Masterplan) who also play a couple of solos here, the album boast a powerful bright sound, with material ranging from traditional hard rock to melodic metal / light power metal.
'…And Into The Realm' is a dark and spine tingling, cinematic sub one minute intro, leading directly into the pulsating opener 'Purging Flames'. With a heavy sound owing its origin more to British classic metal than the European style, the song will immediately get your head nodding and ignite an adrenaline rush.
Foraging forwards, 'The Silent Guide' stands tall in both the hard rock and melodic metal genres, slugging it out between the two as it strides on at a midtempo pace.
Two songs in, two different styles, both solid, what will the third song have to offer…
'The End Of The World' offers a more energetic romp than the opening double, punching hard and rocking harder. Guitar legend Roland Grapow shows his skills with an exquisite opening solo to 'My Haven'. Not only is Roland a superb guitarist, he is also a record producer, and has in fact produced, recorded, mixed and mastered this album.
'My Haven' is bullish and full of hustle and bustle as it plows forward, offering an ear tingling addictive chorus break. 'Principles Of Hatred' twangs its way into life, becoming one of the heaviest songs on offer as it aggressively foot stomps forward. Retaining the addictive nature of the album, this track is a heavy, hard head banger of a song.
'The Forge' is indeed pretty crushing, aptly named given Javier Morillo's massive drum and cymbal work, not to mention the heavy if still melodic riffing from the twin guitars, all of which build to the huge catchy chorus led by Ponce's heartfelt vocals.
Speeding it up on 'Disciples' while switching towards the guitars backed by faster bass and double bass drumming, the melodies are certainly not forgotten with lots of epic passion throughout despite the powering furore.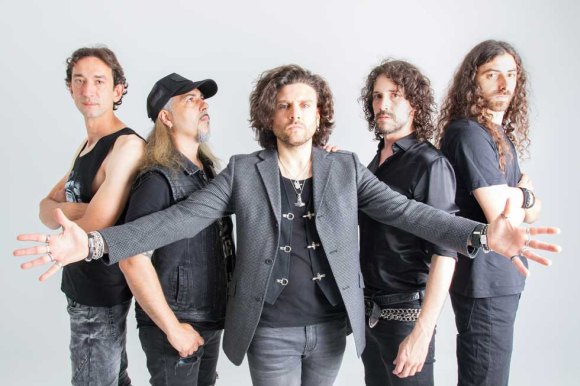 Slowing things and entering ballad territory, 'I Shall Rise Again' is mellow and features an exquisite vocal performance by both Ponce and Surmova , both vocalists exuding tons of soul and passion, along with a more contemporary singing style that fitted remarkably well into the melodic metal core of the band.
Bringing the album to an end is the grooving romp of 'Out From The Darkness', a last minute punchy rush as the album comes to a close.
Mostly midtempo paced, melodic and quite catchy, "Across The Realm Of Time" is an effective fifty-minute foray of both European and British styles of melodic metal / hard rock.
For a band relatively unknown internationally if respected locally, "Across The Realm Of Time" will do a lot to give Kilmara some well deserved exposure hopefully as great as inherent in this very, very well crafted album.
Strongly Recommended
01 – …And into the Realm
02 – Purging Flames
03 – The Silent Guide
04 – The End of the World
05 – My Haven
06 – Principles of Hatred
07 – The Forge
08 – Disciples
09 – I Shall Rise Again
10 – Out from the Darkness…
John Portillo – Guitar
Kike Torres – Guitars
Dani Ponce – Vocals
Javier Morillo – Drums
Didakio – Bass
with:
Jordi Longan (ex Ipsilon) – guest Keyboards
Viktorie Surmova (Surmatra, Rosa Nocturna) – guest Vocals
Roland Grapow (ex Helloween, Masterplan) – guest Guitar, Producer
PRE ORDER:
www.amazon.de/Across-Realm-Time-Kilmara/dp/B07F3NZVCY/
.