ARENA – Double Vision (2018)
And here's another album released during the just extinct 2018 that we didn't featured here but you really need to hear; ARENA's "Double Vision". Some kind of a super-group founded by drummer Mick Pointer (ex- Marillion), keyboardist Clive Nolan (Pendragon) and guitarist Keith More (Asia), this British act still remains as one of my favorite progressive bands from the '90s, with a sound mixing the melodies of classic Marillion and hard rocking riffs.
After some line up changes and several albums exploring different musical landscapes, "Double Vision" is some kind of a return to Arena's early spirit, and it's good. Very, very good.
Arena's history can now be pretty easily diced up into three distinct periods. The early days in the mid-'90s, where fans of Fish-era Marillion can delight in the neo-prog stylings of a band finding its footing around a tried-and-true style of one of its founding members (Mick Pointer).
Then there's the period where guitarist John Mitchell joined the band, stomped the hell out of the distortion pedal, and turned the whole thing on its head. And things were good. The band churned out some classic albums, while still retaining many of the vocal trademarks that kept them connected to the past, thanks to former lead vocalist Rob Sowden.
And now, in 2018, Arena is firmly entrenched in what can be considered the third period, with incredibly talented and expressive lead vocalist Paul Manzi confidently at the front of the stage.
And things are better. Much better.
Since the addition of Manzi few years ago, the band had evolved even further and became a much heavier prog-rock band, with dark elements and themes throughout their music.
And now, with "Double Vision", Arena has created one of their finest opus.
"Double Vision" is an album that follows a much-beloved song sequencing of the prog-genre, one that doesn't come along too terribly often: several shorter to mid-length songs, capped off with a fantastic epic. Fantastic and fantastical.
All done in 'song format' to appeal everyone, and for end, there's a long, exiting neo prog number in 'The Legend Of Elijah Shade' to please lovers of classic stuff from the genre. But even there, everything is melodic and catchy.
Clive Nolan's well-known and recognizable keyboard playing has evolved and adapted with the times, not always taking a spotlight but rather playing a supporting role, and adding depth and texture to the songs where needed.
John Mitchell's guitar playing is out-of-this-world good. He has chops, creativity, tone, and most importantly, restraint. He shows that last one often with Arena. If one listens to his other projects (Lonely Robot, Frost*) enough, there is plenty of display of his guitar prowess. But with Arena, we tend to see a different side of his playing. Like Nolan, he supports the songs on this album, steps into the spot when needed, and quickly steps back to keep working.
Relatively new bass player Kylan Amos has found his groove within the band. His playing across the entire album is varied and adaptable, and there are moments where he shines such as the intro of "Red Eyes," where his soft chord performance is reminiscent of some of Dream Theater's John Myung.
Alongside Mick Pointer's varied palette of percussion, they work flawlessly.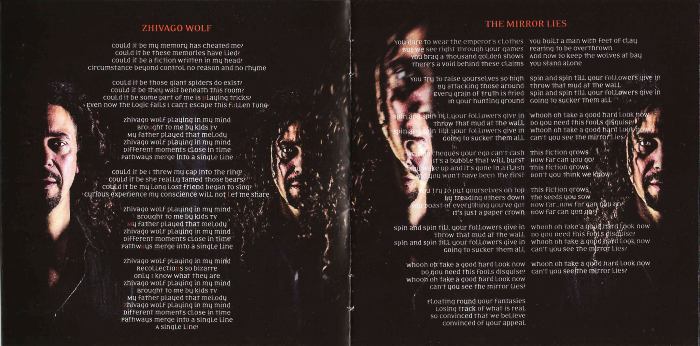 While the entire album is a true ensemble effort, the tallest poppy in the field simply must be Paul Manzi. His voice is incredible. He could be the lead singer for any of the biggest bands in the world.
One can only imagine how he could sound fronting a band like Rainbow, for example. But he offers so much more than that. While he has hints of many singers in his timbre, such as Mikko Von Hertzen, Gary Cherone, and Paul Stanley, his voice is decidedly different. His intentional voice cracks at the end of vibrato notes give a gut-wrenching quality to the lyrics he delivers with such passion and showmanship.
Arena always comes up with pretty awesome album opener moments, this album's starter "Zhivago Wolf" opens the whole thing up with a bit of mystery and uncertainty before the rocking begins.
In "The Mirror Lies" we have a spacey keyboard part of Clive that bright things up the straightforward first part of the song that ends nicely with some heavy guitars and a brief acoustic section.
"Scars" brings some majestic keyboards lines and smooth vocals, while "Red Eyes" is a dark song with some of the heaviest stuff of the album where Clive is leading the way a while before stopping suddenly into a short calm ending. The song has some special vocals effect and a modern feel.
"Paradise of Thieves" has clever rhyming and a very catchy chorus, with some interesting brow-furrowing themes to it, and "Poisoned" is a fine acoustic ballad to give a breather into this stormy music.
And how can be an Arena album without an epic song at the end – "The Legend Of Elijah Shade" – with countless tempo shifts, moods, and atmospheres where the intensity is always kept. Terrific.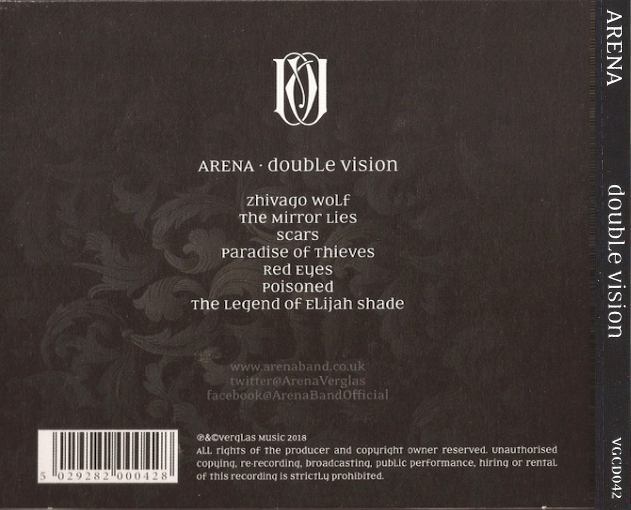 "Double Vision" is a stunning album, among the best progressive records of 2018, one that not only all progheads but melodic / hard rock fans need to discover at once if not sooner. I loved it the very first time I played it, and it has only got better the more I listen to it.
Here Arena manage to marry the new with the old with ease, sounding classy but relevant. It's certainly an album plenty of strong tunes, melodic arrangements, robust singing with a 'hard rock approach', and a pristine production.
HIGHLY Recommended
1. Zhivago Wolf
2. The Mirror Lies
3. Scars
4. Paradise Of Thieves
5. Red Eyes
6. Poisoned
7. The Legend Of Elijah Shade
Part I
Part II
Part III
Paul Manzi – vocals
John Mitchell – guitars, backing vocals
Clive Nolan – keyboards, backing vocals
Kylan Amos – bass
Mick Pointer – drums
BUY IT !
www.amazon.co.uk/Double-Vision-Arena/dp/B07BFB3F7T
.