AVIATOR – '89 Recordings (Unreleased) *Exclusive*
After the great remastered reissue of AVIATOR self-titled album, your need to listen to this lost collectors gem; "Aviator demos 1989", recorded the before they disbanded. With some line up changes, Aviator continues as unit after the release of their awesome debut, and composed / recorded these songs for a possible second album – that never was. The style on these songs are the same driving Melodic Rock / AOR of their first album.
Fronted by world-class vocalist / songwriter Ernie White and managed by Tommy Mottola (later the CEO of Sony Music), who secured them a deal with RCA records, Aviator released their self-titled debut in 1986.
Produced at Electric Lady studios in New York by man of the moment Neil Kernon (Kansas, Autograph, Dokken) to exacting standards, their album made an immediate impact on those who heard their brand of tough melodic rock / AOR.
However, due to machinations beyond their control, the record was left to flounder and given very little promotion.
The label's missteps and band indecision over touring led to White and bassist Steve Vitale continuing without guitarist Richie Cerniglia and drummer Michael Ricciardella in order to find a new deal, after an inevitable split from RCA.
The revised line-up – with the new men being ex-Magnum keyboard player Tommy Zito, and former Hot Tuna drummer Kenny Kness – spent a couple of years recording some particularly strong demos with which they hoped to sign another major deal.
Such a deal was not forthcoming however, and White split the band up to pursue a solo career in his native New Jersey.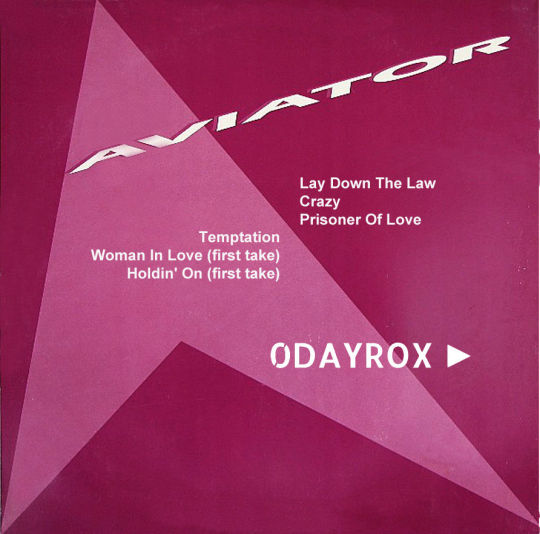 Here's these lost demos, a must for US Melodic Rock / AOR fans and collectors. plus a couple of Ernie White songs including 'Chained (Rescue Me)', later made famous by Richie Sambora.
Collectors stuff, Only at 0dayrox
01 – Lay Down The Law
02 – Crazy
03 – Prisoner Of Love
04 – Temptation
05 – Woman In Love (first take)
06 – Holdin' On (first take)
07 – Color Of Your Shame [Ernie White]
08 – Chained (Rescue Me) [Ernie White]
Ernie White – lead vocals, guitar
Richie Cerniglia – guitar
Steve Vitale – bass
Tommy Zito (Magnum) – keyboards
Kenny Kness (Hot Tuna) – drums
Not For Sale
.