STRANGERS (Spain) – Survival (mastered by Erik Martensson)
Seeing that this, their second album "Survival" was mastered by super talented Swede Erik Martensson (Eclipse, WET) is enough reason to check out STRANGERS, the Spanish, Madrid-based melodic rock / AOR quintet.
This blog received Strangers' first recordings but these were demos. "Survival" presents a band ready for its international presentation; more professionally recorded, finely produced, mixed & mastered and with the right artwork.
From the first track "Never Stop" – with a melody recalling the great Alias – you hear a band sounding tight and firmly influenced by the classic '80s waves from the genre."Venom" is catchy and with a strong AOR feeling (pretty British), followed by the hooky "Angel", another solid track. Adding some sax, "Stand By" provides variation in a midtempo pace. Here vocalist Oscar O'Brien clearly shows his major influence; Jon Bon Jovi (as on most the record).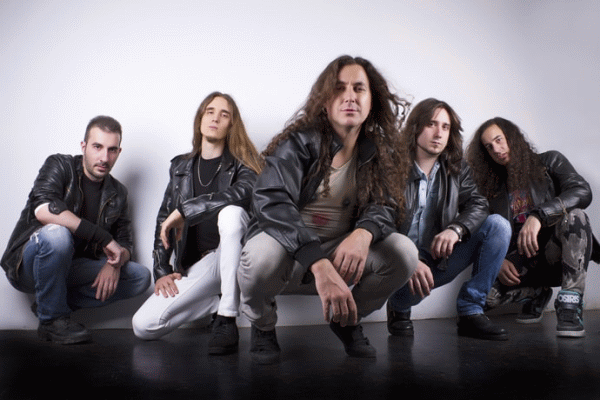 On cuts like 'Burning Within', the faster 'Beyond Your Eyes' and the groovier 'Beyond Your Eyes' you can hear Martersson's touch, all songs still melodic but with more bite.
'Light' has some Harem Scarem on it, 'Dreamer' is the more Americanized cut on the album (Tyketto), while 'Forever' is the obligatory ballad akin Bon Jovi.
"Survival" is a nice melodic rock / AOR record by Spaniards Strangers with some catchy songs, cool guitar / keys interplay and fine choruses. Though singer Oscar O'Brien has a noticeable accent, his performance is mostly convincing, helped by the bright production and solid arrangements.
The band is already working in a new album to be released soon, and I'm sure it will be fabulous.
Welcome Strangers to the world-wide Melodic Rock / AOR scene.
01. Never Stop
02. Venom
03. Angel
04. Stand By
05. Burning Within
06. Forever
07. Beyond Your Eyes
08. Heroes
09. Light
10. Dreamer
Oscar O'Brien – vocals
Miguel Martin – guitars
Carlos Jimenez – keyboards
Carlos R. Garcia – bass
Abel Ramos – drums
Gillem Ferrer – guest sax on 4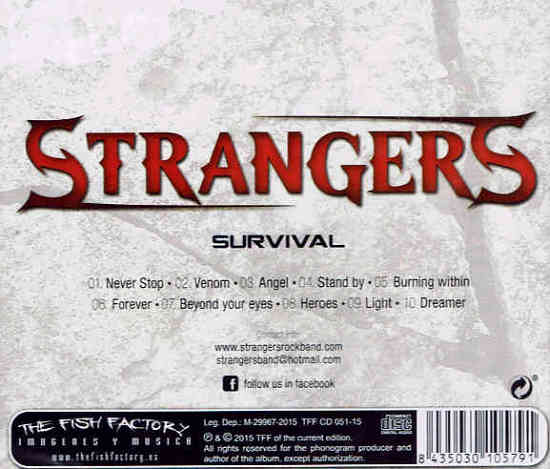 BUY IT
www.demonsshop.com/cd-heavy/15576-cd-strangers-survival.html