JOURNEY – Evolution [Blu-Spec CD2] [DSD remastering Limited Pressing]
Some of you asked for JOURNEY classic albums here in its Japanese DSD Remastering edition and pressed on Blu-Spec CD2 (similar to SHM-CD). "Evolution", Journey's most successful album at that time, selling three million copies in the US and charting at #20 on the Billboard 200.
For this recording they retained Roy Thomas Baker (best known for his work with Queen) as producer, but drummer Aynsley Dunbar was replaced with Steve Smith, formerly of Ronnie Montrose's band.
After years of slugging it out in the trenches, Journey finally achieved a modicum of mainstream success with their fourth LP Infinity — and they were only getting warmed up.
The band's determination to break into the Top 40 came with a price, and was reflected in a series of lineup changes that included the addition of new singer Steve Perry (who made his debut with 'Infinity') and continued with the departure of drummer Aynsley Dunbar, who quit before Journey entered the studio to record their fifth studio album, "Evolution".
As Perry pointed out in an interview later, they hadn't really been thrilled with Baker producing work on the previous LP, and only consented to work with him again because they were fans of his engineer, Geoff Workman.
"Roy was out driving his Rolls Royce or doing shopping half the time we were recording "Evolution", insisted Perry. "It's really just produced by us and Geoffrey Workman."
Anyway, production is huge, with layer after layer of sounds, hundreds of overdubbed guitars and vocal harmonies.
"Evolution" went on to become their most successful album to that point, and scoring the band a Top 20 hit with the record's second single, "Lovin', Touchin', Squeezin'" — all of which merely set the stage for a group poised to become one of the biggest rock acts of the next decade.
Elsewhere, "Just the Same Way" found Perry and Rolie blending voices once more, creating a memorable fission that was frankly missing in their biggest-selling era to come.
"Too Late" and "Do You Recall," written by Perry with Schon and Rolie respectively, are delicately conveyed moments, while "City of the Angels" holds a suitably anthemic sweep.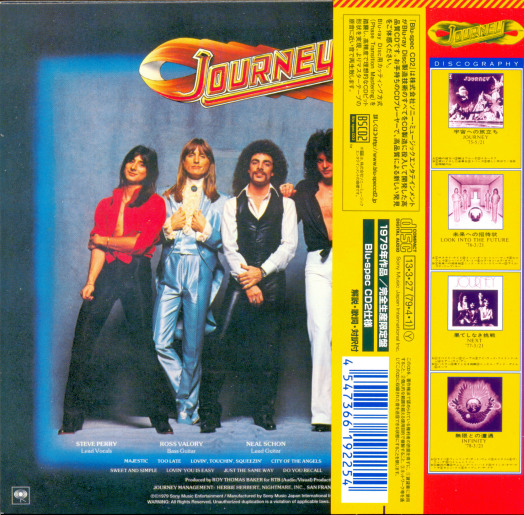 This Japanese DSD remastering of "Evolution" pressed on BSCD2 is awesome as all in these series, defined, crystal clear, re-discovering new layers of sound.
A MUST for Journey fans and highly recommended to all Melodic Rock / AOR enthusiasts.
Columbia / Sony Japan ~ SICP-30135
【LTD  BSCD2】
01 – Majestic
02 – Too Late
03 – Lovin', Touchin', Squeezin'
04 – City Of The Angels
05 – When You're Alone (It Ain't Easy)
06 – Sweet And Simple
07 – Lovin' You Is Easy
08 – Just The Same Way
09 – Do You Recall
10 – Daydream
11 – Lady Luck
Steve Perry – lead vocals
Neal Schon – guitars, backing vocals, guitar synthesizer
Gregg Rolie – keyboards, backing vocals, co-lead (8) vocals
Ross Valory – bass, backing vocals, bass pedals
Steve Smith – drums, percussion, backing vocals
Greg Werner – backing vocals (3)
BUY IT
www.cdjapan.co.jp/product/SICP-30135