STREET TALK – V [MelodicRock Records reissue +6]
One of the finest Swedish AOR acts – STREET TALK – featuring among others stellar vocalist Göran Edman, got their most celebrated albums reissued by MelodicRock Records with exclusive all new artwork and each including several bonus tracks. This expanded reissue includes 3 albums limited to just 500 units each.
All three albums are long out of print, highly sought after and when listed, fetch high prices on Ebay.
It's time for "V" , originally appeared in 2006.
"V" is, as the Roman letter says in the title, the fifth Street Talk release, and if it ends up being their final offering certainly it's a superb way to say goodbye. "V" just sounds more mature and more eclectic than anything else Street Talk had done at that point.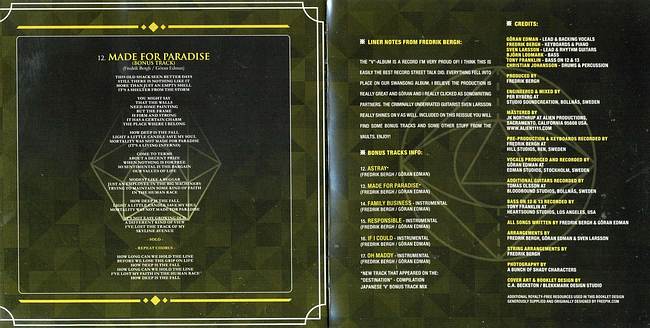 The overall feeling is a brand of Melodic Rock with a more modern approach according to the new wave of the genre coming from Scandinavia, with hints of smooth classic AOR elegantly arranged.
At places, there's a vibe recalling Stage Dolls vibe in the way the harmonies build, with more direct choruses than on previous Street Talk works
MelodicRock Records reissue reissue of "V" features new cover artwork (much better than the original), remixes of the new tracks "Astray" and "Made for Paradise" from 2004's Destination compilation / greatest hits (also appeared as "V" Japanese bonus tracks), and four instrumental versions of album's tracks as bonus.
Appeared last year, it has become pretty exhausted right now, so if you see a copy buy it with eyes closed, not only it's a great AOR album, but also a collector's piece.
Highly Recommended.
01 – Responsible
02 – Don't Believe
03 – If I Could
04 – At The End Of The Day
05 – Family Business
06 – Just A Little Appetizer
07 – Something's Gotta Give
08 – Groundhog Day
09 – Sniper
10 – Oh Maddy
11 – Brother Sun And Sister Moon
BONUS TRACKS:
12 – Astray (new track, Japanese 'V' Bonus)
13 – Made For Paradise (new track, Japanese 'V' Bonus)
14 – Family Business (Instrumental)
15 – Responsible (Instrumental)
16 – If I Could (Instrumental)
17 – Oh Maddy (Instrumental)
+ full artwork scans
Goran Edman: lead vocals
Fredrik Bergh: keyboards, backing vocals
Sven Larsson: guitars
Bjorn Lodmark: bass
Christian Johansson: drums, percussion
TRY HERE:
www.rockavenuerecords.com/SHOP/RAR-10571.html
.