BLACKFIELD (Steven Wilson) – V (2017)
BLACKFIELD is the collaboration between songwriter / musician Aviv Geffen, and British Prog genius Steven Wilson. "Blackfield V" is their new album recorded over a year and a half period across 2015 and 2016. Initially intended for release on 18 November 2016, was later delayed to 10 February 2017 but it won't be distributed until March.
Blackfield's music is dreamy, melodic prog rock with a 'song format' around the 4 minute mark, easy to the ears. After a fairly brief hiatus, the duo are back with "V", their fifth studio document that signals a new commitment, a new vigor for a band that was all but left for dead three years ago.
Blackfield albums tend to be assessed by the level of Steven Wilson's involvement with them, which would automatically qualify "V" as the best Blackfield since their high water mark from '07, Blackfield II.
Yes, this is a 'return to form' kind of album that it's already being touted to be and not merely because Wilson was more invested in it, but that certainly didn't hurt.
The reigning neo-prog king and former Porcupine Tree linchpin had always sought to leave breathing space for his partner in this venture, Israeli pop star Aviv Geffen, who had been handed control of the artistic direction of the band for the last couple of albums as Wilson put his energies into sweeping, first-rate rock epics like "The Raven That Refused To Sing (And Other Stories)" and generally lesser but still quality releases like the odd 'n' ends "4 ½".
In the meantime, Geffen was left largely in charge for Blackfield's less-regarded 'Welcome To My DNA' and 'Blackfield IV'.
After Wilson announced his official departure in early 2014 followed by a short 'thank you and farewell tour', Geffen went to work on this next album, bringing in rock producer legend Alan Parsons to oversee some of the sessions.
By mid-2015, Wilson returned to the fold and was also involved in the sessions and a year later, after eighteen months of studio time in London and Tel Aviv, a new album was completed.
Wilson's involvement, actually, is less conspicuous than Blackfield II; he wrote only "44 to 48" and shares credit with Geffen for "Life Is An Ocean," mixed about half the tracks and produced four. He contributes guitars and keys, but he's always had a hand in the instrumentation.
Though now he's re-assumed a role equal to that with Geffen as a lead vocalist, and they share that task for three of the thirteen songs, including the driving rocker "Family Man" that after a short string orchestra instrumental, launches the record in a seemingly triumphant fashion.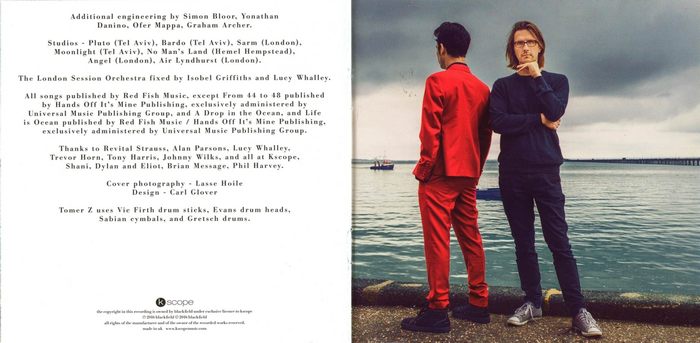 Geffen has grown much as a composer since Blackfield was started. Take, for instance, "Lonely Soul," where his whimper 'I'm a lonely soul' is looped over and over to a programmed groovy drum track with a modern approach. His notorious putdowns continue, too, such as 'It's too late, so why pray now/You cynical bastard?', sung by Wilson on Geffen's gossamer 'How Was Your Ride?'
Moreover, he lends a couple of downright heartbreaking melodies on the percussion-less ballads "Sorrys" and "October," the latter being solid proof how far Wilson has come as a lead vocalist; he can belt 'em out like a real crooner, now.
But it's not all dark: Geffen lends his wavering but insistent voice to the reassuring "We'll Never Be Apart," where Wilson's rock guitar provides the right punch here (and elsewhere).
Alan Parsons helmed the boards for "How Was Your Ride?", "We'll Never Be Apart" and "The Jackal," which are all marked by those heavenly swells of rich chords particularly in the background vocals and the string arrangements.
His limited presence doesn't make the rest of the album pale in comparison because Wilson — a master producer himself — and Geffen adhered to high standards on their turns as well.
The lush "From 44 to 48" wraps up the album with Wilson's semi-autobiographical look back on life, a theme he's visited before. Like so many of his songs, it sounds so familiar, it probably should have been written a long time ago.
Keeping the songs down to tidy, radio-ready lengths, it's the secret of success for "Blackfield V".
The Blackfield hallmarks of meticulously timeless production, enduring melodies and quality instrumentation are here stronger than probably ever for their fifth album, and those three attributes together are nearly impossible to find in any other rock band today.
Melodic, catchy lite prog is the motto here, with some rocking moments, some poppy choruses and an overall Alan Parsons / Steven Wilson sound all over.
Highly Recommended
01 – A drop in the ocean
02 – Family man
03 – How was your ride
04 – We'll never be apart
05 – Sorrys
06 – Life is an ocean
07 – Lately
08 – October
09 – The jackal
10 – Salt water
11 – Undercover heart
12 – Lonely soul
13 – From 44 to 48
Steven Wilson – vocals, guitar, keyboards
Aviv Geffen – vocals, guitar, keyboards
Tomer Z – drums
Eran Mitelman – keyboards
Alan Parsons – harmony vocals, production 3,4,9
BUY IT !
www.amazon.co.uk/Blackfield-V/dp/B01LWCSL4P
.