FOGHAT – Live At The Belly Up (2017)
This spring, veteran rockers FOGHAT will release its latest live recording "Live at the Belly Up". It will be out on CD around May, however, it is available now online via the Belly Up website.
The English-born band always has been an energetic live band. This legendary group has recorded some terrific studio albums for sure, but from the start it was created to perform the arenas. Even their most successful LP was the one that said "Live" on the cover.
Foghat is a band that just can't help 'giving it their all' onstage.
In 2017, Foghat includes founding member and drummer Roger Earl, the excellent ex Ted Nugent vocalist Charlie Huhn (who also play guitar), bass player Rodney O'Quinn, and great guitarist Brian Bassett (which 'slide' licks much define the band's characteristic sound), all contributing backing vocals as well, creating some really good harmonies.
Foghat Live simply rocks, putting up their hearts out. These experienced musicians simply know no other way.
It should be noted that O'Quinn is performing in this band as the permanent 'fill-in' while the long-time beloved member Craig MacGregor is courageously battling health problems. Rodney comes to Foghat via the Pat Travers Band where he proved he knows how to lay down a solid groove.
This album was recorded on August 11, 2016 at the Belly Up tavern in Northern San Diego County. So… this is just another night on the road for the band that is always on the road.
That is what I love about Foghat. These dudes will play like their lives depend on it whether in a club, state fair, or in front of 15,000 classic rockers at the Moondance Jam festival in Minnesota each July.
These guys simply can't help themselves… and we are talking some damn fine ballsy classic rock, monsta groove boogie rock here.
On this release, the tracklist includes "Slow Ride," "Fool for the City" and "California Blues / I Just Wanna Make Love to You." The latter is a two-for-one slab of rockin' glee that shows no mercy to those with negative attitudes.
This offering demonstrates all that was, is and shall ever be that is right about this band.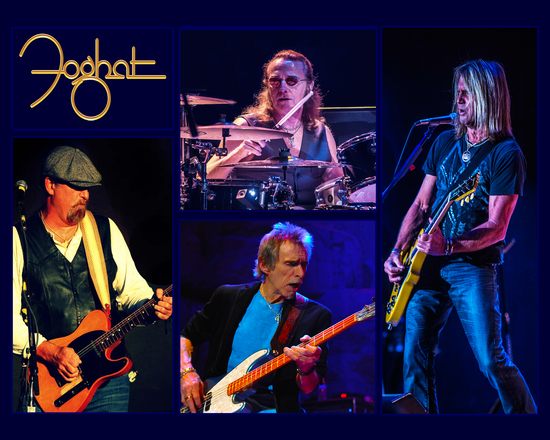 Foghat is out on the road across the US promoting their latest studio effort Under the Influence. That album continues the band's tradition of catchy hooks, fun lyrics and killer guitar solos. "Live at the Belly Up" features spirited tracks from the new album, including the title track, as well as "Knock It Off" and "Hot Mama."
The new tunes fit right in with the old, making this a fun album from start to finish.
Hell… this band is so fun when they play live they could put out a new offering each month from different venues and I'd listen.
Foghat's "Live at the Belly Up" is a record that is sure to do anything but go belly up. This 11-song, 74-minute recording is an easy, early pick for any critic's list of the year's top live CDs.
That is due in part to a set list that spans a respectable portion of the band's catalog, so the new generations (and old classic rockers) can taste how this genre should be done right.
And the other plus is the band's performance; energetic, ballsy, always melodic but with a punchy delivery.
Much more than just 'another live record'. Strongly Recommended.
01 – Fool For The City / Eight Days On The Road
02 – Under The Influence
03 – Stone Blue
04 – Drivin' Wheel
05 – Knock It Off
06 – Terraplane Blues
07 – Hot Mama
08 – California Blues
09 – I Just Wanna Make Love To You
10 – Slow Ride
Roger Earl – Drums, Background Vocals
Charlie Huhn – Lead Vocals, Guitar
Bryan Bassett – Lead & Slide Guitar, Background Vocals
Rodney O'Quinn – Bass, Background Vocals
BUY IT !
www.bellyuplive.com/
.