PLACE VENDOME – Close To The Sun [Japanese Edition] (2017)
Just to remind you, this is another killer release just appeared via Frontiers Music this week, Not To Be Missed
PLACE VENDOME storm back into your lives with the release of their fourth album, "Close To The Sun", on February 24, 2017 via Frontiers Music. The just appeared Japanese Edition includes the great Orchestral Version of the track 'Strong', one of the highlights.
Place Vendome was formed by ex-Helloween and current Unisonic vocalist Michael Kiske and talented Dennis Ward (bass and production) back in 2004 and since then have released 3 awesome albums.
This new effort "Close To The Sun" is just another fantastic piece of music mixing classic hard rock, progressive, melodic rock and punchy AOR melodies.
Apart from Kiske & Ward, Place Vendome 2017 consists of longtime keyboardist Günter Werno and guitarist Uwe Reitenauer, plus Dirk Bruinenberg on drums. And of course, there's an impressive array of guest guitarists providing terrific solos such as Magnus Karlsson, Gus G., Kai Hansen and Mandy Meyer to name a few.
The new album starts with the ass-kickin' title track "Close To The Sun". Melodic hard rock with a metallic edge in it that takes no prisoners. The guitar solo by Uwe Reitenauer is simply breathtaking.
"Welcome To The Edge" is yet another highlight; modern with a blasting rhythm section and a killer guitar hook, while the chorus sticks in your head for days. Kiske's vocals shine here as well.
Then "Strong" is a true surprise; an orchestrated and beautifully harmonized (additional choirs by Alessandro Del Vecchio) tune that includes a profound, emotional performance by Kiske, a monster guitar solo by Michael Klein and great arrangements that puts Place Vendome into some new welcomed music territories.
"Riding The Ghost" is one of my personal favorites from the new opus; fast, edgy, catchy as hell and melodic as it gets.
The heavier, more complex but with a chorus to die for "Light Before The Dark" (feat. Gus G.) steals the show, while with "Breathing" Place Vendome delivers another highlight out of their new album. A moodier, 'darker' but very emotional song with a haunting melody and Kiske's amazing and multi-dimensional vocal lines.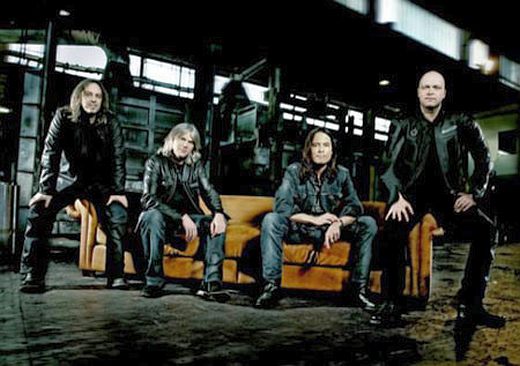 Place Vendome are back with album number four and it is yet another great one that stands equally besides their previous three records. In "Close To The Sun" Michael Kiske and Dennis Ward put out some new tricks out of their sleeve and deliver a strong and memorable effort all the way.
These talented cats never disappoint and I assure you this new Place Vendome CD will rock your world in weeks to come. Addictive stuff for sure.
HIGHLY Recommended
01 – Close To The Sun
02 – Welcome To The Edge
03 – Hereafter
04 – Strong
05 – Across The Times
06 – Riding The Ghost
07 – Light Before The Dark
08 – Falling Star
09 – Breathing
10 – Yesterday Is Gone
11 – Helen
12 – Distant Skies
Japan Bonus Track:
13 – Strong (Orchestral Version)
Michael Kiske – Vocals, Backing Vocals
Dennis Ward – Bass, Rhythm Guitars, Backing Vocals
Uwe Reitenauer – Guitars on 1, 2, 3, 5
Gunter Werno – Keyboards
Dirk Bruinenberg – Drums
Alessandro Del Vecchio – Backing Vocals
Guitar solo by Uwe Reitenauer on "Close To the Sun"
Guitar solo by Alfred Koffler on "Welcome To The Edge"
Guitar solo by Magnus Karlsson on "Falling Star"
Guitar solo by Gus G. on "Light Beyond The Dark"
Guitar solo by Simone Mularoni on "Hearafter"
Guitar solo by Mandy Meyer on "Helen"
Guitar solo by Kai Hansen on "Riding The Ghost" and "Across The Times"
Guitar solo by Michael Klein on "Yesterday Is Gone", "Distant Skies", "Strong", "Breathing"
Produced by Dennis Ward
BUY IT !
www.cdjapan.co.jp/product/MICP-11333
.