VARGAS, BOGERT & APPICE featuring PAUL SHORTINO
If you are in good form you only need free time and just the right shoes to climb to the top of a mountain. If you live and feel the music through every pore of your skin, you just need to make a couple of phone calls, get ready the guitar, drums and bass, then rent a recording studio to hang out with three guys who you barely known and tape down a really cool Rock N' Roll album.
This is what just did Javier Vargas, the versatile Spanish guitar wizard, along with rock legends Carmine Appice, Tim Bogert and Paul Shortino on "VARGAS, BOGERT & APPICE featuring PAUL SHORTINO".
Tim Bogert and Carmine Appice have worked together for 30 years in Cactus, Vanilla Fudge, with Jeff Beck in Beck, Bogert & Appice, and later with Rick Derringer.
Paul Shortino needs no introduction, his distinctive deep vocal cords has been put at the service of American hard rockers Rough Cutt, Quiet Riot and the recent return of King Kobra, among others.
And Javier Vargas has played with everyone. This Madrid's Argentinian-Venezuelan descent, has worked with bigwigs like Santana, Glenn Hughes, BB King, and fronted his own Vargas Blues Band.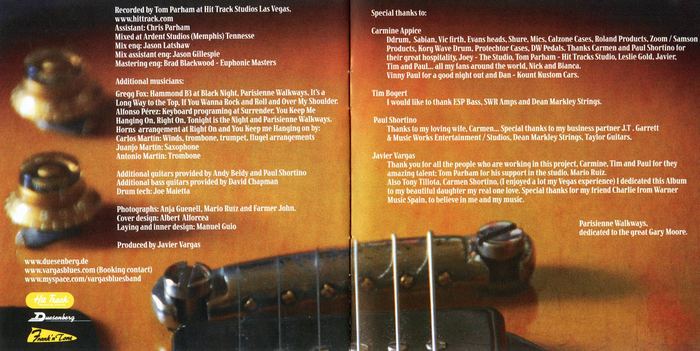 "Vargas, Bogert & Appice" consists of 10 of the best classic rock songs published in the last 30 years covered in a heavy-bluesy, melodic, hard rock style.
The result is a cool and fun album which exudes charm and class, because it conveys the feeling of four musicians from different extractions -except Bogert and Appice- having a really good time reviewing Gary Moore, AC / DC, Cheap Trick or Deep Purple.
The rhythm section provides a thick, warm and much, much aplomb, Javier Vargas does what he knows best on the guitar with taste, and Paul Shortino's raspy vocals give to the songs a welcomed melodic hard rocker focus.
Even the not strictly 'rockers' "Tonight Is The Night" (popularized by Rod Stewart) or the extraordinary "Soul Of Love" penned by Paul Rodgers are played here with a rockin' edge.
"Vargas, Bogert & Appice" is not an ordinary cover-versions album made by four bored musicians. It has fire, tons of attitude and fabulous performances.
This is classic hard rock played in the old-fashioned style but with a modern feeling, helped by the airy, organic and 'Live feel' vibrant production.
Really, Really Good stuff.
Rock On.
01. Lady (Beck, Bogert, Appice)
02. Surrender (Cheap Trick)
03. Right On (Ray Barretto)
04. Parisienne Walkways (G.Moore & P.Lynott)
05. You Keep Me Hangin' On (Vanilla Fudge)
06. Soul Of Love (Paul Rodgers)
07. Black Night (Deep Purple)
08. It´s A Long Way To The Top (AC/DC)
09. Tonight Is The Night (Rod Stewart)
10. Over My Shoulder (Mike and the Mechanics)
Paul Shortino: Lead Vocals
Javier Vargas: Guitars
Tim Bogert: Bass, Vocals
Carmine Appice: Drums & Percussion, Vocals
with:
Tim Mitchell: Keyboads, Backing Vocals
BUY IT !
www.cduniverse.com/productinfo.asp?pid=8549690
.