FELSKINN – Mind Over Matter (2018)
"Mind Over Matter" is the new album from FELSKINN, to be released tomorrow March 16. The band features renowned musicians from the Swiss Rock scene, and musically is pretty heavy, inspired by classic metal acts but served with a modern, punchy production.
FELSKINN was formed 13 years ago by vocalist Andy Portmann (Ain't Dead Yet) and released two albums before disbanding in 2008. Then Portmann reinvented himself with a new band called Download, and a 2014 release. But a couple years ago, he wanted to give FELSKINN a new shot.
Joining are the two guitarists form the very good melodic metal / hard rock band MAXXWELL, Beat Schaub (LIVE/WIRE) on bass, and KROKUS' Flavio Mezzodi on drums.
On "Mind Over Matter", FELSKINN mixes melodic metal with a latent rock groove underneath. The sound is mostly defined by the twin guitar riffage which is brisk and sharp, plus a thick and thumping bottom end of the rhythm section.
However, Portmann's vocals on "Mind Over Matter" are the front and center, and one of the strongest aspect of the band. His voice is crisp and full-bodied, possessing a tone not unlike Ray Alder (FATES WARNING) with a whiff of Axl Rose (GUNS N' ROSES) drawl on the high notes.
The only time Portmann steps out of the spotlight is when it's solo time, and in these moments the guitars get a chance to shine with adrenaline-pumping licks up and down the scales.
As said, the album is pretty heavy as a whole, yet everything is clear thanks to veteran Jacob Hansen mix & mastering. He has worked, among others, with PRIMAL FEAR, and this is a quite good comparison to FELSKINN's sound.
The best songs are those where the groove dominates the riffage such as 'Rain Will Fall', 'Superhero', or 'The Night Before The Dawn'. Then 'Our Favourite Game' is something of a metal ballad or anthem.
'Wake Up On Mars' is another interesting anthem, almost melodic hard rock with a lighter electric guitar line and very melodious verses, while 'Break New Ground' drops in some interesting synth arrangements over a big beat.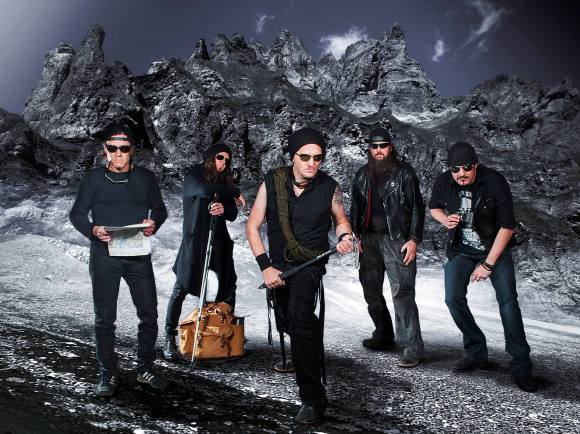 FELSKINN's "Mind Over Matter" is a heavy rock album, going from metallic songs to hard rock / melody spiced tunes. The band is at their best with the latter, being the heavier solid in technical ability, but not exactly my cup of tea.
Overall, a well recorded / produced record, a bit harsh at places yet enjoyable if you like the mix of styles described above.
01. Close Your Eyes
02. Pictures in My Dreams
03. Dying Man
04. The Night Before the Dawn
05. Our Favourite Game
06. Bastards Out
07. Break New Ground
08. Superhero
09. Rain Will Fall
10. Mind over Matter
11. Wake up on Mars
12. I Hear You Calling
Andy Portmann – Vocals (Ain't Dead Yet, Meyer/Portmann)
Cyril Montavon – Guitars (Maxxwell)
Hef Häfliger – Guitars (Maxxwell)
Beat Schaub – Bass (Live Wire)
Flavio Mezzodi – Drums (Krokus)
PRE ORDER:
www.amazon.de/Mind-Over-Matter-Felskinn/dp/B0794L5SS4
.