LITA FORD – Living Like A Runaway [Ltd. Edition Digipak + iTunes bonus track]
LITA FORD, founding member and guitarist of The Runaways, one of the first all-girl rock groups who broke out into the scene, after many years returned to full form with "Living Like A Runaway", in this requested Limited Edition digipak, including 2 bonus tracks.
After a long hiatus (14 years), Lita finally released the very disappointing 'Wicked Wonderland' in 2009. Written and produced by her now ex-husband Jim Gillette (ex-Nitro), it wasn't a true representation of what Lita is all about.
She considers "Living Like A Runaway" to be her real comeback opus. And she delivers. In spades, as a matter of fact.
At her fifties, Lita's out to prove that she can still kick some ass. The title is an obvious reference to her former band and her grit and determination has returned on "Living Like A Runaway".
The best news of all is that there are no attempts here to make Lita Ford a grungy, modern rock chick. It's not a blatant '80s throwback, mind, just a cool timeless album with lots of catchy melodic hard rock songs on it.
Lita sounds great, and although the tracks are a little more aggressive than before they're still very melodic.
"Branded" starts off with a hard-charging, angry-fueled riff and a whole lot of attitude. It's in the same mold as 'Out For Blood' from her debut. A dark bass line, sleazy guitar riff, Lita's sultry snarl and a catchy chorus makes up "Hate".
"Relentless" and "Devil In My Head" has a dangerous vibe with some terrific layered vocal harmonies.
There's a few beautiful ballads, notably "Mother", a track filled with love and anguish and sung superbly by Lita. Nikki Sixx contributes a track, "Songs To Slit Your Wrists By", and it says something that this is the most generic and uninspired track on the album, although it's still a fun listen.
"Love 2 Hate U" is a duo sung with Gary Hoey, who has done an outstanding job on the album with a great production and some stunning guitar work running throughout.
Another standout is the title track, which starts out similar to 'We All Die Young' and turns into a very nice, laid back introspective little song about Lita's musical beginnings.
This Limited Edition digipak was requested by one of you, because became pretty hard to find and include two bonus tracks.
One of them is the juicy "Bad Neighborhood", co-written with the great Doug Aldrich (Whitesnake, Dead Daisies) who also share a guitar solo with Lita. Why this awesome track was not part of the regular release is beyond me, as it's one of the best on the album and worth this digipak alone.
The other bonus is a cover of "The Bitch Is Back" (Elton John / Bernie Taupin) a fun version with rocking guitars.
But we have more; the iTunes version of this album includes the exclusive bonus track "Boiling Point", an old Lita tune newly recorded with biting guitars.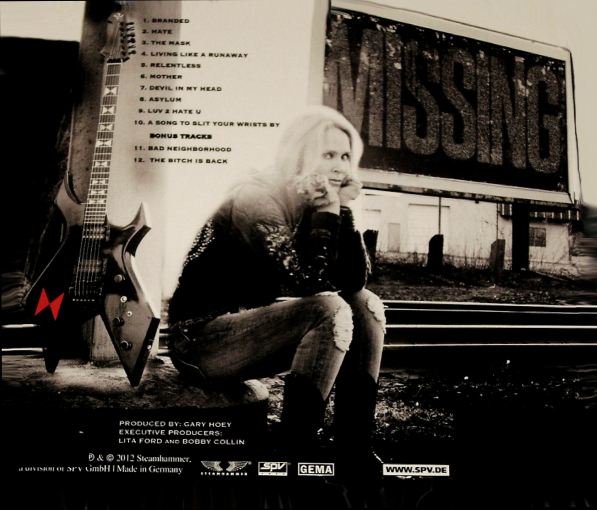 "Living Like A Runaway" may be Lita's most 'rocking' album to date. It's got the aggression of 'Black' and the big choruses that made her a household name with her 1988 self-titled album.
It sounds modern and classic all at once without stepping into cheesy or unbelievable. Lita comes up with some cool guitar solos, none too extravagant, but they serve their purpose.
"Living Like A Runaway" is the kind of album you'd expect from this successful artist, a good quality hard rock album with bite.
Highly Recommended
01 – Branded
02 – Hate
03 – The Mask
04 – Living Like A Runaway
05 – Relentless
06 – Mother
07 – Devil In My Head
08 – Asylum
09 – Luv 2 Hate You
10 – A Song To Slit Your Wrists By
Limited Edition Bonus Tracks:
11 – Bad Neighborhood (featuring Doug Aldrich)
12 – The Bitch Is Back
iTunes exclusive Bonus Track:
13 – Boiling Point
Lita Ford – lead vocals, guitar, keyboards
Gary Hoey – guitar, bass, keyboards, vocals
Matt Scurfield – drums
Mickey Kanan, Tayla Lemieux – backing vocals
Doug Aldrich – guitar on "Bad Neighborhood"
BUY
www.amazon.co.uk/Living-Like-Runaway-Digi-Lita/dp/B01N3ZDO4W
itunes.apple.com/us/album/living-like-a-runaway/1350426759