DORO – All For Metal + Live [Rock Hard Magazine CD] (2018)
In exclusive partnership with Rock Hard Magazine, DORO is releasing "All For Metal + Live at Rock Hard Festival", a CD released in a gatefold cardboard sleeve with German magazine "Rock Hard Vol. 375" (August 2018).
The disc includes two songs from Doro's upcoming new studio album – the tracks 'All For Metal' and 'Lift Me Up' – plus a previously unreleased live show taped at the magazine's festival in 2015.
This is a collectors piece because these recordings won't be released again.
Exclusively produced and manufactured for Rock Hard Magazine Vol. 375
01 – All For Metal
02 – Lift Me Up
03 – Hellbound (live)
04 – I Rule The Ruins (live)
05 – Burning The Witches (live)
06 – Metal Racer (live)
07 – East Meets West (live)
08 – Fur Immer (live)
Doro Pesch (ex-Warlock) – Vocals
Luca Princiotta (ex-Blaze) – Guitar, Keyboards
Bas Maas (ex-After Forever, ex-Karma) – Guitars
Nick Douglas (Blaze Bayley) – Bass
Johnny Dee (Britny Fox, ex-Waysted) – Drums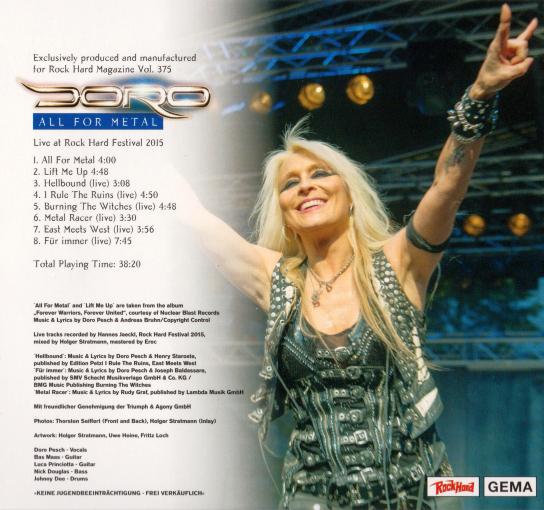 BUY IT !
www.nuclearblast.de/en/products/lesestoff/magazine/magazin-cd/rock-hard-375-august-2018.html
.