THE SCREAM (John Corabi) – Let It Scream [digitally remastered] Out Of Print
Requested by one of you, here's the only available remastered reissue version of "Let It Scream", the sole album by American rockers THE SCREAM including great vocalist John Corabi (currently in The Dead Daisies) recorded before he joined Motley Crue.
Originally operating under the name 'Saints Or Sinners', the band played the Californian club circuit with success and were signed by Hollywood Records releasing their debut "Let It Scream" in 1991.
The band was founded at the end of the '80s by ex- Racer X members Bruce Bouillet and John Alderete. Know for their virtuosity as players, expect top musicianship on "Let It Scream".
However, the aim with this band was to create polished US hard rock with the catchiness of the genre around 1990 plus the accessibility of Cinderella, Aerosmith, Tesla, etc.
I just can't get enough of this album, it rocks from the start with the outrageous rollicking 'Outlaw', which really sounds like an offcut from Cinderella's debut LP 'Night Songs'. A killer track and a perfect lead-in.
'Believe In Me' slides into commercial hard rock mode with ease, a breezy Californian party anthem from the era of big hair and loud clothes.'Man In The Moon' sees the band introducing acoustic elements into their material. A common theme back in the 1989-1991 era where every up and coming rock band wanted to be cowboys.
For something different, 'Father, Mother, Son' ventures into mellow ballad territory, treading the AOR borderline carefully.
Bruce Bouillet is the star of show on 'Give It Up', with his guitar antics including lapsteel, there for all to see. Corabi is also effective, vocally borrowing heavily from Tom Keifer and Steven Tyler.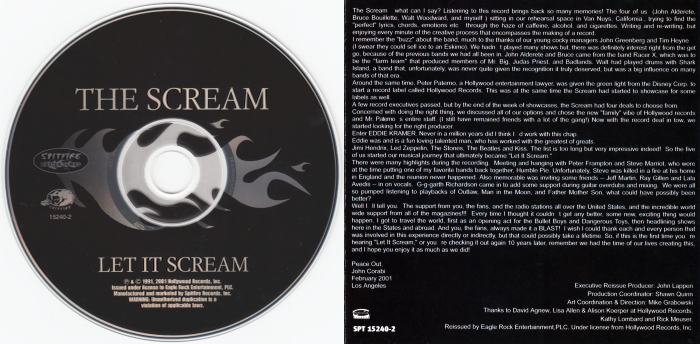 Going completely off the grid, is the cowpoke meets blues of 'Never Loved Her Anyway', played in a very traditional sense. No real electrics here, and certainly cool – in an unplugged way.
Gotta love the funked up 'Tell Me Why', complete with flared trousers and high-heeled boots. By this stage of the album, The Scream could not be accused of being one-dimensional for sure.
'Love's Got A Hold On Me' is catchy and melodic, where New England / Alcatrazz stalwart Jimmy Waldo puts his keyboard magic as guest.
'I Don't Care' is one of two longer tracks at over 8 minutes. This one revives Kiss at their most anthemic, with growling riffs and staunch lyrics.
The Scream return to their templated trademark with the infectious 'Every Inch A Woman'. Bouillet sets the tone with some fantastic bluesy riffing, the chorus straight out of the Aerosmith song-book.
'You Are All I Need' the big team-effort power ballad on the album, with contributions from Jeff Martin and Ray Gillen on backing vocals, plus the aforementioned Jimmy Waldo. It's the equivalent of a 'God Gave Rock N Roll To You' moment on the album.
The track 'Catch Me If You Can' is a bluesy steam-train finale, which captures Van Halen's energy and in an up-tempo delivery.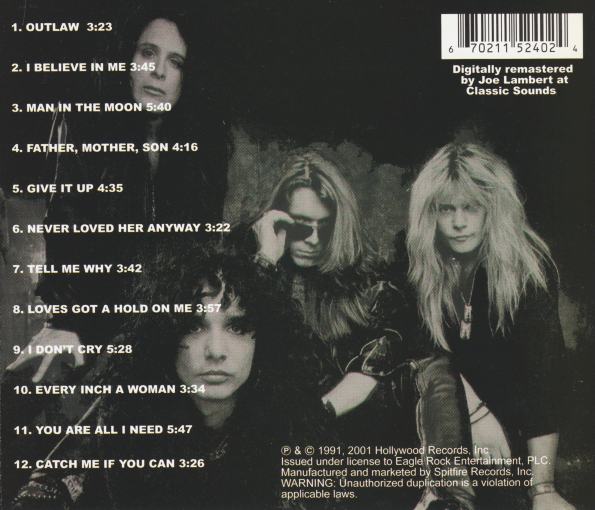 As good as "Let It Scream" is, unfortunately arrived two years too late. If it had been released in 1989, it could've done great things omparable to other bands of that wonderful year. This includes Skid Row, Warrant and Extreme; all break-out bands from 1989.
"Let It Scream" remained deleted for many years, with used copies very expensive at auction sites. This is the only remaster available done by Spitfire Records some time ago, also out of print now.
Seems Rock Candy Records will reissue the album soon, meanwhile enjoy this fine remaster from this stupendous, varied album.
Highly Recommended

You've seen it first here, at 0dayrox
01 – Outlaw
02 – I Believe In Me
03 – Man In The Moon
04 – Father, Mother, Son
05 – Give It Up
06 – Never Loved Her Anyway
07 – Tell Me Why
08 – Loves Got A Hold On Me
09 – I Don't Care
10 – Every Inch A Woman
11 – You Are All I Need
12 – Catch Me If You Can
John Corabi – lead vocals, acoustic guitar
Bruce Bouillet – guitars
John Alderete electric and acoustic bass, backing vocals
Walt Woodward III – drums, percussion, backing vocals
guests;
Ray Gillen – backing vocals on "You Are All I Need"
Jeff Martin – backing vocals on "You Are All I Need"
Jimmy Waldo – Hammond B-3
Try Here
www.amazon.co.jp/Let-Scream-Reis/dp/B00005AMII
.