H.E.A.T – Into The Great Unknown [Japan Edition +1] *EXCLUSIVE*
This was requested many times since released; the Japanese Edition of H.E.A.T latest album "Into The Great Unknown" including the exclusive bonus track 'FYI Miley'.
After one and a half year of intense songwriting with guitarist Dave Dalone (aka Sky Davis) back in the mix, the band went on an exotic trip to record the album in Thailand, once again with Swedish Grammy award-winning producer Tobias Lindell.
Back in 2014, with their fourth album Tearing Down The Walls and high energy live shows, H.E.A.T seemed on the verge of a major commercial breakthrough as standard bearers for a new breed of melodic rockers.
But after a long period of silence, during which guitarist Eric Rivers departed and former axeman Dave Dalone was brought back into the fold, the young Swedes find themselves having to build up a fresh head of steam.
Their eagerly awaited comeback begun in controversial fashion with opening single 'Time On Our Side' which showed a startling change of direction, a modern poppy melodic song.
However it makes more sense lodged four songs into an album, which has been 18 months in the making and sees them boldly branching out into some new directions while maintaining their strengths of youthful freshness and memorable hooks and choruses.
Many of the bands that inspired them – Bon Jovi, Europe, Whitesnake and Queen all spring to mind – all took the leap of faith into a radical new direction at some point of their careers and, though some older fans may have been offended and jumped ship, it probably enhanced their musical longevity.
Opener 'Bastard Of Society' is classic H.E.A.T, albeit with a stripped back leanness, with 'who-oahs' and a chorus that is sure to make it a live favourite, and 'Shit City' is in a similar mould, but they are sandwiched by the first curveball in 'Redefined', a reflective, slow burner with programmed drums and keyboards the dominant instruments for much of the song, which shows a new maturity.
After the aforementioned 'Time On Our Side', 'Best Of The Broken' has a slightly epic feel with dystopian lyrics and taking a while to get to a typically strong chorus.
They branch out with new sounds throughout the album, and at times the keyboard heavy sound reminded me of fellow Scandinavians The Rasmus, but the second half is perhaps more reassuring for long-time fans.
'Eye Of The Storm' has an intro that reminds me of Dare, and more falsetto singing from Erik Gronwall who really stretches himself throughout the album.
'Blind Leads The Blind' is more traditional Scandi melodic rock with big riffing, a big chorus and some synthesiser work that calls to mind Tony Carey's magic on Rainbow Rising.
'We Rule' is a grandiose Queen-inspired epic with lush vocal harmonies which can easily be imagined as a scarf-waving closer to the live set while 'Do You Want It' is an anthemic, straight ahead rocker.
The final proof that H.E.A.T have triumphantly pushed at the boundaries of their comfort zone comes in a seven minute plus title track. More conventionally melodic than much of the album, with Sky given a longer guitar solo, lyrically it combines a Europe-like fascination with space with what could be seen as an allegory for their career at this stage – 'is it the end of the road or a one way ticket to fortune and fame?'
The Japanese bonus track 'FYI Miley' worth the purchase, an intense heavy rocker that in many ways brings back H.E.A.T's musicality yet with the updated sound the Swedes delivers today.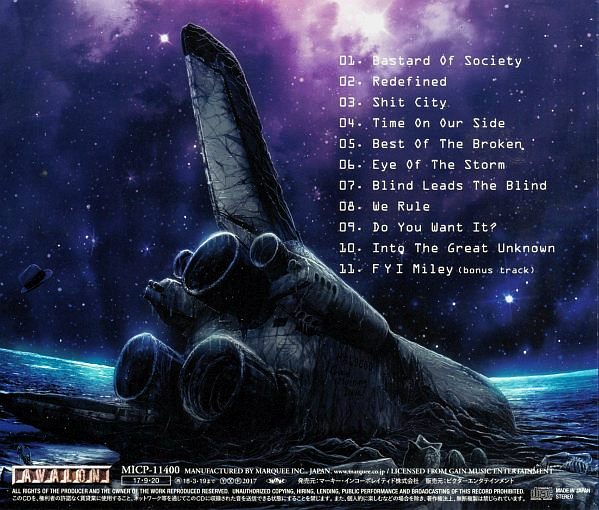 Production is bombastic as usual, modern and aural, and you can hear the mix is as well excellent with a clear instrument separation.
Some of the experimenting in new directions on "Into The Great Unknown" may baffle existing fans, but without losing their strengths H.E.A.T have re-emerged a more rounded and complete band, with a record that I suspect time will view kindly.
Highly Recommended
Victor Entertainment / Avalon ~ 【MICP-11400】
H E A T 『イントゥ・ザ・グレイト・アンノウン』
01 – Bastard Of Society
02 – Redefined
03 – Shit City
04 – Time On Our Side
05 – Best Of The Broken
06 – Eye Of The Storm
07 – Blind Leads The Blind
08 – We Rule
09 – Do You Want It?
10 – Into The Great Unknown
JAPAN BONUS TRACK:
11 – FYI Miley
Vocals: Erik Grönwall
Guitar: Sky Davis (aka Dave Dalone)
Bass: Jimmy Jay
Keyboard: Jona Tee
Drums & Percussion: Crash
BUY IT !
www.cdjapan.co.jp/product/MICP-11400
.