H.E.A.T – H.E.A.T [Japanese Tour Edition double SHM-CD]
As requested, here's H.E.A.T's first album in its Japanese Tour Edition double SHM-CD.
Since the beginning, Melodic Rock / AOR wonders H.E.A.T were big in Japan, and before their first big tour there Avalon / Victor Entertainment re-released their self-titled debut on high quality SHM-CD plus a bonus disc with rare tracks.
Re-titled "H.E.A.T / Tour Edition", the release includes the Japanese original bonus track and an extra, bonus disc.
After a terrific first EP, expectation was high for H.E.A.T's full length debut. Combining the best from classic US Melodic rock and Scandinavian AOR, these Swedes delivered a superb first album here.
"H.E.A.T" is a highly polished AOR dream with great song composition and arrangements, outstanding vocals, a great rhythm section, bright keyboards, sterling guitar work and above all else, tons of enthusiasm.
The record starts off with an intro that could almost remind one of the beginnings of the Final Countdown video and then leads into "There For You" which is a great keyboard-laden AOR rocker. The vocals of Kenny Leckremo are confident and powerful, having more than a slight Joey Tempest flavor circa 1986.
"Never Let Go" has a classic melodic rock sheen, with a little bit of a bluesy feel in the verse and a nice chorus that holds the song together. "Late Night Lady" again has something of an early '90s Europe sound with its stabbing keyboards, I mean, the 'Americanized' era of that band.
"Keep on Dreaming" opens with a brief Def Leppard-like sounding guitar riff but quickly leads into a more keyboard-laden sound. The song has a great hook and memorable chorus.
"Cry" is the requisite ballad on the album and upon first listen I could almost hear a bit of a Joseph Williams-era TOTO in it. I think I remember reading the band opened for them so possibly that is where the influence for this tune lies? Nevertheless, it's a nice, classy song.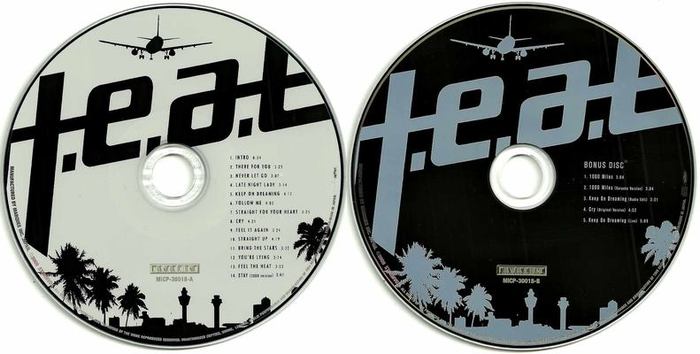 About this time I have to mention that the production on the album is top-notch. It's not too glossy or overproduced but is solid, clean and just punchy enough to make you think back to the glory days of AOR and Melodic Rock.
The record also delivers other quality tracks like "Straight For Your Heart" (with its great driving sound and sharp guitar work), "Feel It Again", "Straight Up" (complete with a nice bluesy guitar vibe) and "Bring The Stars" (the keyboards are all over this one.. pure Scandi stuff!).
This Tour Edition includes a Bonus Disc featuring the catchy single "1000 Miles", performed by the band for the Melodifestivalen, a Karaoke Version of it (a must for Asian fans), the slightly different (remixed?) 'Keep On Dreaming (Radio Edit)', the hard to find 'Cry (Original Version)', and a hot performance of 'Keep On Dreaming (Live)'.
H.E.A.T brought back to the 21st Century the lovely, sweet AOR sounds from the '80s with a refreshed sound and tons of enthusiasm.
So if you are a fan of that style of classy melodic, keyboard-driven Scandi stuff with a strong American influence (read Giant, TOTO, Journey), this baby is a MUST HAVE.
Avalon / Victor Entertainment ~ MICP-30018 【SHM-CD】
H E A T 「H E A T」(TOUR EDITION)
01 – Intro
02 – There For You
03 – Never Let Go
04 – Late Night Lady
05 – Keep On Dreaming
06 – Follow Me
07 – Straight For Your Heart
08 – Cry
09 – Feel It Again
10 – Straight Up
11 – Bring The Stars
12 – You're Lying
13 – Feel The Heat
14 – Stay (New Version) [Japan bonus track]
Tour Edition Bonus Disc:
01 – 1000 Miles
02 – 1000 Miles (Karaoke Version)
03 – Keep On Dreaming (Radio Edit)
04 – Cry (Original Version)
05 – Keep On Dreaming (Live)
Vocals – Kenny Leckremo
Guitars – Dave Dalone, Eric Rivers
Keyboards – Jona Tee
Bass – Jimmy Jay
Drums – Crash
BUY IT !
www.cdjapan.co.jp/product/MICP-30018
.