THUNDER – Please Remain Seated (2019)
Celebrating their 30th anniversary, British rockers THUNDER revisit and reinterpret their finest songs in a way you've not heard before. Released next Friday, January 18 via the band's new label BMG, "Please Remain Seated" is the sound of a Thunder taking a fresh journey into their own music, but also distilling thirty years of playing together in order to create something truly compelling, taking in flavors of classic rock, blues and soul along the way.
On "Please Remain Seated" Thunder have chosen to look back at the songs they've released over the years and to pick some to remake. When I say "remake", I really mean it – this isn't a case of making a few minor tweaks – they've totally changed the songs giving them a completely different sound.
A big part of why it works so well is the fact that they haven't just picked their most popular songs. Sure, there's some hits such as "Low life in high Places" and "She's so Fine", yet most are lesser known tracks such as "Fly on the Wall" or "Just another Suicide".
I'm particularly impressed by the fact that the band have done a very interesting variety of reworked songs – it's not a case of "lets do acoustic versions of everything". Yes some are simple acoustic arrangements, but others are electric or semi-acoustic.
The new version of "Loser" for example still has keyboards and electric guitar but it's a much gentler version than the original – more ballad-esque.
While songs such as "Bigger than both of Us" have a very brisk tempo, others like "Empty city" have been given a much slower treatment.
The final song on the single CD version of the album is "Low life in high Places" which is given a piano and vocals stripped down version until around half way through the track when a choir briefly joins in and then Danny's voice is joined by some female backing singers and then the electric guitars join in. It's a great version of a much loved song and an excellent way to bring the album to a close.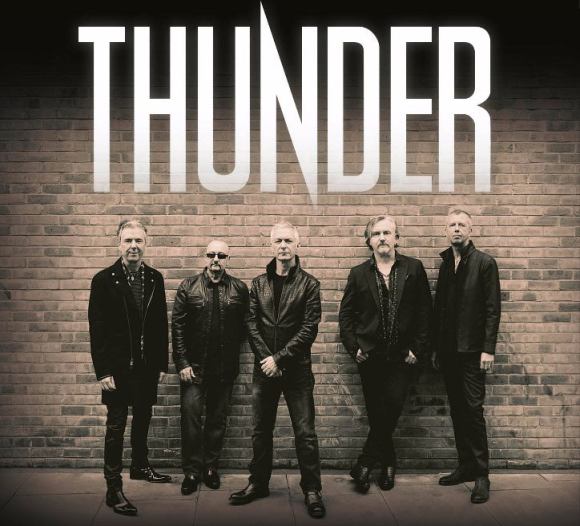 "Please Remain Seated" is a great album. Thunder have come up with captivating new versions of their songs – it doesn't matter if it's a hit or an 'inside track', this band never wrote a bad tune.
It's Thunder, it's all good.
Highly Recommended
1. Bigger Than Both of Us (2019 Version)
2. Future Train (2019 Version)
3. Girl's Going Out of Her Head (2019 Version)
4. I'm Dreaming Again (2019 Version)
5. Fly on the Wall (2019 Version)
6. Just Another Suicide (2019 Version)
7. Empty City (2019 Version)
8. Miracle Man (2019 Version)
9. Blown Away (2019 Version)
10. Loser (2019 Version)
11. She's so Fine (2019 Version)
12. Low Life in High Places (2019 Version)
Danny Bowes – lead and backing vocals
Luke Morley – guitars, keyboards and backing vocals
Gary James – drums and percussion
Ben Matthews – guitars and keyboards
Chris Childs – bass guitar
Lynne Jackaman – backing vocals, tambourine
Heather Findlay – backing vocals
Susie Webb – backing vocals
PRE ORDER:
www.amazon.com/Please-Remain-Seated-Thunder/dp/B07K22FHXN/
.