BELLICOSE – Love On Ice [Digitally Remastered +7]
This one was requested some time ago: the remastered reissue of BELLICOSE album "Love On Ice [Digitally Remastered +7]", the Texas band only album from 1989, plus 2 unreleased 1988 songs, and 4 very rare / unpublished demos from 1984.
This CD was released a few years ago, numbered / limited to 1,000 copies, now out of print, featured in exclusive here, at 0dayrox.
Bellicose was founded in Dallas, Texas, in 1983 when members of two local bands joined forces. Joey Darcangelo was lead vocalist for the band Sabotage. Ru Spearman and Michael Laurence were the guitar players for the band Rokker.
Once the line up was completed Bellicose recorded various demos, not released to the public, just with the sole purpose to shop to the major labels. It was a time when US hard rock / metal exploded, with hundred of bands aiming the same.
Unfortunately for the band the deal didn't arrived, but they keep playing the club circuit and composing songs.
A key point to the band's career was the signing with MKM management, as they proposed to the band record and release their official debut album privately.
The band's debut "Love On Ice" was recorded at Sound Logic Studio in Dallas, TX and released on CD in 1989.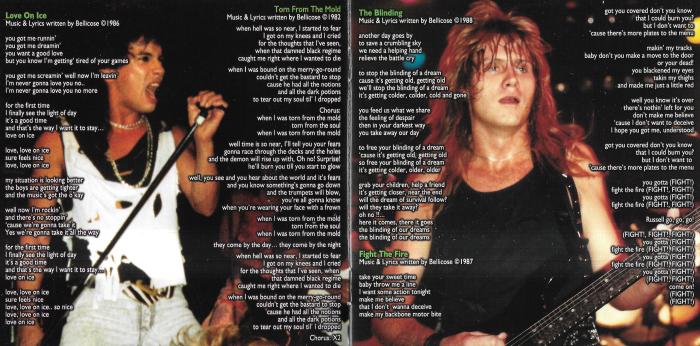 The sound of Bellicose is pretty unique here; a mix of sharp guitars, glam / hair metal drumming, funky bass lines, and hard rock type of vocals. At places the music is pretty heavy, however melodic and plenty of hooks.
A band that always come to mind while listening to "Love On Ice" is Leatherwolf, but also early Queenryche, and add a pinch of Icon / Fifth Angel and the clean harmony of Heaven's Edge.
There's some amazing vocal performances by Darcangelo, and you have a second to none twin guitar attack from Michael Laurence & Ru Spearman.
Kickin' rockers such as "Torn From The Mold", the hooky title track, "The Blinding", the muscular "Dream Of The Sinner" or "Fight The Fire" are great examples of Bellicose skills; slick, powerful, clean '80s US hard rock with melody.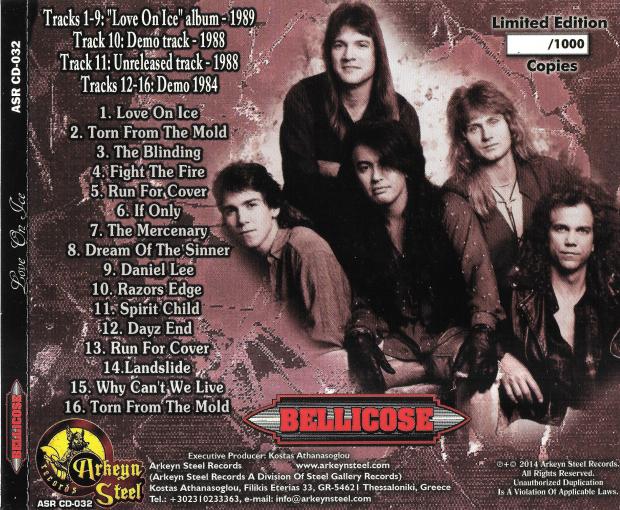 Listening to "Love On Ice" one wonders how Bellicose didn't get a major label record deal. Because hearing the 1984 demo presented here as bonus they were already very good, so this isn't a case of 'arrived too late into the scene'.
The album sounds terrific – according to the complete liner notes, full color booklet with rare unseen photos & lyrics – the band spent more than six months mixing & re-recording parts to obtain one of the most polished indie CD's I ever heard. With such quality at hand, this remaster makes wonders.
This is some kind of an '80s lost little gem. Don't miss this album.
HIGHLY Recommended
You've seen it first here, at 0dayrox
01 – Love On Ice
02 – Torn From The Mold
03 – The Blinding
04 – Fight The Fire
05 – Run For Cover
06 – If Only
07 – The Mercenary
08 – Dream Of The Sinner
09 – Daniel Lee
BONUS TRACKS:
10 – Razors Edge (1988 Demo)
11 – Spirit Child (1988 Unreleased Track)
12 – Dayz End (1984 Demo)
13 – Run For Cover (1984 Demo)
14 – Landslide (1984 Demo)
15 – Why Can't We Live (1984 Demo)
16 – Torn From the Mold (1984 Demo)
Joe Darangelo – lead vocals
Michael Laurence – guitar, vocals
Ru Spearman – guitar, vocals
Steven Grillo – bass
Tim Grugle – drums
Staley Rogers – bass (1984 demo)
Mike Gage – drums (1984 demo)
Zak Johnson – bass (1988 tracks)
Out Of Print
www.steelgallery.com/metal-store/product/bellicose-love-on-ice/