99 CRIMES – 99 Crimes (2019)
Signed by Perris Records, 99 CRIMES are ready to release their full length debut "99 Crimes" tomorrow. This powerhouse '80s inspired trio is led by current Dangerous Toys and former Dirty Looks guitarist Paul Lidel. Lidel handles both vocals and guitar duties, joined by bassist Jeff Lynn (also lead vocals) and drummer Chris Jordan (ex Miss Crazy), who make for a killer rhythm section.
Of note, Lidel was a part of one of the most underrated albums out there — Dirty Looks' 'Cool From The Wire' — which should have put the band on the same level back in 1988 as the bigger bands like Dokken, Ratt, etc.
Accordingly, with such a strong pedigree behind him, I was very interested in checking out Lidel's new band 99 Crimes. Even more interesting was that Lidel is fronting the band.
Straight ahead, no gimmick traditional hard rock is what you'll get from 99 Crimes' music.
Just check "Comin' Down Like Rain", a perfect example of these guys delivery, catchy, bluesy American hard rock firmly planted in the second half of the '80s hard rock style: groovy, melodic and plenty of bounce.
Lidel's way of singing is raw yet in control, always in tune.
At first, I thought that Lidel handled all of the lead vocals, but there's a welcomed surprise. Bassist Jeff Lynn performs the leads on some songs, and he's a very melodic hard rock oriented vocalist.
Lynn sings on the melodic hard rocker "Avenue". If someone had told me that Triumph's guitarist Rik Emmett was singing the track with his trademark high pitched voice, I would firmly have believed that it was indeed Emmett handling the lead vocals. A highlight.
"Devil In Your Dreams" is a great opening track. In your face straight from the get go, everything you want in a opening track. It checks all the boxes and things just keep rolling from there.
"Do It Over" and "9 Pound Hammer" are built on a guitar riff that comes back over and over again. If anything, I would describe 99 Crimes on these tracks as a mixture of classic rock and '80s hair metal all rolled into one.
More midtempo is "Move like That", driven by a dense riff. It has a head-banging toe tapping sing-a-long chorus which reminds me of Y&T, and smoking solo.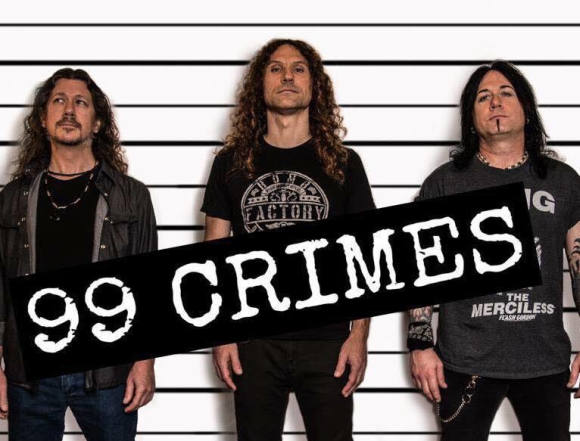 Hailing from Texas, 99 Crimes proves that '80s inspired traditional hard rock isn't dead in America.
As you might expect from Lidel, you are getting some old school / no frills rock n' roll and his voice has a real retro '70s feel to it, very well balanced by Lynn's more melodic approach. The guitar playing is all over, yet doesn't overplay on the songs.
There isn't one weak track on this album. In fact, all the songs are really good.
Highly Recommended
01. Devil in Your Dreams
02. Rumor
03. Comin' Down Like Rain
04. Fool
05. Move Like That
06. Crystal Ball
07. Avenue
08. Blood from a Stone
09. Do It Over
10. Nine Pound Hammer
11. Never Say Never
Paul Lidel – guitar, lead vocals
Jeff Lynn – bass, lead vocals
Chris Jordan – drums
PRE ORDER:
perrisrecords.com/new_releases/99_crimes___99_crimes
.