SHY – Shy [Japan Edition +1]
Long running British melodic rock band SHY returned with a new album this decade after many years of absence that saw founding vocalist Tony Mills departing to join the ranks of TNT. Shy has gone without Mills's services once before (with 1994's Welcome to the Madhouse), but for a lot of fans Shy's signature sound and Mills' instantly recognizable voice are inextricably linked.
But Shy found new life in talented vocalist Lee Small, and for this comeback album – with its stark black cover and simple titled "Shy" – the group's tenth studio effort sees the band getting back to basics and in top form.
This Japanese edition includes a bonus track.
Despite some flirtations with a more metallic sound and the Hollywood hair metal sound back in the '80s, Shy's strength was always in their polished classic melodic rock approach, and that's where this album shines.
It has fantastic melodies throughout, a great mix of punchy rockers and soulful, tasteful love songs that never get too wimpy.
The contrast between the hard rocking "Blood on the Line" and the emotional "Only for the Night" is stark, but both songs perfectly reflect the new and improved Shy sound. Other highlights are the power ballad cut "Breathe", with a stout vocal job by Lee Small alongside some of the strongest songwriting on any AOR record this year.
An unheralded hero in this album is the excellent keyboardist Joe Basketts which adds a new assortment of contagious vibes and rhythms.
"Live For Me" is yet another highlight in which Small does his best Glenn Hughes impersonation and he succeeds, an awesome driving song that will have all pomp fans rejoicing.
As bonus in this Japan edition we have a hot live version of Shy's classic "Emergency". I just love this tune.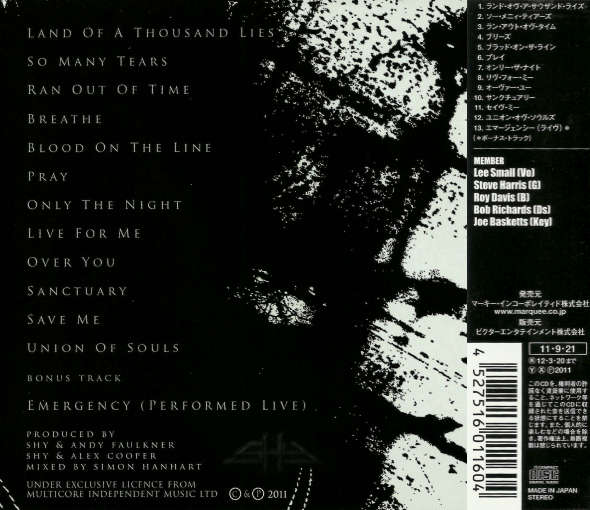 With this album, Shy proved beyond a shadow of a doubt that there is life after Tony Mills. In terms of vocals, the band could have gone the easy route and brought in another high-octave singer to try and replicate Mills's style, but having a vocalist with a deeper register is one more way the band is turning the page.
Lee Small's voice is anything but. He has a fantastic range that conveys both power and bluesy warmth, bringing to mind Jimi Jamison, Steve Overland and Toby Hitchcock.
"Shy" is a terrific Melodic Rock album from start to finish, and it's one that will more than satisfy the band's existing fan base while also appealing to fans of high-quality acts like FM, Praying Mantis, Pride Of Lions, Work Of Art, etc.
HIGHLY RECOMMENDED
01 – Land of a Thousand Lies
02 – So Many Tears
03 – Ran out of Time
04 – Breathe
05 – Blood on the Line
06 – Pray
07 – Only for the Night
08 – Live for Me
09 – Over You
10 – Sanctuary
11 – Save Me
12 – Union of Souls
JAPAN BONUS TRACK:
13 – Emergency (Performed Live)
Lee Small – Vocals
Steve Harris – Lead & Rhythm Guitars
Roy Davis – Bass
Joe Basketts – Keyboards
Bob Richards – Drums
BUY IT !
www.cdjapan.co.jp/product/MICP-11005
.