THE WINERY DOGS – Unleashed In Japan ; The Second Show 2CD [Japan only release]
Monster trio THE WINERY DOGS released some time ago "Unleashed In Japan : The Second Show"- a DVD / 2CD set featuring their second show ever performed in the Asian country. Recorded at the Nippon Seinen-Kan Hall on July 17, 2013, this awesome concert showcase The Winery Dogs' beast rock machine in its full potential.
As this package only was released in Japan and has become pretty hard to find, here it is, requested by one of you.
There is not a single inkling of doubt; ex- Mr. Big / Poison Richie Kotzen, giant drummer Mike Portnoy (Flying Colors, ex- Dream Theater) and Billy Sheehan (Mr. Big, ex- David Lee Roth) are top notch musicians.
Which could be the result of the three joining forces into a power trio?
Excellent, as it was heard in their fantastic two studio albums, confirmed as well on this exceptional double CD Audio recorded live.
The Winery Dogs are just a breath of fresh air – 3 talented cats free to create timeless rock music, with a brilliant playing, singing and writing, performing all the way around across the board.
"Unleashed In Japan : The Second Show" features songs not present on the studio albums such as "Time Machine", "You Can't Save Me", "Fooled Around and Fell in Love", Kotzen's staples "Stand" (from his days in Poison) and "Shine".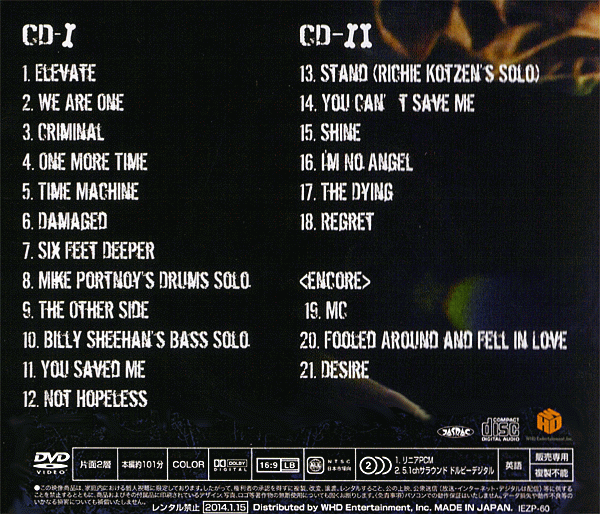 Only released in Japan and few other Asian countries, "Unleashed In Japan; The Second Show" simply Rocks.
Highly Recommended.
TH E W I N E R Y D O G S / 
UNLEASHED IN JAPAN
(デラックス盤) 【IEZP-60】
CD 1:
01 – Elevate
02 – We Are One
03 – Criminal *
04 – One More Time
05 – Time Machine *
06 – Damaged
07 – Six Feet Deeper
08 – Mike Portnoy Drum Solo
09 – The Other Side
10 – Billy Sheehan Bass Solo
11 – You Saved Me
12 – Not Hopeless
CD 2:
01 – Stand (Richie Kotzen's Solo) *
02 – You Can't Save Me *
03 – Shine *
04 – I'm No Angel
05 – The Dying
06 – Regret
07 – MC *
08 – Fooled Around and Fell in Love *
09 – Desire
* non studio albums tracks
Richie Kotzen – lead vocals, guitar, keyboards
Mike Portnoy – drums, choirs
Billy Sheehan – bass, choirs
BUY IT !
www.cdjapan.co.jp/product/IEZP-60
.