TOMMY VON VOIGT – Invincible (2019)
One of the 0dayrox team aim is bring to you some of that kind of albums silently released and which are little gems waiting to be exposed. That's why we are different, not just another 'mass-posting copy/paste' site.
Now we have here one of these little pearls. Just take a look at the album artwork. Now the title; "Invincible". Then the artist 'artistic name'; TOMMY VON VOIGT.
Doesn't all these just exude pure '80s glitter?
And you are right dude, this is a trip back to 1986, and an awesome one.
Oh, and I forgot to recommend to you to check out the song titles… what this guy from NY has created in "Invincible" is stupendous, totally cliché, yet lovely glamorous.
Imagine a lost 1986 action movie soundtrack. More precisely Rocky IV, Top Gun, why not Miami Vice.
Tommy's voice is like mix between Robert Tepper in 'No Easy Way Out' and Paul Stanley's first solo album. The songs, each one could have been part of any '80s flick.
Think about 'One Of The Beautiful Boys' like John Farnham meets Tepper, 'Could Have Been A Star' sounds like a Cannon Group films (Chuck Norris movies) opening credits, while midtempo 'All I Can Do' is something that John Parr woulda have recorded around 1985.
Title track 'Invincible' comes straight from the Kenny Loggins / Stan Meissner book – including 'that' compress drums – then 'Arms of a Stranger' is my favorite, a pure US 1985 AOR tune full of magic.
I have to mention all tracks include a hot guitar solo in the vein of the aforementioned artists, with that '80s melodious style / set-up sound made popular by the likes of Dann Huff, Michael Landau, etc.
Yeah, there's a couple of tracks 'remixed' that I am sure are better in its original versions, but I don't care, both are pure '80s as well.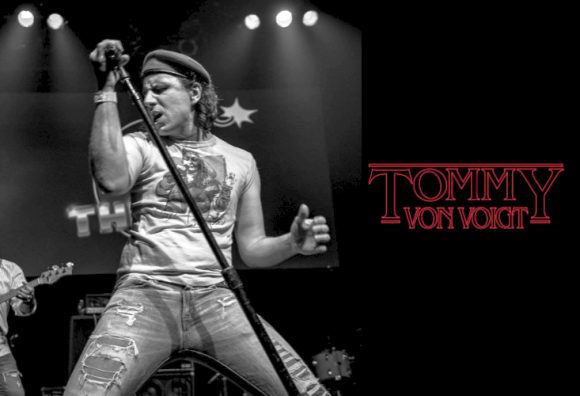 Sucker for '80s soundtracks? Fan of '80s radio-ready melodic tunes? Pop culture maniac?
If you fit into any of these above, you better listen Tommy Von Voigt's "Invincible".
I absolutely LOVE this.
01 – (One of the) Beautiful Boys
02 – Arms of a Stranger
03 – Could Have Been A Star
04 – All I Can Do
05 – Rock & Roll is Dead (PJS mix)
06 – Invincible
07 – She Doesn't Wanna Be My Girl (PJS mix)
08 – The Rest Of Me
09 – Could Have Been A Star (PJS 12-inch mix)
Lead vocals, keyboards, synth bass, programming: Tommy Von Voigt
Backing Vocals: Elaine Tuttle & Hannah Sumner
Guitars: Andee Blacksugar
Tenor Sax (track 4): Thomas Hutchings
Keyboard arrangements: Julian Wiggins
BUY IT !
www.amazon.com/Invincible-Tommy-Von-Voigt/dp/B07PJ1632P
.