TWELVE BACK STONES – Becoming (2019)
Interesting new band from Italy we have here; TWELVE BACK STONES and their debut CD titled "Becoming". The group was formed in 2012 and released an EP under the name 'Twelve', but after that changed to TWELVE BACK STONES.
What I like from these guys most are their '70 / '80 / '90s hard rock influences seamlessly blended into a cohesive LP.
Indeed, while reading the varied influences into "Becoming" it would seem a disparate album, all glue very well resulting in a really interesting and enjoyable experience.
Overall, the sound and Twelve Back Stones' style brings to mind The Cult – the 'American' years of the band – thanks to the really good production of Pietro Foresti (formerly with Tracii Guns, Scott Russo, and others) that gave the group a typically American rock sound.
On 'Liar' the band sounds like ex Guns N' Roses Gilby Clarke solo albums meets The Cult circa 1991, 'Black Rose' adds some kind of Slash's Velvet Revolver punch, while 'Drive Crazy' has some Inxs rocking side in its verses.
Midtempo 'On the Road' is pretty '80s with nice atmospheres, then 'Whiskey and Flower' is a very nice bluesy semi ballad with a Seventies feeling, and I hear a little of 1983 U2 into the catchy 'Wild Sun'.
As you see, a quite varied album.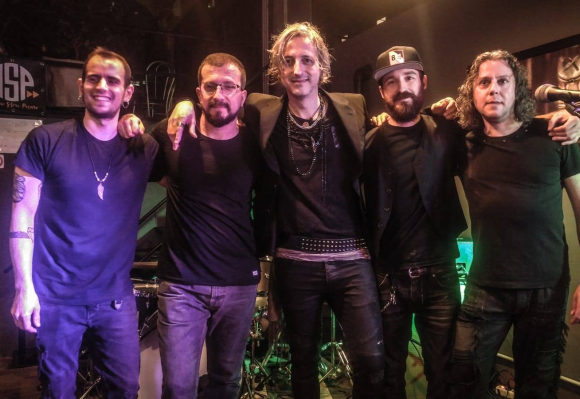 The driven force in Twelve Back Stones is front man Jack Stone Magi, owner of clean vocals and a truly Americanized way of singing, and also the complete guitar work of both guitarists creating strong riffs and to-the-point solos.
"Becoming" is an enjoyable listen, timeless hard rock / classic rock skilfully written and wisely produced (very clean) to capture all the band's influences into an organic sound.
Highly Recommended
01 – Liar
02 – Black Rose
03 – On the Road
04 – Whiskey and Flower
05 – Drive Crazy
06 – Stars
07 – Take Me Higher
08 – Mother
09 – Wild Sun
10 – Anytime
GIACOMO MAGI "Jack Stone" – Lead Vocals
MATTEO GIOMMI "Matt" – Guitar
MICHELE GREGANTI "Greg" – Guitar, Backing Vocals
FABRIZIO RAFFAELI "Fabri" – Bass, Backing Vocals
FABRIZIO RICCI "Rixx" – Drums
BUY IT !
www.amazon.it/Becoming-Twelve-Back-Stones/dp/B07PZPYJLJ
.