IAN THOMAS – The Runner [Rock Candy remastered & reloaded]
Canadian singer & songwriter IAN THOMAS never made it big as solo artist outside his country, but this talented singer & songwriter has a loyal AOR base of supporters world wide admiring his art with fanatical devotion. One of his best albums, "The Runner", has been released on CD for the first time with a superb remastering job by Rock Candy.
Certified Gold in Canada, "The Runner" is easily amongst Ian Thomas' best work, definitely commercial and radio friendly mixing smooth AOR melodies with delicate Westcoast sounds.
The first two tracks,"Hold On" and "Stringin' A Line" are rich in layered harmony vocals and clever mid paced arrangements. Ian has the uncanny ability to put a slight twist in his bridges and choruses which ultimately makes the songs stand out more.
"Embers From The Fire" and "Borrowed Time" have a laid back Westcoast feel to it, then "Chains and "When I Need Someone" lends that typical early '80s melodies that ruled the airwaves reminding early Charlie.
The dynamic "I Am The One" recalls wonders Ambrosia, Steely Dan and even Toto, "Stringin' A Line" is a brilliant track with it's great bass line and lush harmonies, while "Freefall in Stardust" brings to mind another artist which I always considered very similar to Thomas: the late Van Stephenson.
Title track "The Runner" is a another highlight of finesse craft with its increasing AOR cadency driving the tune home.
Ian Thomas "The Runner" is a surprisingly and more than welcomed release by Rock Candy, as this underrated, excellent artist deserves to be discovered by all AOR aficionados all over the world.
Here's a prove of Ian's talent and the quality of this album: "Hold On" was an international hit for Santana who recorded the song one year after, title track "The Runner" was made popular later by British group Manfred Mann's Earth Band, "Stringin' A Line" was chosen by Jon Bon Jovi during his Power Station years, and "Chains" was covered by Champlin's Chicago on their terrific '17' album.
"The Runner" is definitely a must have CD if you are a fan of classic, top class Westcoast / AOR rich in lush melodies and multi-part vocal arrangements.
Super Recommended
01 – Hold On
02 – Stringin' a Line
03 – Chains
04 – Embers From the Fire
05 – When I Need Someone
06 – Borrowed Time
07 – I Am the One
08 – Goner
09 – Freefall in Stardust
10 – The Runner
Ian Thomas – vocals, guitar, keyboards
Jorn Anderson – drums
Peter Cardinali, Steve Hogg – bass
Hugh Syme – keyboards, backing vocals
Dick Smith – percussion
John Johnson – sax on 6, 10
John Zaslow – lead guitar on 7, 8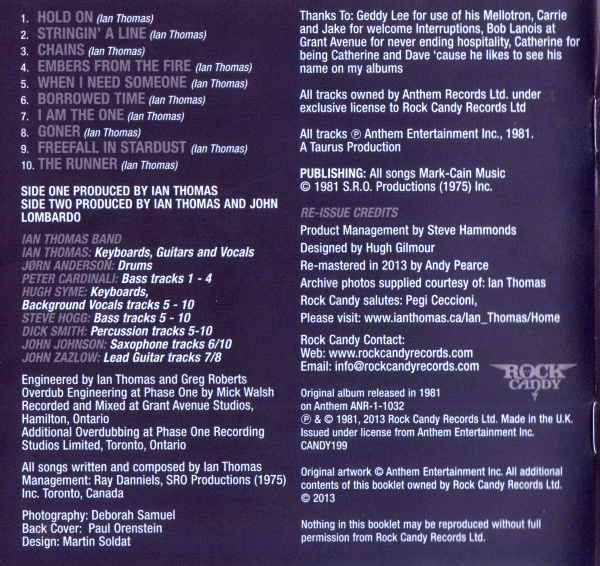 BUY IT
www.sainsburysentertainment.co.uk/The-Runner/product.html?product=E11273549