RIK EMMETT – Absolutely [Enhanced Audio Reissue] *EXCLUSIVE*
One of you asked which version / release of Triumph's RIK EMMETT first solo album "Absolutely" sounds better. You know, "Absolutely" never has been remastered and indeed it needs a sonic treatment because all the CD pressings sound really flat. But… we found that "Absolutely" has been reissued in the past decade, and it may be thanks to newer transfer technology, this version sounds terrific, fuller.
This original release of "Absolutely" by Duke Street Records has different catalog numbers depending the country of release such as DSMD-31068, DSRD-31068, etc.
This Canadian CD reissue (no date specified into the booklet / back cover) sports the DSBBD-31068. This is the one to get if you plan to purchase this very good album.
Speaking about the music itself, in "Absolutely" Emmett embraced the melodic rock sound & style from the era: 1989-1991. It's glossy and clean, highly melodic, plenty of midtempo rockers and ballads, even with some Lite AOR feeling.
The album opens with the rocking "Drive Time" which title speaks for itself. It's some kind of latter '80s Triumph meets Van Halen, driven by a cool guitar riff and a frickin' amazing drumming by Randy Cooke.
"Big Lie", the second song, has as well a bit of that 1987 Triumph sound, complemented by strong lyrics which are more relevant than ever today.
The third cut, "Saved by Love", was used for the closing credits of the movie Problem Child 2, and pushed the sales of the album to be Gold certified.
The single "When a Heart Breaks" is a power ballad from the era, but in Emmett's hands it has more meat to taste.
One of my favorites is "Stand and Deliver", highlighted by some smoking guitar work, then "Heaven Only Knows" rocks with a strong riff and some Triumph-isms on it.
On "Smart, Fast, Mean & Lucky" Rik tries something different, some kind of rapping (?) which I don't like, the only dull moment on the album for me.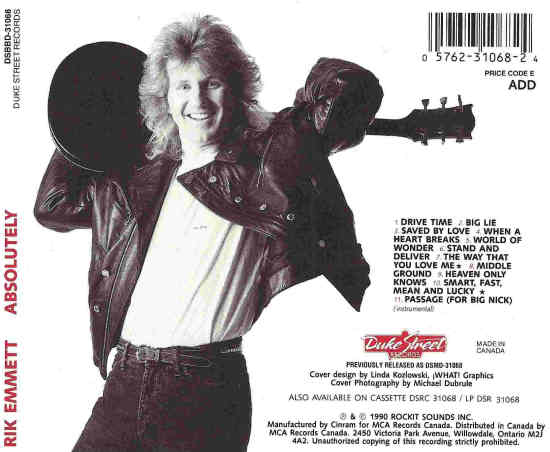 "Absolutely" represents Rik Emmet's transition form the '80s & Triumph to the more rock / bluesy oriented side he developed later as solo artist.
It's a true product of its era, polished, radiable, with an immaculate pristine production design.
As said, this rare 2000's reissue blows out of the water the original CD press in terms of sound quality, detail and dynamic range.
Highly Recommended
Only at 0dayrox
01 – Drive Time
02 – Big Lie
03 – Saved By Love
04 – When A Heart Breaks
05 – World of Wonder
06 – Stand And Deliver
07 – The Way That You Love Me
08 – Middle Ground
09 – Heaven Only Knows
10 – Smart, Fast, Mean and Lucky
11 – Passage (For Big Nick)
Rik Emmett – guitars, synthesizers, lead & background vocals
David Tkaczuk – keyboards, piano, arranging, synthesizers
Colleen Allen – sax (soprano), background vocals on 2 & 6
Chris Brockway – bass, background vocals
Randy Cooke – drums
Jeff Stevens – additional percussion, shaker, tambourine
Colina Phillips, Joel Wade, Vivienne Williams – background vocals
OUT OF PRINT
Try Here:
www.zeedee-shop.com/rik-emmett/absolutely/-195752/