John Lees' BARCLAY JAMES HARVEST – North (2013)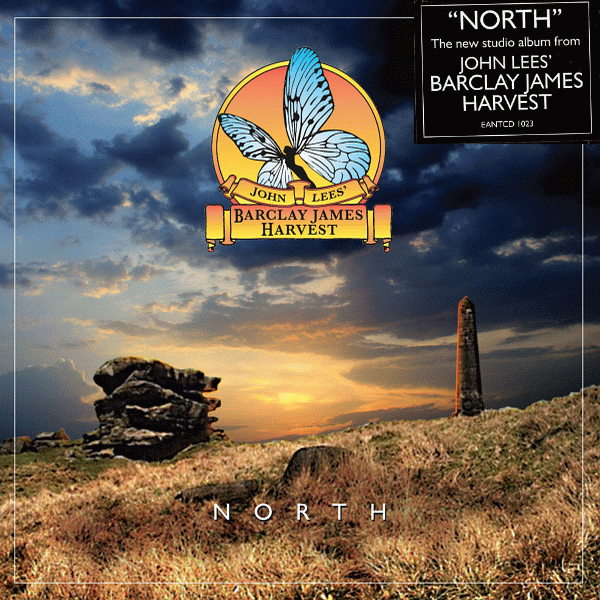 *
After a break from recording for almost fifteen years veteran English rock band BARCLAY JAMES HARVEST have returned with a fine collection of songs, the CD entitled "North", which band leader John Lees hinted might be their final album.
Since Barclay James Harvest began working in the late 1960s, they have moved through several creative periods, drawing in different stages of their careers on orchestral work, prog and pop in the '70s, before re-launching themselves as European stadium rock / AOR band in the '80s, while the '90s were dominated by creative tensions between the different songwriters and their favoured styles – culminating in the dissolution of the original band in 1997.
This is John Lees' (founder of BJH) version of the band which have sought to continue the classic rock & prog sound of the band earlier, most creatively fertile period.
"North" is a distinctively Barclay James Harvest album with all the trademarks of that name; great melodies, interesting arrangements, lyrical intrigue, lush vocal harmonies, solid rhythms, moody keyboards and soaring guitar lines constructed with an extreme delicacy.
There are however a few surprises in store as there are new departures to be found on "North" as well as the band explore new territories in several of the songs.
John Lees has always been a superb guitar player and he still has a fantastic voice, complemented by bassist Craig Fletcher who also takes the lead vocal role on some tracks, the effective Jez Smith on keyboards and drummer Kev Whitehead.
Things get off to a lukewarm start with the poppy prog of "If You Were Here Now" sung by Fletcher and with some fine musicianship especially from the keyboards which support and enhance the song magnificently. It's always nice to hear a classic Hammond in the mix, and there's a brief but elegant guitar break that slowly builds before the chorus returns, but then John Lees is usually a very fluid and elegiac player.
Next up is the tranquil "Ancient Waves" a classic John Lees' song invoking their great anti-war anthems of the '70s. Opening with just guitar, keyboards and cymbals and sounding like the aural equivalent of the tide coming in and then receding once more, before an acoustic guitar is gently strummed leading into the verse. A wonderfully piano line and guitar solo that follow each other in moments that are simply sublime make this one of my favourite tracks on the CD.
More surprises arrive with "In Wonderland", a breezy AORish mid-tempo song that could have easily come from the other side of the Atlantic in the hands of Steely Dan. Imbedded in heavy keyboard layers it proves that this band is capable of playing very different styles of music.
"On Leave" is one of the more ambitious offerings, sounding like a collaborative effort from several band members. BJH goes back to their roots and do so very convincingly on a stunning long piece that grows and grows with every listen. A haunting melody, great symphonic middle section with outbursts of guitar, Mellotron, bass and organ ending with a return of the leading theme.
"The Real Deal" shows the rocky side of Lees' Barclay James Harvest where Craig Fletcher's bass and Whitehead on drums take the lead here and make it a rather straightforward rockin' song. Fletcher remains at the microphone for one of the albums strongest offerings, the bittersweet ballad "On Top Of The World" including really original wind instruments from North England. An absolutely beautiful, haunting and tasteful song.
Title track "North" is again classic BJH, a very strong and attractive melody that immediately appeals and stays in your memory for many days. It is sung in turn by Fletcher / Lees and contains a very nice long and typical Lees' guitar solo. The song pays tribute to the region they all come from and does so in a really respectful way. The bass playing in the coda is very good too, leading fluently into "At the End of the Day" clocking in at a little over two and a half minutes, a Mellotron/piano backed traditional poem read by Lees. It is reminiscent of the Moody Blues in their heyday.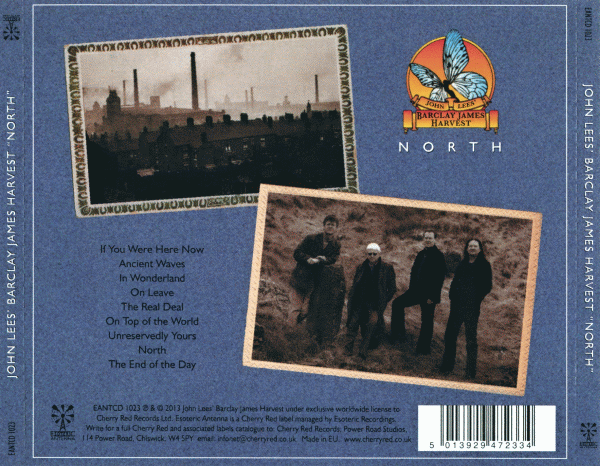 There is only one conclusion to draw: "North" is a very convincing, very tasteful and beautiful album for John Lees' Barclay James Harvest. It's taken 14 years but it has been worth the wait as this is one of the best albums by any version of BJH since their seventies classics.
If you never heard about Barclay James Harvest's art, think Crossover Prog; there's classic progressive elements but it goes much, much far beyond that, adding to their musical recipe some commercial rock, elegant pop, British classic rock and more.
"North" is a very varied record and a fine addition to the body of work that Barclay James Harvest has previously given us, both looking back to the past but also giving a nod towards the future.
I recommend it highly with no hesitation, this is a hugely enjoyable album, one that will delight any fan of well crafted classic rock music.
01 – If You Were Here Now
02 – Ancient Waves
03 – In Wonderland
04 – On Leave
05 – The Real Deal
06 – On Top of the World
07 – Unreservedly Yours
08 – North
09 – The End of the Day
John Lees – Guitar, Vocals
Craig Fletcher – Bass, Backing Vocals
Kevin Whitehead – Drums, Percussion, Backing Vocals
Jez Smith – Keyboards
BUY IT !
www.cherryred.co.uk/shopexd.asp?id=4354
.