ROADFEVER – Wolf Pack (2013)
*
Female fronted Swiss four-piece ROADFEVER were formed back in 2005 and already have one album under their belt, but this "Wolf Pack" is the first to be internationally released by Avenue Of Allies next November 22th.
When you think of Swiss Rock then Gotthard or Krokus immediately come to mind but in truth if you take the time to look Switzerland has produced a number of great acts, perhaps not well-known but certainly bands to hold their own. Roadfever is certainly a name to add to that list.
There's a certain charm about Roadfever's take on their guitar-driven Hard Rock, sometimes Southern-tinged Classic Rock. It's a stripped back sound that is both simple & effective and solidly at home in the '80s when pleasures were much simpler.
Aside from some great guitars and a solid rhythm section, Roadfever also benefits from a pleasing female lead vocalist – Stevie 'Manou' Pike (ex- State Of Mind). Even if these rockers have an eighties buzz about them it's not as if "Wolf Pack" is just an excuse to get all nostalgic about the 'good old days'.
Instead we find Roadfever threading the needle between the past and the present with a style that is neither old nor expressly new. If anything, the band which also includes guitarist David Patriat (ex- Sideburn), bassist Jessie Be and the drumming of Pascal Bavaud (ex- State of Mind, The Persuaders) comes across as just Roadfever, meaning of course that the four are on to something new and that ain't easy.
When it comes to Roadfever both the body and spirit are willing, and everything about "Wolf Pack" speaks volumes about not only their professionalism and skill as actual musicians, but also there ability to infuse the material with actual emotion. And yes, there is a difference.
Having so far shared the stage with the likes of Blackfoot, Scorpions, Trust, Uli John Roth, Pretty Maids, Rhino Bucket, Eric Singer Project and Little Caesar, which is interesting as quite a few of those acts serve as influences to these Swiss rockers, this is one band that deserves a wider audience and should click with the American market.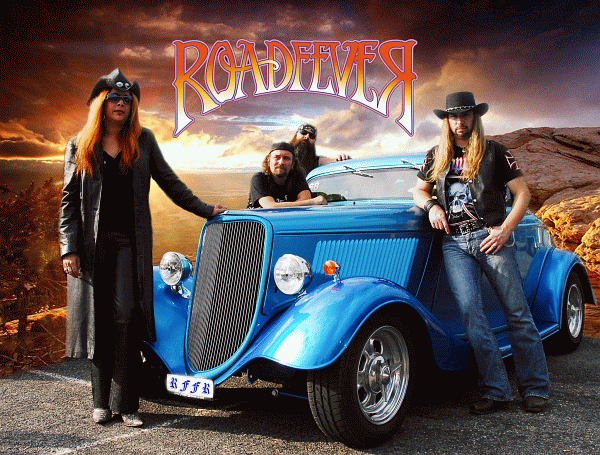 "Wolf Pack" it's an album with a confident sound full of great melodies and strong songs.
Among the best tracks we have the straight down the line rocker "The Dice Will Roll", the more expansive "Wings Of An Eagle" or the duet with Mat Sinner (Sinner, Primal Fear, Voodoo Circle) "Magic Sun", a song that somehow reminds me earlier Heart.
Other interesting cuts are the more traditional Hard Rock stomper "Warning Shot" (sharper guitars), the Badlands inspired "Drain Your Mind" or the groovy, harmony layered "Ride The Ocean" (Oliver Hartmann on background vocals), all straight to the point, effective rockers.
Although coming from Switzerland, the sound & style of Roadfever on "Wolf Pack" is definitely American, warm and earthy Classic Rock / traditional Hard Rock.
All is spiced with a touch of a Southern-styled vibe and custom-fitted with '80s influences, and a lead singer who is equal parts Stevie Nicks, Janis Joplin and a young Ann Wilson while also one of a kind original.
Well produced by David Pariat – former lead guitar player of fellow Swiss Hard Rockers Sideburn, who also composes and arranges the songs, and mixed & mastered by German Achim Köhler (Sinner, Primal Fear, Voodoo Circle), "Wolf Pack" is a quite uplifting listening, Classic Rock music with heart and soul.
Recommended.
01. Wolf Pack
02. The Dice Will Roll
03. Wings Of An Eagle
04. Black Moon Breeze
05. Magic Sun
06. Warning Shot
07. Drain Your Mind
08. On the Other Side
09. Ride the Ocean
10. Brother
11. Red Horse
Stevie 'Manou' Pike – Vocals
David Pariat – Guitar, Vocals
Jessie Be – Bass
Pascal Bavaud – Drums
Guest musicians:
Mat Sinner – lead vocal duet on "Magic Sun"
Oliver Hartmann – backing vocals
Pre-Order:
cdon.eu/music/roadfever/wolf_pack-25392264
.