WE ARE LEGEND – Rise Of The Legend (2013)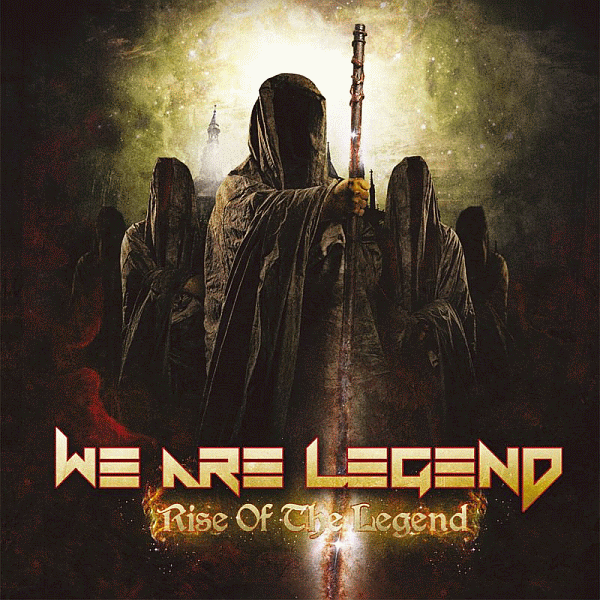 *
WE ARE LEGEND is a new metal act from Germany founded in 2010 comprising ex-members of Stormwitch, Thunderbold, Abraxas and Coronatus with the intention to create more accessible yet heavy music. "Rise Of The Legend" is their full lenght debut CD released today in Europe.
Although the acts where these guys come from are not the motto of this blog, when I received "Rise Of The Legend" decided to give it a go. And I was greatly surprised.
Yes, We Are Legend plays metal, but a refreshing mix of traditional melodic metal, progressive and some power metal resulting in a cohesive, highly listenable modern twist on those genres.
What I liked about "Rise Of The Legend" is its musicality. This band puts the melody at front, driven by traditional heavy riffs and yes, there's abundance of trepidating double-bass drumming, but not in the no-sense way as used by most heavy metal bands.
Just listen the extremely commercial "God Is Dreaming", almost melodic hard rock in its delivery with a catchy chorus and great harmony vocals all over.
We Are Legend reminds me in many ways Helloween, at places Allen-Lande and recent wonders Unisonic, but these Germans add lots of unexpected touches to forge their own sound. Most notably is the addition of melodic piano, which provides a distinctive, unique atmosphere to otherwise heavy songs like "This Holy Dark".
"Hungry Mirrors" starts on a lighter note with a lace of that classical piano, only to developing into galloping power metal with melody. "Birth of a Legend" is mere a instrumental symphonic introduction to the title cut "Rise of the Legend", which moderates between steady and speedy tempos, offer some more of those interesting choral harmonies in the first half, and a light piano line returns in the second half.
"Out!", "Only Time Can Tell" and "March of the Living" only confirm We Are Legend's musical style: a mixture of heavy and power riffs with variations of piano fills from subtle to substantial in each one. Of the three tracks, only the first has a guitar solo, and you know: it works.
This is another proof that We Are Legend tries (and with success) to avoid the typical cliches from the genre.
"Rise Of The Legend" is not the typical album presented here: this is metal, melodic, progressive and quite heavy, yes, but somehow innovative, and your 'melodic rock ears' should give it a try. This is good.
All songs are nicely varied with interesting vocal arrangements and flexible instrumentation. Talking about the vocal front, Selin Schönbeck (ex- Thunderbold) has a strong set of pipes going from melodious to gritty, also arranging great layered harmonies, and if that wasn't enough to bring to the table, he's also a refined pianist.
Dueling guitars by Dirk Baur (Coronatus) and Siggi Maier (ex-Stormwitch) are powerful and heavy, but both are always focused on the songs to flow, with melody, while the fat bass and expressive drumming provide a solid foundation to the music.
Strongly Recommended for all audiences.
1. Hungry Mirrors
2. This Holy Dark
3. Enemy Within
4. Birth of the Legend
5. Rise of the Legend
6. God is Dreaming
7. Out!
8. Only Time Can Tell
9. March of the Living
Selin Schönbeck – Vocals, Piano
Dirk Baur – Guitar, Backing Vocals
Siggi Maier – Guitar, Backing Vocals
Dominik Burgdörfer – Bass
Heiko Burst – Drums
BUY IT !
www.amazon.de/Rise-Legend-We-Are/dp/B00FKYL1TU
.