ELECTRIC RELIGIONS – Duality Of The Universe (2016)
"Duality Of The Universe" is the full length debut by Swedes ELECTRIC RELIGIONS, a name that should be new to most people but the musicians in the band should be familiar to some.
Founder and guitar wiz Steven Kautzky Andersson got notoriety during the '90s with two celebrated 'guitar instrumental' albums so popular in the era with many appearances on famous magazines like Guitar Player and Guitar World.
Andersson also is quite popular in Asia, and he never stopped to play there over the years, even with Electric Religions, which managed to go on several tours to China even before the release of their debut album.
Electric Religions is all about classic hard rock, heavy and riff oriented, fronted by female singer Neili Bjerring. Her vocals in combination with the riffing works great, as her vocal tone complement the groove of the music as another instrument.
The performance and guitar-playing are flawless here as well and it's clear there's a true talent behind it. The delicacy in the tone and geniality in the playing is fantastic. But there's still not virtuoso music we're getting on "Duality Of The Universe".
Nope, it is '80s oozing Hard Rock and Heavy Metal, in the vein of Rainbow, Dio, Black Sabbath and without being retro in a studied way.
After the short intro entitled 'For The Love of Jimi Hendrix' (that says something!) first track 'Good Fortune' is rather light weight compared to the rest of the album; a melodic, hard rocky tune with a good and catchy chorus.
Then it gets heavier, 'Terracotta' is a slow-grooving mellow tune. It's very dark n' heavy and Neili Bjerring's way of singing get close to a female version of Ronnie James Dio. Her deep voice fits the music perfectly and she really can carry a melody.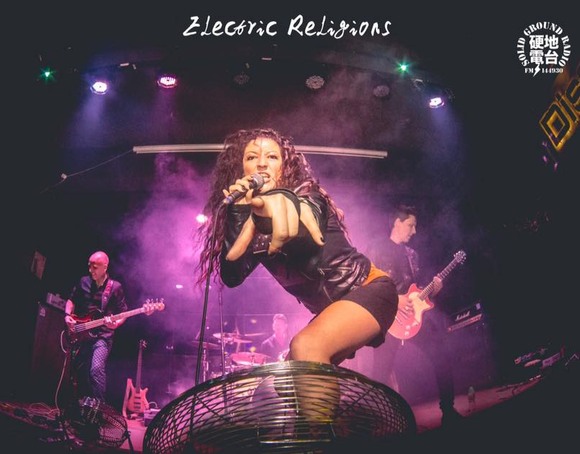 The tours through Asia – and especially China – have clearly inspired the songwriting: 'Lee Chao Long' has an oriental main melody with a touch of early Rainbow, while '1000 Battles' has more of the mid '90s feel, a much rawer tone and heaviness to it. Still, it fits in very good in the mix of songs.
One of my favorites on the album is the epic 'Horses Tale' which easily could have been a MTV hit in the late '80s at the Headbanger's Ball show. Plenty of dynamics and sporting a killer chorus line.
Another strong cut is 'Last Emperor', groovy heavy and with strong vocals, featuring and interesting combination of guitar riffs with electric Sitar.
"Duality Of The Universe" is a really strong classic hard rock album with a strong edge, at times bordering metal yet always with tons of melody. It is very classic sounding rock music but with a contemporary touch and potent production. And of course something essential: there's good songs + really interesting arrangements.
Electric Religions are a quite distinctive act in the present Scandinavian scene, with a very personal sound.
Rocks – Very Recommended
01 – For The Love Of Jimi Hendrix (intro)
02 – Good Fortune
03 – Terracotta
04 – Lee Chao Long
05 – 1000 Battles
06 – Horses Tale
07 – Yangtze River
08 – Last Emperor
09 – True Shaolin
10 – The Habitation Of The Soul
Neili Bjerring – Vocals
Steven Kautzky Andersson – Guitars
Mikael Nordmark – Bass
Håkan Åstrand – Drums
BUY IT !
www.distbox.com/electric-religions/electric-religions-duality-of-the-universe-cd.html
.