DOUG ALDRICH – Alter Ego [reissue] (2016)
After the stupendous new The Dead Daisies album featured yesterday, one of you asked for guitarist's DOUG ALDRICH solo album "Alter Ego" recently reissued after many years out of print.
If there is one guitarist that has a legacy you couldn't falter, it's Doug Aldrich.
From the early days of melodic hard rock in Lion, to Hurricane, Bad Moon Rising, Burning Rain, Whitesnake and now The Dead Daisies, Doug has survived where many haven't and continues to blow fans away with his solid bluesy based guitar work.
Doug also recorded and released two solo albums for the Japanese market during the Nineties.
"Alter Ego" is a combination of those two CD, designed to bolster Doug's increasing fan base in Europe – especially after Z Records signed on to release the two Burning Rain albums.
"Alter Ego" takes in a few different styles, including great guest vocalists and scorching instrumentals. This is primarily a guitar lover's album. Fans of big solo's, guitar tricks and structured riffing will get the most out of it.
For good measure however, there are a number of excellent vocal tracks.
One of my favorites, "Face Down", features Hardline / Axel Rudi Pell's killer shouter Johnny Gioeli in a straight up hard rock number that will drop your socks off.
Former partner in Lion Kal Swan features on two tracks; the groovy "Millwall Brick" and the awesome acoustic based ballad "Sky Blue And Black".
We have grizzled Little Caesar vet Ron Young on "Trash & Fascination", which sees another style change – this time a more bluesy melodic rocker with some Mr. Big on it.
Then there's Saigon Kick's Matt Kramer who is an aristocratic presence on the punchy Lynch Mob-like cut "Her Kingdom", also showing Doug's versatility in a darker tone.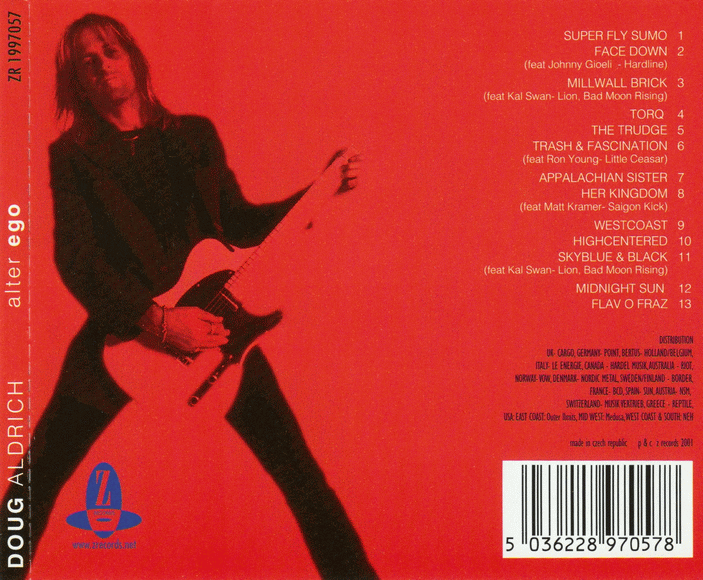 Lively as all get out and a sensuous six-string burner from start to finish, "Alter Ego" rocks with melody, superb riffing / soloing, plus some well featured vocalists providing some solid melodic hard rock.
This reissue was done with CD copies / booklets found at Z Records archives, so you can see the original release date printed on it. It's a great find, as "Alter Ego" was out of print for many years.
Hurry up! There's very few copies available.
Highly Recommended.
01 – Super Fly Sumo
02 – Face Down (feat. Johnny Gioeli – Hardline)
03 – Millwall Brick (feat. Kal Swan – Lion, Bad Moon Rising)
04 – Torq
05 – The Trudge
06 – Trash & Fascination (feat. Ron Young – Little Ceasar)
07 – Appalachian Sister
08 – Her Kingdom (feat. Matt Kramer – Saigon Kick)
09 – Westcoast
10 – Highcentered
11 – Skyblue & Black (feat. Kal Swan – Lion, Bad Moon Rising)
12 – Midnight Sun
13 – Flav O Fraz
Guitars – Doug Aldrich
Bass – Ian Mayo, Robbie Harrington, Tony Franklin (track 7)
Drums – Chris Frazier
Vocals:
Johnny Gioeli (track 2)
Kal Swan (tracks 3, 11)
Matt Kramer (track 8)
Ron Young (track 6)
BUY IT !
www.amazon.de/Alter-Ego-Aldrich-Doug/dp/B00005R5G2
.