Y&T – Live At The Mystic [2-CD full retail]
American hard rockers Y&T released some time ago a very special live recording via Frontiers Music; "Live At The Mystic". This double CD was recorded at one of the most popular venues that Y&T play every year; The Mystic Theatre in Petaluma, California.
This album represented the very first release with bassist Brad Lang who before permanently joining the band, subbed for late Y&T bassist Phil Kennemore.
This is a massive project of 22 songs on 2 discs including many songs never before released on any other live Y&T album. The band rocks tight as it ever did and Dave Meniketti's voice is still holding on nicely, and same can be said about his legendary guitar playing and monster tone.
The 22 chosen tracks from their extensive catalog attempts and succeeds in trying to cover most bases and as may albums as possible, while it primarily focuses on the band's rockier, edgier output without losing its melodic license though.
Some fan could argue that a personal favorite is not getting aired but there's hardly a song on this Y&T live set that sounds out of place.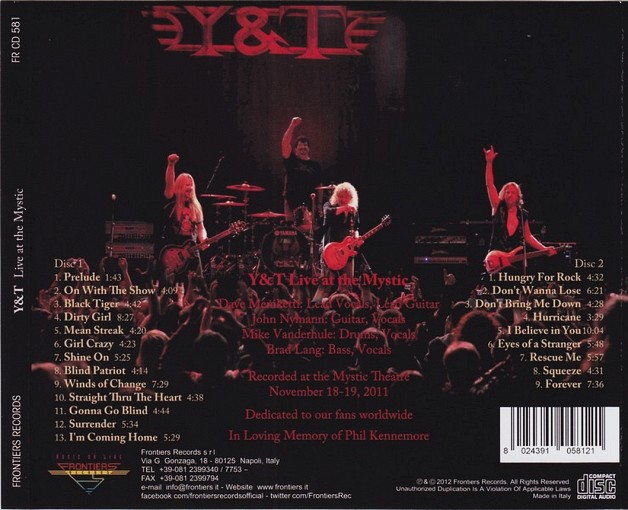 Y&T is a great band with the fire intact, and continues delivering with class their raunchy but also bluesy and soulful music that embodies all that is good about Rock. The amazing heat of this recording showcases the power of the band as it currently sounds on stage.
Killer
CD 1 :
01 – Prelude
02 – On With The Show
03 – Black Tiger
04 – Dirty Girl
05 – Mean Streak
06 – Girl Crazy
07 – Shine On
08 – Blind Patriot
09 – Winds Of Change
10 – Straight Thru The Heart
11 – Gonna Go Blind
12 – Surrender
13 – I'm Coming Home
CD 2 :
01 – Hungry For Rock
02 – Don't Wanna Lose
03 – Don't Bring Me Down
04 – Hurricane
05 – I Believe In you
06 – Eyes Of A Stranger
07 – Rescue Me
08 – Squeeze
09 – Forever
Dave Meniketti (guitar/lead vocals)
John Nymann (guitar/vocals)
Brad Lang (bass/vocals)
Mike Vanderhule (drums/vocals)
BUY IT !
www.amazon.co.uk/Live-At-Mystic-Y-T/dp/B009GJCFJU
.