PETER CETERA – One More Story [Japan Forever Young series – remastered] Out Of Print
This is another request, the Japanese remaster of PETER CETERA's third album "One More Story", released as part of the Forever Young Series now out of print.
"One More Story" is another great record from the former CHICAGO bassist & vocalist, with that glossy Eighties sound and featuring exquisite session musicians.
Indeed you find the cream from the LA Session scene: Bruce Gaitsch and Dann Huff (guitars), "J.R." Robinson, Tris Imboden (drums), Paulinho Da Costa (percussion), Bonnie Raitt, Pink Floyd's David Gilmour guesting on two tracks, and many more.
Even Madonna provide additional vocals on 'Scheherezade', and there's songwriting contributions from Bill LaBounty and David Foster.
After 18 consecutive years on the road with Chicago and the success of his previous 'Solitude / Solitaire' album (featured on this blog), Cetera re-charged batteries and re-entered the studio for what is considered by many Peter's best LP, certainly his most polished solo effort.
Trading in the over-synthesized production of Michael Omartian on his sophomore 'Solitude / Solitaire', Peter switched gears and slightly changed directions for this "One More Story", this time teaming with Patrick Leonard co-producing, resulting into a more classic sound.
Opener is the uptempo and upbeat 'Best Of Times', pretty much similar to the TOTO style at the time (1987/8), a Lite AOR melody with a great Dann Huff guitar work and pristine production.
Then shifts to 'One Good Woman', a classic power pop hit which made it to number 4 on the Billboard Hot 100, a very Chicago-like uptempo tune.
One of the notable guest contributions is the beautiful and haunting guitar work by Pink Floyd's David Gilmour on 'You Never Listen to Me' (featured at Miami Vice television show, season 5).
'Peace Of Mind' is elegant (remind me of Stan Meissner), and we find an impressive ballad on 'Heaven Help This Lonely Man'.
The summer sun shine in 'Save Me', used as the opening theme during the first season of the NBC television show Baywatch (you know 'the sound'), featuring the distinctive Bonnie Raitt guitar licks.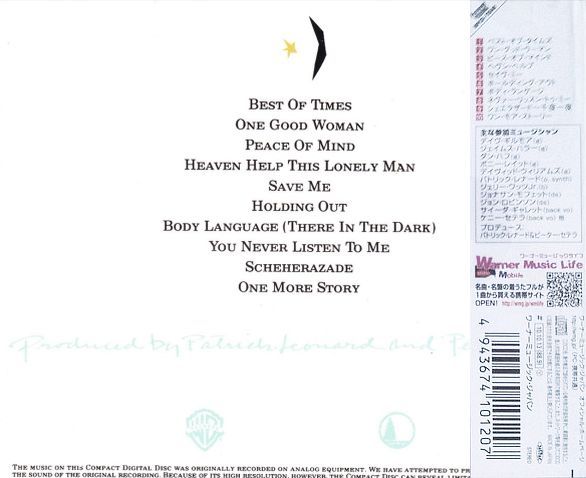 While it doesn't scored the chart hits that its predecessor had, "One More Story" is far more consistent and the quality of both the music and lyrics on this '80s gem surpass those on Cetera's previous effort.
This is an album requiring a proper listening by AOR fans, because despite of being poppy at places, it packs the musicianship, sound and production characteristic of the genre. This sonic output from Japanese remaster is fantastic.
Highly Recommended
You've seen it first here, at 0dayrox
Warner Music Japan ~ WPCR-75549
P E T E R C E T E R A / Forever Young Series
01 – Best Of Times
02 – One Good Woman
03 – Peace Of Mind
04 – Heaven Help This Lonely Man
05 – Save Me
06 – Holding Out
07 – Body Language (There in the Dark)
08 – You Never Listen To Me
09 – Scheherazade
10 – One More Story
Peter Cetera – vocals
Patrick Leonard – keyboards, synths, piano, Hammond
Guy Pratt, Jerry Watts – bass
Jonathan Moffett, "J.R." Robinson, Tris Imboden – drums
Bruce Gaitsch, James Harrah, Dann Huff – guitars
Jody Cortez, Paulinho Da Costa, Ron Wagner – percussion
Richard Garneau – sitar
Siedah Garrett, Kenny Cetera, Nikki Harris – backing vocals
Madonna – additional backing vocals on 9
Richard Sterban (Oak Ridge Boys) – backing vocals on 5
Bonnie Raitt – guitar, backing vocals on 5
David Gilmour – guitar on 7 & 8
Out Of Print
www.cdjapan.co.jp/product/WPCR-75549
.