THE OUTFIELD – RePlay + Malibu Beach [B-Side] & more – Out Of Print
Not so long ago, THE OUTFIELD, one of my favorites from the mid '80s, returned with a brand new album titled "RePlay", released by themselves and now pretty hard to find. Requested by one of you, as well the now impossible to find 'California Sun' single, especially the non-album track 'Malibu Beach' plus a couple of rarities.
Faithful to their '80s melodic songcraft, "RePlay" is chock full of memorable hooks, sunny harmonies and multi-layered guitars, just like how the band sounded back in their heyday. It's almost uncanny how lead singer Tony Lewis can hit those high notes as he did way back when.
It's also great to see drummer Alan Jackman back into the fold. Jackman has been sorely missed over the years and so his presence and his style of playing has obviously re-energized the band for this album.
As a matter of fact, the new material has a focus and drive that hasn't been heard from the band since 1987′s Bangin' album.
We can find here beautiful melodies, like the lead single 'California Sun', a careful blend of melodic brilliance and intricately woven vocals ready to illuminate the radio airwaves.
'A Long, Long Time Ago' is a rockin' track that sounds like something straight off the '87 era of the band. Probably my favorite song on the album.
'New York City' features a nice loop-like groove and a neat repetitive drum fill that may seem out of place at first but becomes one of the hooks in the song after a few listens.
'Disraeli Years' is a big nod to the classic rock trio Cream. The track features fun lil' lyrical references to the iconic band as well as a tasty guitar solo 'ala Clapton'. And just in case you miss any of those references, Jackman adds the unmistakable drum fill from 'White Room' at the end of the song. Fun stuff.
On "Shake Your Thing" Lewis' vocals are an integral part of The Outfield sound. In the past his high tenor overshadowed his bass playing. But with the new album and on tracks like "Shake Your Thing", Lewis has come a long way in terms of memorable bass lines.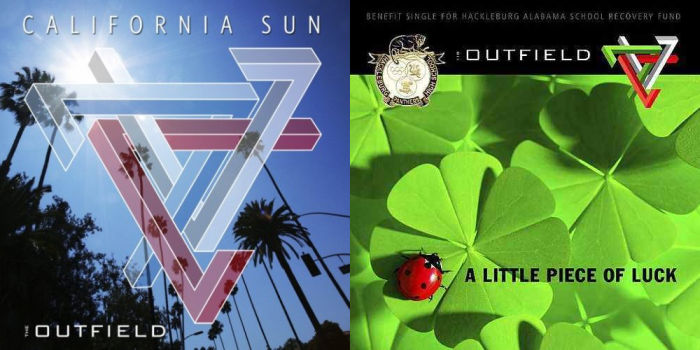 As exclusive bonus, we have 'Malibu Beach', the B-side of first single California Sun (only digital and now retired from sale), a lovely melodic tune recorded at the legendary Abbey Road Studios in London.
But wait, there's more: "A Little Piece Of Luck" is a previously unreleased track from the 1993 Strongroom Sessions, finally released for a charity purpose few years ago but now deleted as well, while 'Mystery Man' is the '84 demo version from the 'Scarf sessions', different from the one included into the band's breakthru debut 'Play Deep'.
The Outfiled's "RePlay" is wonderful poppy melodic rock album.
Driven by the astoundingly high range tenor vocals from Tony Lewis, compressed / phased vocal harmonies are featured on almost every track, while musicianship of the performers is impeccable, and production crisp & warm.
"RePlay", with its upbeat and oh-so melodic tunes, it's a perfect addition to any summer's soundtrack.
As said, not an easy to get album, plus collectible bonuses.
HIGHLY Recommended
You've seen it first here, at 0dayrox
01 – Aladdin's Cave
02 – California Sun
03 – A Long, Long Time Ago
04 – In Your Company
05 – Who Would You Be?
06 – Shake Your Thing
07 – New York City
08 – Call It Out
09 – Process
10 – Wonderland
11 – Disraeli Years
12 – Sandman
BONUS TRACKS:
13 – Malibu Beach (B-Side to California Sun single)
14 – A Little Piece Of Luck [charity single] ('93 prev unreleased track)
15 – Mystery Man [1984 demo version]
Tony Lewis – Vocals, Bass
John Spinks – Guitars, Backing Vocals
Alan Jackman – Drums, Backing Vocals
Try here:
www.theoutfield.com
.