MICHAEL KRATZ – Live Your Life [LTD Edition] (2018)
We have presented here in exclusive the previous album from Danish artist MICHAEL KRATZ, released after being signed by Art Of Melody Music / Burning Minds Music while Kratz was finishing his debut CD with the label.
Time has come, and today March 3 Michael Kratz is releasing "Live Your Life", his brand new AOR / Westcoast album featuring top class musicians from the genre such as Steve Lukather (Toto), Michael Landau, Dom Brown (Duran Duran), David Garfield, Christian Warburg (Paul Young) and Alessandro Del Vecchio (Revolution Saints, Hardline), among others.
"Live Your Life" delivers 12 songs (plus 2 bonus in this Limited Edition) of exquisite craftsmanship, where a Melodic Rock foundation is spiced with different colours from AOR to smooth Westcoast.
Avoiding common places of the genre, there's elaborated arrangements in great compositions like "Live Your Life", "Never Take Us Alive" or "We All Live In This Nation", with a certain Toto feel like most of the CD.
While easy to the ear and very melodic, the music on "Live Your Life" has real substance via superb instrumentation and top class musicianship.
"This Town Is Lost Without You", where Lukather provides a tasteful guitar solo, is easily one of my favorites. Whether by acoustic or electric, the guitar lines throughout the album are one of its strongest sides.
Additional sweet sweet solos come within the aforementioned "We All Live In This Nation" (master Michael Landau here), "Bye Bye", and "In Between", the latter also featuring a fine Alessandro Del Vecchio keyboard work.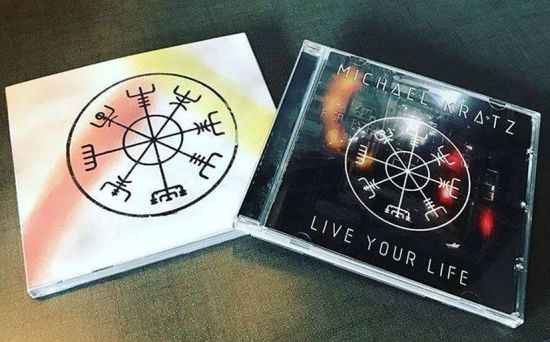 "What Did I ..? (Dom Brown of Duran Duran on guitar), largely a ballad, is an example of Kratz softer side, but also the melancholy "Lying and Paradise Lost", which features a brief choir part.
With a long musical career in his country, this 2018 is sure to be the year of Michael Kratz for international recognition.
"Live Your Life" is one of 'the' AOR / Westcoast albums of the year, brilliantly executed and produced with the attention to details this genre demands.
Highly Recommended
01 – We All Live in this Nation (feat. Michael Landau)
02 – Live Your Life
03 – This Town is Lost Without You (feat. S. Lukather & D. Garfield)
04 – What Did I ..? (feat. Dom Brown)
05 – Never Take Us Alive (feat. Dom Brown)
06 – Game of Love [Over and Over]
07 – Lying
08 – Paradise Lost (feat. Christian Warburg)
09 – Shade
10 – Bye Bye
11 – Dying Young (feat. Christian Warburg)
12 – In Between (feat. A. Del Vecchio & Christian Warburg)
BONUS TRACKS:
13 – This Town Is Lost Without You (Acoustic Version)
14 – I Don't Know How (Acoustic Version)
Michael Kratz: Vocals, Guitars, Drums
Kasper Viinberg: Drums, Bass, Guitars, Backing Vocals
Steve Lukather: Guitars
Michael Landau: Guitars
David Garfield (Boz Scaggs, Michael Bolton): Keyboards
Dom Brown (Duran Duran, Elton John): Guitars
Christian Warburg (Paul Young): Guitars
Alessandro Del Vecchio: Keyboards, Hammond
Mikkel Risum: Bass
Ole Kibsgaard: Backing Vocals
Ole Viinberg: Backing Vocals
Ida Lohmann: Backing Vocals
Emma Viinberg, Den Jyske Sangskole: Choir
Kenneth Bremer: Cowbell
BUY IT !
www.rocktemple.it/shop/3553/Michael%20Kratz-Live%20Your%20Life-Limited%20Personalized%20Edition%20-%20Rock%20Temple%20Exclusive
.