TAX THE HEAT – Change Your Position (2018)
TAX THE HEAT are back with "Change Your Position", their brand new effort to be released March 9, another British hard-rock-drenched modern classic. Fusing traditional riffs with catchy hooks, the fresh CD gives us another gorgeous set of ear-worms to enjoy.
On the second album from the Bristol four-piece, classic rock swagger is the name of the game. You can't put a price on self-belief, and Tax The Heat sound so utterly self-assured on this follow-up to their well-received 2016 debut Fed To The Lions, you get the feeling that, for them, success is not only inevitable, it's already here.
And this ingrained confidence in what they're doing makes the obvious touchstones that provide the bedrock of their sound – the layered Queen choral bursts, classy blues battering, the cocksure Thin Lizzy swagger – appear less like pastiche and more like taking the responsibility of carrying a grand old torch.
'On The Run' even begins with a burst of what sounds suspiciously like Steppenwolf's Magic Carpet Ride, before barrelling into a much more earth-bound game of cat and mouse, as our hero and his girlfriend take to the road to outsmart the police that are on their tail for an unnamed misdemeanour.
Tax The Heat are even happy to pepper 'Money In The Bank' with cowbell, and it still doesn't sound too cheesy or dated.
There's more drama at play than a Netflix original series here too, mainly thanks to singer / guitarist Alex Veale's camp vocal flamboyance, with its glass-shattering falsetto flourishes and his clear delight at rolling around borderline daft lines such as 'His disposition, more ammunition / What came first, the eggs or the chickens?' on the title track.
It's no The Darkness style pantomime, though. They're taking a serious look at the utterly astonishing Trump / Brexit / world-falling-apart era we currently find ourselves in. It's just a case of keeping the party going as a reaction against the mess swamping up around us, dancing in the face of adversity and tweaking the nose of the powers that be.
'All That Medicine' and 'Taking The Hit' are especially catchy, listen once and these will attach themselves to your iPod like a bulldog. Proper feel-good rock that will have your foot tapping and the chorus lyrics burned into your hippocampus for decades to come. This stuff forces a smile and a bounce in your step.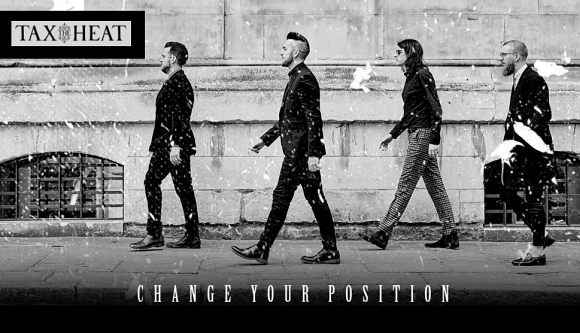 Then the band do bring things to a close with a dose of glorious windswept gravitas on the soaring 'The Symphony Has Begun', which, like all good cliffhangers, leaves you desperate to know what's going to come in the next chapter.
"Change Your Position" is again produced by Evansson (Steve Evans), with whom band have a strong relationship and it shows through on this record. Very crisp production and full of energy. Recording all parts at the same time in the same room, rather than individually really suit their energetic rock and roll vibe.
With a nod of deference to the past grandmasters and a thoroughly modern outlook, Tax The Heat are perfectly placed to reintroduce unadulterated classic rock for the next generation.
Highly Recommended
01 – Money in the Bank
02 – Change Your Position
03 – Playing With Fire
04 – All That Medicine
05 – On the Run
06 – The Last Time
07 – Taking The Hit
08 – My Headspace
09 – We Are Consumers
10 – Cut Your Chains
11 – Wearing a Disguise
12 – The Symphony Has Begun
Alex Veale – Vocals / Guitars
Jack Taylor – Drums / Backing Vocals
Antonio Angotti – Bass / Backing Vocals
JP Jacyshyn – Guitars / Backing Vocals
Pre Order:
www.amazon.co.uk/Change-Your-Position-Tax-Heat/dp/B077JHPHVB
.