RIOT – Fire Down Under [Rock Candy remaster +6] (2018)
Now we have here the just released 'Remastered & Reloaded' Rock Candy Records version of Americans RIOT third album "Fire Down Under", including 6 meaty bonus tracks.
The album is considered a big influence by many American bands to become famous during the '80s, a blend of classic British metal / hard rock yet with a characteristic US touch.
The saying goes that you can't keep a good band down. For New York based five piece Riot that maxim was not only true but hugely understated. Against all odds Riot fought for the right to be heard by overcoming huge obstacles and battling a ferociously indifferent industry.
That they came through the wars intact with a musical legacy and integrity to match is arguably a minor miracle and one not lost on their legions of loyal fans.
Riot's early struggles have been fully documented. Their two previous albums (especially the previous killer 'Narita'), made for a riveting preamble for the appearance of this "Fire Down Under". Despite notching up serious momentum, including healthy album sales, the band's fortunes were in the dumps.
Their label (Capitol) had elected to abandon them by refusing to release the album. In an enterprising move the bands fan following instigated a campaign to get the record issued… which, in an early sign of people power, was eventually accomplished but on a new label, Elektra Records.
"Fire Down Under" turned out to be the band creative zenith unleashing a brace of tracks that placed Riot in the upper echelons hard rock nirvana. Produced, once again, by their production/management team in New York City, the record explodes with deadly intent.
Tracks such as 'Outlaw', 'Swords And Tequila', 'Run For Your Life' and the title track take no prisoners allowing vocalist Guy Speranza and guitarist Mark Reale to shine like diamonds.
"Fire Down Under" was fully embraced by British metalheads. But rather than sounding much like Judas Priest or Black Sabbath, the name of the game here is bluesy hard rock from bands like Led Zeppelin, Thin Lizzy and Rainbow (bands from the UK, true, but with roots lying squarely in American blues rock).
Unlike Riot's first two albums, for this third LP the band started playing a whole lot louder and making full use of the twin-guitar attack that Thin Lizzy made famous.
I do not exaggerate when I put vocalist Guy Speranza at his best here, on the same level as true greats like Halford or Dio; the man has the full frontman package, evincing incredible skill and talent while simultaneously dripping with charisma. Speranza reminds me of Glenn Hughes in a lot of ways, with a similar sort of high clear tenor, but with a soulful edge that comes and goes at will.
And underrated guitarist Mark Reale (RIP) really shines here, finding room to drop some scorching solos and a kick ass rhythm tamdem alongside second axeman Rick Ventura.
Riot surprises here as well with tracks such as 'Altar of the King'. This is Riot's take on Rainbow's epic style, approaching the transcendence of something like 'Stargazer' in only about half the time but with a much more positive color. Speranza sings his heart out, with lyrics encapsulating the song's theme of striving toward greatness and accomplishment through ambiguous epic pronouncements that would make Dio proud. Easily one of my favorite hard rock / melodic metal tracks of all time.
This Rock Candy features 6 great bonus tracks, recorded for the original Capitol Records version of "Fire Down Under" which the band seems were unhappy with. Well, I can't hear why, because numbers like 'You're All I Needed Tonight' (think FastWay) or 'Struck By Lightning' simply rocks.
We find also an officially previously unreleased version of 'Outlaw (Remix / Edited)', and a hot live take of Riot's classic 'Rock City (Live)'.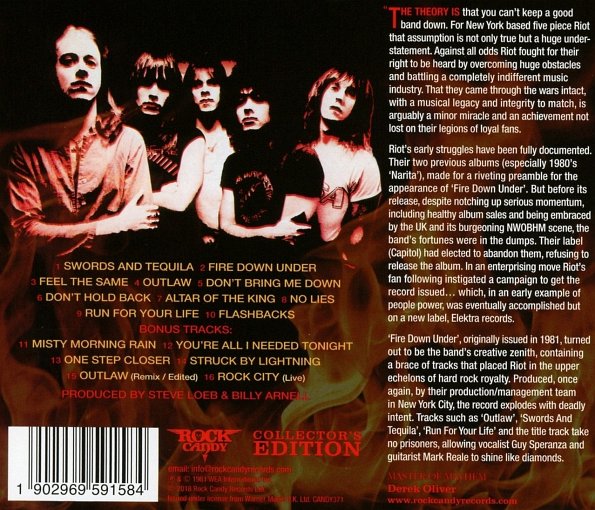 "Fire Down Under" boasts one of those timeless blends of classic hard rock / melodic metal which will sound just as good in the year 2018 as 1981: pure vibrant energy, direct guitar tone, groove bass lines, shuffling drums, and vocals doused in just enough reverb to capitalize on Speranza's power.
It's a great rocking disc, a cult classic that any collector will proudly claim.
The album was re-issued on CD in 1997 by the German-based High Vaultage label with some of these bonus tracks, but utilizing a new, controversial remix by former Riot producer Steve Loeb.This Rock Candy reissue features the original release mix / Elektra Records. And the remastering job is great with the necessary air for these rocking tunes to breath.
HIGHLY Recommended
You've seen it first here, at 0dayrox
01 – Swords And Tequila
02 – Fire Down Under
03 – Feel The Same
04 – Outlaw
05 – Don't Bring Me Down
06 – Don't Hold Back
07 – Altar Of The King
08 – No Lies
09 – Run For Your Life
10 – Flashbacks
BONUS TRACKS:
11 – Misty Morning Rain
12 – You're All I Needed Tonight
13 – One Step Closer
14 – Struck By Lightning
15 – Outlaw (Remix / Edited)
16 – Rock City (Live)
Guy Speranza – vocals
Mark Reale – guitar
Rick Ventura – guitar
Kip Leming – bass
Sandy Slavin – drums
.