AIRRACE – Back To The Start [retail CD]
After listening to the new album form British AOR / melodic rockers AIRRACE, one of you asked for their comeback disc after many years titled "Back To The Start", which follows their now classic debut 'Shaft Of Light" (1984). This probably makes one of the longest hiatus between albums ever.
'Shaft Of Light', produced by Beau Hill (Ratt, Winger, Fiona) received rave reviews back in a day, showing a combination of breezy melodies and snappy choruses which moved journalist Derek Oliver to pronounce in the pages of Kerrang! magazine that anyone who didn't like Airrace "ought to be shot".
Although the band got to play support slots with Queen, AC/DC and Meat Loaf, Airrace crash-landed in the summer of 1985.
It took a 25th anniversary re-issue of the album to reunite the band in 2009.
To celebrate the record's expanded re-release, Mansworth, Murrell, Sadler and Bonham recruited two new members – second guitarist Dean Howard (formerly of T'Pau) and bassist Dave Boyce (ex-Samson, among others).
Airrace hit the road, playing gigs with Thunder, Tesla, Winger and more, in addition to headlining their own shows. When Jason Bonham departed, the occupation of his drum stool by The Outfield's Simon Dawson brought them vital stability.
It was the overwhelmingly positive reaction to an appearance at annual melodic rock all-dayer 'The Firefest' that convinced Airrace to write new songs and the result is "Back To The Start".
Produced by guitarist and founder member Laurie Mansworth, it's a notch heavier than 'Shaft Of Light' yet continues to offer all of the group's trademarks; classical melodic rock with high pitched vocals, strong guitar / keyboard melodies and catchy choruses.
"Keep On Going" is a great opening track with prominent keyboards, very very Eighties. Extremely catchy chorus and melodic guitars rule this track. Keith Murrell's vocals are in top form, by no mistake Classic Rock magazine has listed him as number twenty on their recent top-40 list of AOR-vocalists.
The harmony vocals of "Two Of A Kind" remind the first album, although the guitar riff is more heavy and compact. Hard as well are the dual-guitar attack of "When Baby", a track with a more contemporary sound.
"Call Me Anytime" is one of the better crafted songs of the album. It features an imaginative backbone based on keyboards and the overall song is big sounding, almost epic.
"So Long" is a marching song with an interesting atmosphere, with really good, harmonic backing vocals. Title track "Back To The Start" has a classic structure with a pounding rhythm section.
The band goes more straight and simple on the melodic rockers "Just One Kiss" and "One Step Ahead", and they turn quite hard rock on the furious "Wrong Way Out" and the cool "Enough Of Your Lovin`" .
Last track "What More Do You Want From Me?" returns to the classic AOR pattern. A wonderful retro song both in style and sound. Big keyboards and a great vocal job from Murrell.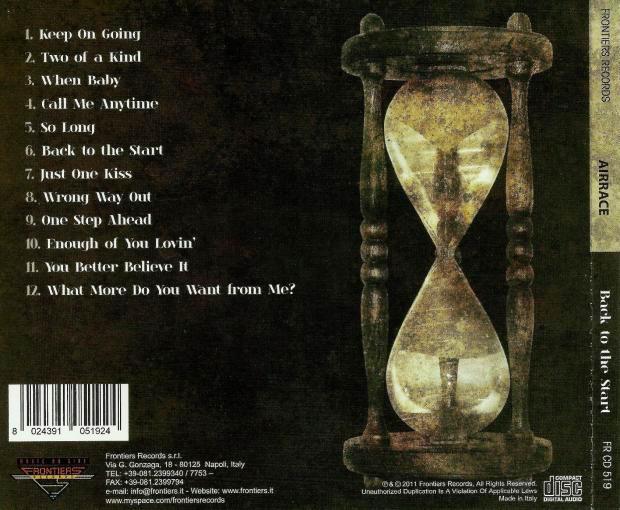 "Back To The Start" well worth the wait. Airrace returned in great form, with good songs and a well produced album. Leader Laurie Mansworth said "We had a great time making this record, and we are very happy with the results. I feel 'Back To The Start' captures the real Airrace sound and is closer to how we sound live than the first album".
Yes, they sound a bit harder, but absolutely classic. The hypermelodic guitars, keyboard fills and hooky catchy choruses are still here. And most importantly, this album celebrates the return of one of best vocalist in the genre. Keith Murrell is intact, his wonderful pipes carry the songs to an extra little step that melodic rock music needs to become memorable.
"Back To The Start" is a really good CD, melodious, fluid and entertaining.
Highly Recommended
01 – Keep On Going
02 – Two Of A Kind
03 – When Baby
04 – Call Me Anytime
05 – So Long
06 – Back To The Start
07 – Just One Kiss
08 – Wrong Way Out
09 – One Step Ahead
10 – Enough Of Your Lovin'
11 – Better Believe It
12 – What More Do You Want From Me?
Keith Murrell – Vocals
Laurie Mansworth – Guitars
Dean Howard – Guitars
Jim Reid – Bass
Chris Williams – Keyboards
Simon Dawson – Drums
BUY
www.amazon.de/Back-Start-Airrace/dp/B0052AJ1WQ