DANGER DANGER – Screw It! [Bad Reputation 2-CD remaster +6 Bonus Tracks] OOP
French reissue label Bad Reputation / Axe Killer has been doing a great job releasing 'Collector Series / Remastered with Bonus', with the main attraction being the addition of a bonus tracks or bonus disc, making these reissues the 'definitive expanded versions'. In a Rock Candy Records fashion, these are official remasters in arrangement with the original recording companies.
DANGER DANGER's second album "Screw It!" comes with a bonus track (B-side of the single 'I Still Think About You') and a bonus disc, the complete "Down And Dirty Live!" EP, originally released as promo.
For their second album "Screw It!", Danger Danger basically took every element from the debut and turned it up a notch. The melodies are catchier, the production is shinier, and Ted Poley's vocals are cleaner. The AOR melodies from the debut are mostly replaced with another instantly lovable factor: HOOKS.
With a definite 'what the Heck' attitude, "Screw It!" rocks from start to finish, there's not a single weak song on this album.
"Monkey Business", "Don't Blame It On Love", "Everybody Wants Some" are just few examples of first class Melodic Hard Rock made in USA.
This album is up there with gems for the genre like Hardline's Double Eclipse, Warrant's Cherry Pie, Damn Yankess, etc.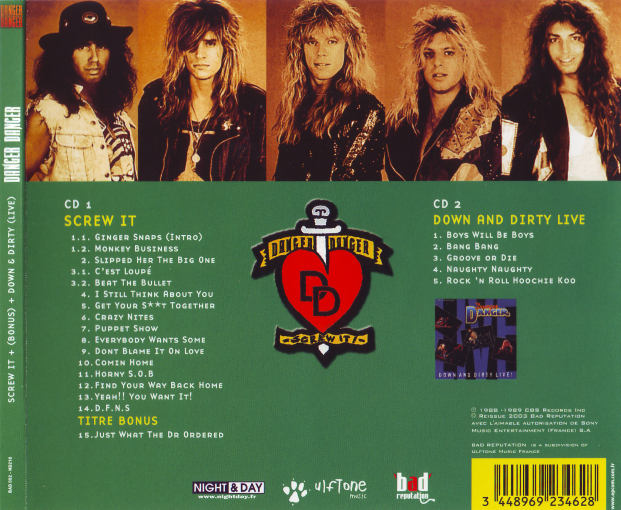 Regarding this Bad Reputation remaster, it's very good, clear. We have already featured here at 0dayrox the  Japanese Edition on Blu-specCD2 as well.
If I have to choose one, Blu-specCD2 wins. But this Bad Reputation treatment is great as well, and you have the bonus CD, the hard to find "Down And Dirty Live!", really well recorded & produced.
In one way or another, DANGER DANGER's "Screw It!" is a MUST HAVE
You've seen it first here, at 0dayrox
CD 1:
01 – Ginger Snaps (Intro)
02 – Monkey Business
03 – Slipped Her The Big One
04 – C'est Loupé
05 – Beat The Bullet
06 – I Still Think About You
07 – Get Your S**T Together
08 – Crazy Nites
09 – Puppet Show
10 – Everybody Wants Some
11 – Don't Blame It On Love
12 – Comin Home
13 – Horny S.O.B
14 – Find Your Way Back Home
15 – Yeah!! You Want It!
16 – D.F.N.S
Bonus Track:
17 – Just What The Dr. Ordered (B-side)
CD 2:
01 – Boys Will Be Boys (Live)
02 – Bang Bang (Live)
03 – Groove Or Die (Instrumental)
04 – Naughty Naughty (Live)
05 – Rock 'N' Roll Hoochie Koo (Live)
Ted Poley – lead and backing vocals
Andy Timmons – guitars, backing vocals
Bruno Ravel – 4 / 12 string bass, cello, backing vocals
Steve West – drums
Kasey Smith – keyboards
Out Of Print
www.amazon.fr/Screw-Bonus-Disc-Danger-2003-02-03/dp/B01KBHO4M