ALDO NOVA – Aldo Nova [Rock Candy remaster]
The self-titled debut by Montreal-born ALDO NOVA was a blueprint for the radio friendly AOR / Melodic Rock style that would become tremendously popular throughout the '80s defining the style & sound for the genre, but also for the hair metal movement to take the world by storm in years to come.
This 'Remastered & Reloaded' version released by Rock Candy Records sounds slightly different than the only other remaster available (Japan, 2004). I prefer this one, more punchy and better in its dynamic range.
By 1980 Nova landed the part of George Harrison in the stage musical Beatlemania. During his three year stint in this production he honed his skills as a recording studio engineer outside Montreal. Two years after Aldo secured a publishing deal and then a recording contract with Portrait Records through CBS Records.
Self-produced and with Nova playing almost every instrument, "Aldo Nova" contained some material from his earlier demo sessions and it instantly became a best seller, going on to eventually attain a double platinum certificate.
The disc garnered two hit singles – "Fantasy" and "Foolin' Yourself" which pushed album sales over a million copies worldwide, ranked among Billboard's Top-10 just 10 weeks after its release (and remaining there for 12 weeks more), and achieving both U.S. double-Platinum and Canadian double-Platinum status.
Moreover, it set a trend of its own as the first multi-instrumentalist rock album, and was one of the first records to be offered in a limited edition on compact disc.
The video for "Fantasy" was not only among the first videos to be featured on the MTV music channel, but also one of the first rock videos that pioneered the use of special effects.
Crammed with ten infectious tracks rich in melody, catchy choruses, smooth guitar riffs and sparkling keyboards, "Aldo Nova" it is a work of major importance for melodic rock as a genre and one that is still revered to this very day.
With such moving and hugely melodic tracks as the aforementioned superb "Fantasy" and its unforgettable start with helicopter sounds and searing guitar riffs, the catchy "Foolin' Yourself", the uptempo rockers "Hot Love" and "Heart To Heart", or the super melodic power ballads "Ball & Chain" and "You're My Love", it's no wonder that Aldo's brand of immaculate AOR attracted instant success.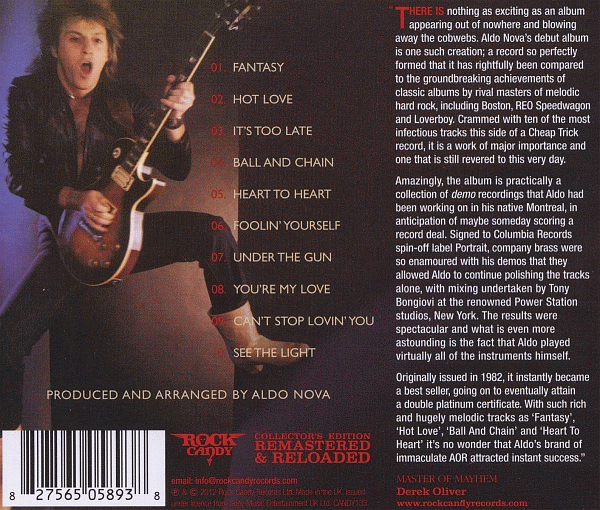 There is nothing as exciting as an album appearing out of nowhere and blowing away the cobwebs. Aldo Nova's debut album is one such creation; a record that defined a sound & style to come that it has rightfully been compared to the groundbreaking achievements of classic albums by rival masters of melodic hard rock, including Boston, REO Speedwagon and Loverboy.
To name one, this recording had a strong influence on Bon Jovi (whose cousin Tony Bongiovi engineered the album) and he practically copies "Aldo Nova" format on his first two releases. Guess what; Mr. Nova plays some guitar on Bon Jovi's hit 'Runaway' and many other tracks (uncredited).
In short, "Aldo Nova" is essential into any self-respecting Melodic Rock / AOR collection.
01 – Fantasy
02 – Hot Love
03 – It's Too Late
04 – Ball And Chain
05 – Heart To Heart
06 – Foolin' Yourself
07 – Under The Gun
08 – You're My Love
09 – Can't Stop Lovin' You
10 – See The Light
0dayrox EXTRA:
11 – Foolin' Yourself (Previously Un-issued Alternate Version)
Aldo Nova: Vocals, Guitars, Keyboards, Bass, Drums
Michel Pelo: add. Bass
Michael Lachapelle: add. Drums
BUY IT !
www.grooves-inc.com/nova-aldo-aldo-nova-lim-collectors-edition-rock-candy-cd-album-pZZa1-1897494385.html