ARION – Life Is Not Beautiful [Japan Edition + Digipak bonus tracks] (2018)
The young Finnish melodic metal / power sensation ARION are back with a new album titled "Life Is Not Beautiful", released today in Japan including an exclusive bonus track, while European Digipak will feature 3 extra songs.
Arion has perfected their 'commercial power metal' here, with even more catchy choruses, some expansive arrangements and an overall huge production sound.
"Life Is Not Beautiful" is Arion's first album with AFM Records. Anyone familiar with this recording label generally knows what they're going to get with one of their releases. While sticking to a genre you know and producing bands of a pretty consistent quality is no bad thing, it can be very easy for bands in the melodic/power metal field to sound all-to-similar to their compatriots, such are the typical features that fans of the genre expect.
Logically then, it is difficult for bands to rise above this sea of big choruses and luxurious hair and catch the attention of the discerning listener.
Arion have previously garnered attention with their second album, 2014s 'Last Of Us' (featured at 0dayrox), but then singer Viljami Holopainen left the band.
His replacement, Lassi Vääränen, has already proven highly capable on 2016s recording of lead single, 'At The Break Of Dawn (featuring Elize Ryd of Amaranthe)', resulting in nearly 3 million streams to this day and enhanced the young Finns' fanbase significantly.
But there is still a sense that Arion again have something to prove with this, their third album, "Life Is Not Beautiful".
If you have listened to Arion's previous album then you might be surprised at the harder, punchier sound that is heard through "Life Is Not Beautiful". The same melodic sympho / poppy power metal sound is there along with all the trimmings, but the guitar sound is rawer, the drumming is more intense and Vääränen's vocals have a gravelly edge and power that his predecessor was lacking.
But don't be fooled; each track here is cleverly crafted to be a potential hit at Rock radio.
For those who like a clean and pure vocal delivery there is the arena-worthy chorus of 'Through Your Falling Tears' and the gentle meandering of 'Last One Falls'. But it is the battle cry of 'Unforgiveable' and the damning bluntness of title track 'Life Is Not Beautiful' where Vääränen really shines, channeling a power and energy that is apparent even through all the vocal layering and other studio wizardry that has been done to give it that 'big' sound.
Despite the vocal talent on display all instruments have presence, especially the keyboards / synths which carry the 'easy listening' nature of the songs.
Musically speaking, introductory instrumental 'The End of the Fall' sets the tone nicely with an orchestral crescendo that could easily introduce a great cinematic epic movie and will send fantasy and superhero fans into fits of delight.
All of the following tracks continue this musical imagery. The song titles / lyrics are not stereotypical of the genre, and it's a plus. Rather than being about battles and dragons, mountains and long-lost love, some of the lyrics address more current themes and give you something to think about long after the pummelling riffs and melodies have initially grabbed your attention.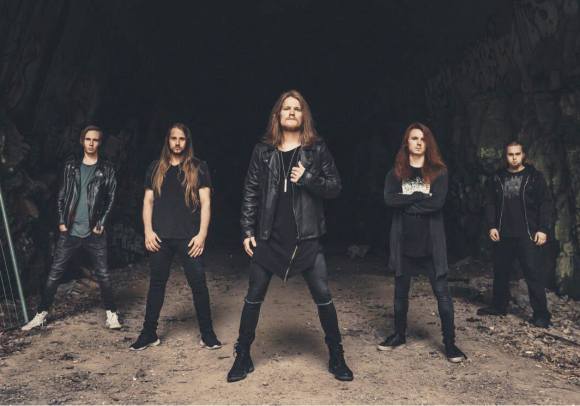 Of course, there is also a ballad: 'Through Your Fallen Tears', a tale of love doomed to end as the protagonist approaches their 'twilight years'. The chorus is huge, with the vocal melodies flowing over layers of acoustic guitars, strings and brass. But just when you think the song is over, a final chorus starts in a higher key.
Arion's "Life Is Not Beautiful" is another step forward for this young band. The style, song structures and melodies are hardly revolutionary, but when this kind of modern easy listening metal is done well, damn does it sound good.
The riffs and drums combine to create an earth-shaking backdrop over which the various orchestrations and Vääränen's vocals can soar.
The Japanese edition includes as bonus track a different of their hit 'At The Break Of Dawn (Psylla Remix)', while the European limited Digipak features 3 tracks of previous album Last Of Us, re-recorded 2018 with Väräänen vocals.
Highly Recommended
01 – The End Of The Fall
02 – No One Stands In My Way
03 – At The Break Of Dawn (feat. Elize Ryd)
04 – The Last Sacrifice
05 – Through Your Falling Tears
06 – Unforgivable
07 – Punish You
08 – Life Is Not Beautiful
09 – Last One Falls
BONUS TRACK FOR JAPAN:
10 – At The Break Of Dawn (Psylla Remix)
EUROPEAN DIGIPAK BONUS:
10 – Last Of Us (2018 Version)
11 – Seven (2018 Version)
12 – I Am The Storm (2018 Version)
Lassi Väräänen – Lead Vocals
Iivo Kaipainen – Guitars, Backing Vocals
Arttu Vauhkonen, Keyboards, Backing Vocals
Gege Velinov – Bass, Backing Vocals
Topias Kupiainen – Drums
BUY IT !
www.cdjapan.co.jp/product/MICP-11424
.