BE THE WOLF – Empress [Japan Edition +1] (2018)
Fronted by mastermind Federico Mondelli, BE THE WOLF are releasing today in Japan their third album titled "Empress", to appear in Europe at the end of the week. Big in Japan but not well known in the rest of the world, we already featured at the blog Be The Wolf's previous album with a positive review.
"Empress" is even better, musically more varied, drawing inspiration from '80s Melodic Hard Rock, some metal and AOR, all wrapped by an updated production.
Be The Wolf is Mondelli's beast; he does all the songwriting, vocals, guitar, co-produce and as graphic artist, design the band's artwork. He is also a member of power metal band Frozen Crown, but here with Be The Wolf the genres are the aforementioned above.
Only thing that I don't get, is the way the band is being marketed.
In the press sheet Be The Wolf claims 'influenced by bands like Scorpions, Skid Row and Kiss, being "Empress" a fast paced metal album, with many 'high speed tracks'… (?)
Be The Wolf is definitely not metal or just fast. The music here basically has a traditional melodic hard rock foundation, with some heavier moments, but also AORish atmospheres and even poppy melodies.
So don't be fooled as well by the cover artwork, nice, but it could be taken as a metal product, and "Empress" is not.
The first three songs "Burn Me Out", "Action", and "Stallone" feature strong choruses and hook-laden melodies in the late '80s best melodic hard rock tradition.
"Burn Me Out" indeed has trepidation in its rhythm, but more in common with Y&T or Thunder than anything heavier, while "Stallone" (love the title) could have been part of any action movie from the early Nineties.
The track between them, "Action" is a genre-bending surprise starting with a mighty riff but unexpectedly morphing into a some kind of a new wave track straight out of the '80s. It's really interesting, and catchy.
"Thousand Years" is a modern hard rocker with a really infectious bridge / chorus, followed by 'You're My Demon Tonight' which bring to my mind early 2000's Scandinavian bands like Damned Nation.
"All Days I Missed" is curious as well; at the verses is quite modern rock, then the chorus is AORish '80s. Also convincing is the catchy "Move It" with its retro poppy feeling.
"Here And Now" is one of the more rocking songs on the CD akin Hartmann's first solo album, while semi-ballald "Jungle Julia II" includes a lite progressive touch, and again, is inspired by the '80s starting with vinyl LP scratch sounds.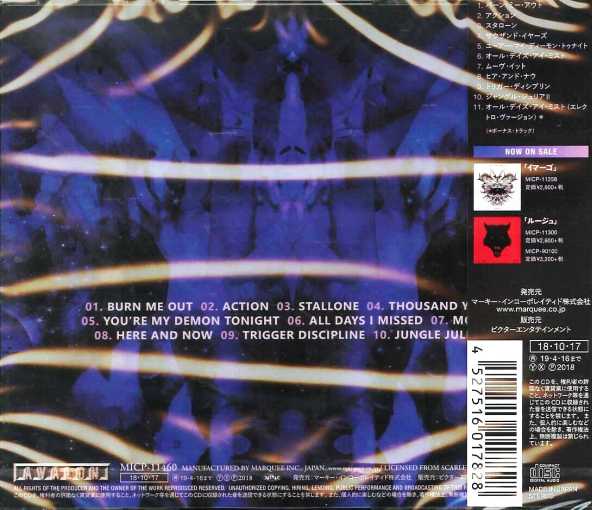 Another surprise arrives with the Japanese edition bonus track; 'All Days I Missed (Electro Version)' is really different from the original, remixed and with added sequencers resulting into an almost 'Synthwave' version.
As you see, "Empress" is a mix of different melodic styles, at places quite original. Mondelli tries to deliver an entertaining product, varied, and succeeded for the most part.
Highly Recommended
01. Burn Me Out
02. Action
03. Stallone
04. Thousand Years
05. You're My Demon Tonight
06. All Days I Missed
07. Move It
08. Here And Now
09. Trigger Discipline
10. Jungle Julia II
BONUS TRACK FOR JAPAN:
11. All Days I Missed (Electro Version)
Federico Mondelli – vocals, guitars, synths
Marco Verdone – bass
Paul Canetti – drums
BUY IT !
www.cdjapan.co.jp/product/MICP-11460
.