LITA FORD – Stiletto [BGO Records digitally remastered] (2017)
As requested, more LITA FORD remastered albums from the '80s / 90s, and now it's time for the really good "Stiletto". After the success of her previous album 'Lita', Ford's career got somewhat of a boost, both creatively and commercially. On "Stiletto", again the input of hit producer / songwriter Mike Chapman is an asset.
Chapman, known for his work with everyone from Sweet to Scandal, liked his rock commercial, slick and hook-laden — adjectives that definitely describe "Stiletto".
"Stiletto" is one of Lita Ford's better CDs, and the second in a trilogy she recorded during the Eighties / early Nineties (the others being 'Lita' and 'Dangerous Curves'). Lita has always considered herself primarily a guitarist, and she doesn't disappoint: her guitar lines always showcased an impressive talent.
While this album is not that guitar-driven – it's a 1990 release, with polish and accessibility all over – it reveals Lita as a very good rock&pop vocalist as well.
"Stiletto" is a focused and enjoyable disc of glossy-produced songs ranging from sweaty rockers like "Cherry Red," "Bad Boy" and one of my favorite Lita Ford track ever – "The Ripper" – to the eerie ballad "Lisa" (a heartfelt tribute to her Mom) to a cover of Alice Cooper's "Only Women Bleed" , very well done.
Title track "Stiletto" is another winner for me: midtempo AORish with atmosphere, sexy vocals and that 'so 80s' chorus. "Aces & Eights" is another strong number, some kind of a mix between Lita's hard rockin' first solo album with the late '80s melodic hard rock including 'mysterious' synths.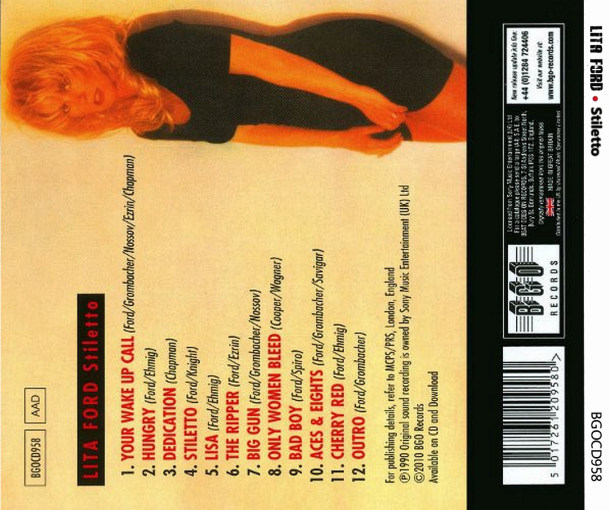 This remastering from BGO edition is nice, resulting in clean, crisp sound quite similar to a LP and fixing the pretty flat output of the original CD release.
A true '1990 production' melodic hard rock album, Ford's "Stiletto" deserve a place in your collection.
Highly Recommended
01 – Your Wake Up Call
02 – Hungry
03 – Dedication
04 – Stiletto
05 – Lisa
06 – The Ripper
07 – Big Gun
08 – Only Women Bleed
09 – Bad Boys
10 – Aces & Eights
11 – Cherry Red
12 – Outro
Lita Ford – guitar, vocals
David Ezrin – keyboards, synths
Don Nossov – bass
Myron Grombacher – drums, percussion
additional musicians:
Pablo Calagero, Richie Cannata, Barry Danelian – horns
Mike Chapman, Tim Lawless, Ozzie Melendez – backing vocals
Ralph Schuckett – strings arrangements
BUY IT
www.amazon.com/Stiletto-Lita-Ford/dp/B00410LHCU