BLOOD OF THE SUN – Blood's Thicker Than Love (2018)
Texas rockers BLOOD OF THE SUN are back with a new album and a classic groove. "Blood's Thicker Than Love" is the name of the LP, and it's the first from the outfit featuring new vocalist Sean Vargas.
I can see why Blood Of The Sun, this month, the band leaves their Lone Star home and head abroad to Europe to make stops at Rockpalast as well as Desertfest Belgium and Into the Void: they sound much more European than an American band.
And they're darn good.
Drawing influences from Deep Purple, Led Zeppelin, Uriah Heep, Thin Lizzy, and yes, some US classic as well such as Mountain or Ted Nugent, Blood Of The Sun have been delivering super catchy hard rock over the course of their 4 albums, churning out upbeat '70s radio rock hits with so much ease and conviction.
Founded by Henry Vasquez (drums, ex Saint Vitus) who is returning here after some years out of the band, and Dave Gryder (keys), the pair has previously joined forces with a number of players – including Derek St. Holmes from Ted Nugent's band.
The band is now back stronger than ever with Sean Vargas (vocals) who came in shortly after their previous album and it was a natural fit thanks to his high register wail and just enough grit. Wyatt Burton and Alex Johnson (both guitars) came into the picture around the beginning of 2018, and have added some new but apt elements to the band's sound.
"Blood's Thicker Than Love" is nothing more and nothing less than a classic (hard) rock little gem taken influences from all the above mentioned acts, and more.
You have to mention Purple first really. The opener "Keep The Lemmy's Coming" is like a mash up of Kilminster's boys and Jon Lord. The Hammond B3 organ of Dave Gryder propels this like some filthy 'Highway Star' while the guitars slash and Vargas sounds like he was born only for the purpose of singing in a denim clad rock band.
"My Time" starts with a cowbell and a guitar solo and, really, anyone who has rock 'n roll in their veins knows that's all you need, right?
The pick of them, though, is the incredible, the wonderful, the enormous "Living For The Night". Imagine the best rock 'n roll party that you can think of, then double it. Never has a song sounded this urgent and turbo-charged for eight minutes. Boring prog this is not.
"Air Rises As You Drown" actually has the temerity to start with a drum roll, as if its just waiting to explode. When it does it sounds like Night Flight Orchestra have turned it all up to 11 and fancied a freak out, "Stained Glass Window" is blues, but it sounds like the Devil did a deal with them at the crossroads never mind the other way around. Mountain? Behave, this is Everest.
And just to prove this isn't a fluke, then along comes "Blood Of The Road" with some Faces-like piano, and what sounds like it might be the best jam anyone's ever had. How good? Well, Tony Reed once of Stone Axe masters this, and this type of retro thing ain't sounded as good since their two genius albums a few years back.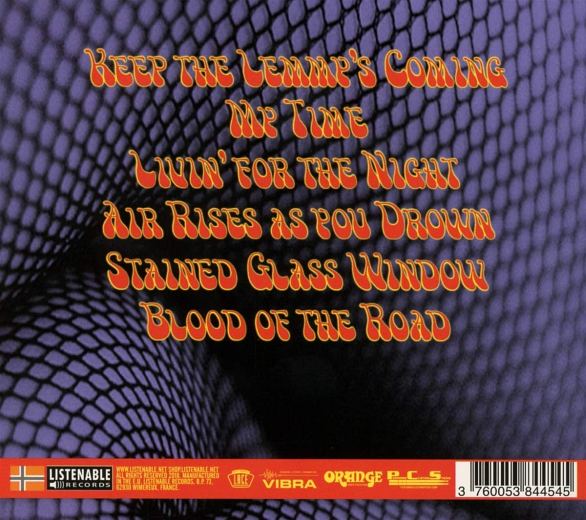 In case you hadn't guessed, "Blood's Thicker Than Love" is phenomenal in just about every sense.
Whether it's the new singer, or that founding drummer Henry Vasquez is back, or the stars just aligned, who knows? The fact is that whatever alchemy is at work here makes something perfect.
Seriously, Blood Of The Sun is an amazing band, the kind you imagine sharing stages with Purple, Zepp or Lizzy at their peak.
Highly Recommended
01 – Keep The Lemmys Comin'
02 – My Time
03 – Livin' For The Night
04 – Air Rises As You Drown
05 – Stained Glass Window
06 – Blood Of The Road
BONUS TRACK;
07 – Good And Evil (remix)
Sean Vargas – Vocals
Dave Gryder – Keyboards, Hammond B3
Wyatt Burton – Guitar
Alex Johnson – Guitar, Vocals
Roger "Kip" Yma – Bass
Henry Vasquez – Drums, Vocals
BUY IT !
www.shop-listenable.net/fr/225_blood-of-the-sun
.