IMPELLITTERI – The Nature Of The Beast [Japan Edition] (2018)
Frontiers Music will release IMPELLITTERI's brand new studio album, "The Nature Of The Beast", on October 12. Today, the album is being released in Asia, with different artwork.
Formed by lead guitarist Chris Impellitteri and always with stupendous vocalist Rob Rock at the mic, Impellitteri remains as a stalwart of classic US metal, strongly '80s influenced yet updated to modern times.
Impellitteri continues to carry the torch for guitar-driven metal that's second to none. On this new CD, as usual, Chris Impellitteri's guitar playing is majestic and Rob Rock's vocal performance is sensational and proves he is one of the most versatile vocalists in metal history, with a style ranging from Ronnie James Dio to Rob Halford at their prime. All is supported by the rhythm section featuring the monstrous bass playing from James Pulli and the band's mind-boggling drumming / percussion of Jon Dette, creating a groovy foundation.
"The Nature of the Beast" rocks from song 1 'Hypocrisy', classic Impellitteri tune with blazing, multi-layered guitar tracks, Rock's strong lead vocals, an epic chorus and a crazy solo. All is perfectly clear, defined instrumentation, separated and clean.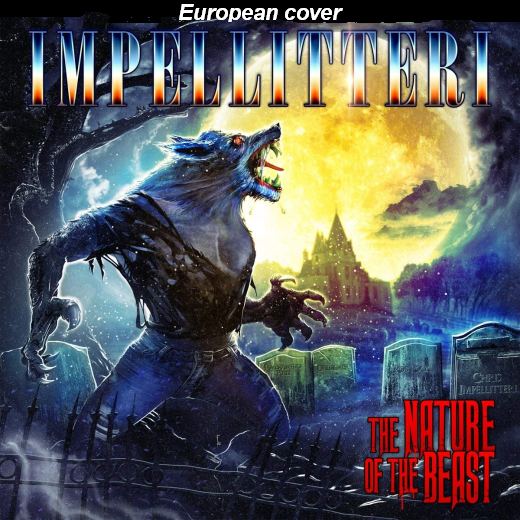 Follower 'Masquerade' is much more melodic and commercial, quite hard rock, same with 'Man Of War' akin MSG, or 'Shine On'. In fact, "The Nature of the Beast" mixes, as on all Impellitteri albums, classic metal with edgy hard rock, and works very well.
There's a fun, highly energetic remake of Black Sabbath's 'Symptoms of the Universe' which sounds like mix between '90s Yngwie and Axel Rudi Pell, and a crazy speedy cover of 'Phantom of The Opera', yes, the Andrew Lloyd Webber musical main theme, and I like it.
Among the melodic metal numbers, my favs are 'Run For Your Life', and 'Fire It Up' which reminds me of Steeler first album. The guitar work on the latter is awesome.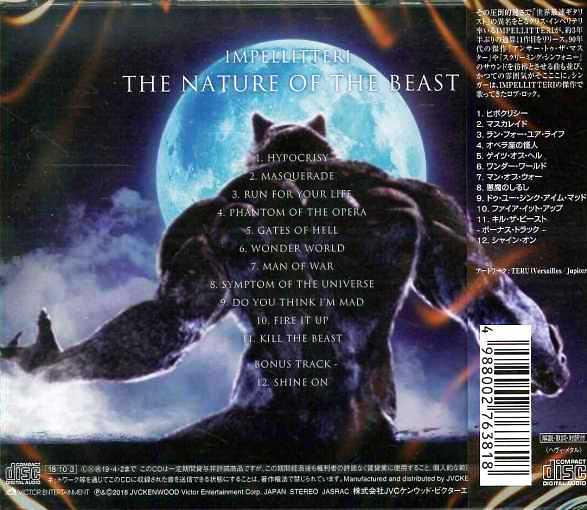 Wondering why this advanced Asian edition has a different cover artwork (I don't like none), "The Nature Of The Beast" is a terrific slice of classic '80s US metal / hard rock.
While at this point some lyrics may sound silly, for the most part this is what this genre is all about, and Impellitteri keeps faithful to it. Musically, this is not silly by any means, but fan-darn-tastic.
These guys play awesomely, and "The Nature Of The Beast" should be on of the best produced Impellitteri albums ever, co-handled by Chris and legendary engineer/producer Mike Plotnikoff (Van Halen, Aerosmith).
Highly Recommended
01. Hypocrisy
02. Masquerade
03. Run For Your Life
04. Phantom Of The Opera
05. Gates Of Hell
06. Wonder World
07. Man Of War
08. Symptom Of The Universe
09. Do You Think I'm Mad
10. Fire It Up
11. Kill The Beast
12. Shine On
Chris Impellitteri – Guitars
Rob Rock – Vocals
James Amelio Pulli – Bass
Jon Dette – Drums
BUY IT !
www.cdjapan.co.jp/product/VICP-65489
.