STEVE PERRY – Traces (2018)
Finally after countless years of wait, unique vocalist STEVE PERRY will release a new solo album tomorrow, titled "Traces". The album is very much a classic Steve Perry record, full of nostalgia, wonderful mid-tempo melodies and the occasional rocker.
Maybe Steve Perry was always this nostalgic. Maybe that sense of transportive wonder accounts for his songs' mystery, and their magic – even when they'd just been released. Maybe Perry-era Journey always sounded like something from the near horizon, something to be dreamed of and yearned for. Something unreachable.
That would certainly explain Perry's staying power, despite so long away: his songs tend to co-mingle very real memories of that time with these universal themes of longing. Everybody becomes a small-town girl or her boy. Everybody, girl and boy, inhabits that same lonely world.
This sounds terribly old fashioned now, and in a way it always was. Yet, at the same time, it all felt very new back then, like some fresh alchemy. He was part of the zeitgeist, not some ghost. They played the "Faithfully" video on MTV until everyone knew precisely which verse heralded the shaving of Perry's ridiculous mustache. Journey didn't just rule the charts or the road. They had their own video game.
So when Steve Perry returns, it's fair to wonder what might have changed, in him and in us. It's fair to wonder if his essential wistfulness remains, and if that sentimentality can transfer in a modern age defined both by fragmentation and online smart-assery.
Quite frankly, though, the worst thing would have been if "Traces" tried, almost a quarter century past his last solo album, to stake out some new ground, or to contemporize something that somehow always seemed blissfully out of time.
You want Steve Perry to be Steve Perry, if you were ever a fan. And "Traces" delivers.
Lead single "No Erasin'" could be a Journey song with its crashing piano and guitar riffs and Perry's reminiscences of hooking up with an old flame in the backseat of his car. Even more "Most Of All" which sounds like 'Trial By Fire', and I love it.
"Sun Shines Gray" is a driving rocker that goes anyway he wants it (lots of slower, quieter parts for the singing and heavier parts in between). And "Most of All" drips with emotion as Perry croons for "the ones who've lost their most of all."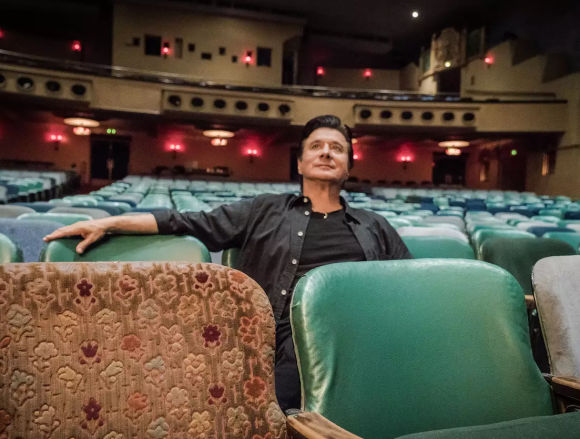 Perry's voice is still elastic, a bit huskier now. Given his age, 69 years old, it's in very good shape but it's still surprising, mostly because we haven't heard from him in decades.
Most the songs are focused on Perry's voice, and that's what we wanted for years, we wanted to feel and remember. By that definition, "Traces" lives up to its title and offers reminders of Perry's might. When he sings, "No more cryin', 'cause I wont' love again, I won't, I won't, I won't" on "No More Cryin'," he sings it in a way that makes you believe him.
Easily, "Traces" is not only the 'Comeback Album' of the year, but of the decade and beyond.
Perhaps this is the last album from this exceptional artist, one of the greatest voices in Rock&pop history. And you need it it in your collection.
A Must Have
01 – No Erasin'
02 – We're Still Here
03 – Most Of All
04 – No More Cryin'
05 – In The Rain
06 – Sun Shines Gray
07 – You Belong To Me
08 – Easy To Love
09 – I Need You
10 – We Fly
Steve Perry – lead and backing vocals
Thom Flowers, Casey Hooper – guitar
Nathan East, Pino Palladino, Devin Hoffman – bass
Vinnie Colaiuta, Steve Ferrone, Julian Rodriguez – drums
Tommy King – piano, keyboards, organ
Roger Joseph Manning, Jr. – keyboards
Jeff Babko – keyboards, synths
Dallas Kruse – keys on "No More Cryin'
David Campbell – strings on "We're Still Here"
John 5 – guitar on "Sun Shines Gray"
Josh Freese – drums on "No Erasin'" and "Sun Shines Gray"
PRE ORDER;
www.amazon.co.uk/Traces-Steve-Perry/dp/B07G1YKQ57
.