AFIRE – On The Road From Nowhere (2018)
Formed by ex Poisonblack / Sentenced members, AFIRE is a melodic hard rock band hailing from Oulu, Finland, and "On The Road From Nowhere" the title of their debut CD.
AFIRE was formed in 2016 when female vocalist Suvi Hiltunen joined forces with Oulu-based musicians guitarist Antti Leiviskä (ex-Poisonblack), guitarist Sami Kukkohovi (ex-Sentenced), bassist Harri Halonen and drummer Tarmo Kanerva (ex-Poisonblack).
It's fun, but while most members come from quite metallic bands, as happens with many musicians with a heavy metal formation – at some point they want to make the music their parents gave them: classic rock / melodic rock.
The album makes a bright start with the catchy, upbeat rocker "The One to Take the Fall", showcasing Hiltunen's strong vocals and that AFIRE is a Melodic Hard Rock band inspired in the '80s / early Nineties, but also display an edge. This is especially noticeable in the guitar sound / set up – 'razor sharp' mode, which provides the songs more muscle.
"Not Coming Home" brings to my mind the excellent Laos album (Gudrun Laos fronted), a melodic hard rock track with bite and a scorching solo in a Skid Row vein.
And the five-piece doesn't decay in quality, as 3rd track "Let Me Be the One" is a killer midtempo tune with that '80s metal atmosphere but of course, a modern sound. Call me nuts, but I hear some 1983 Scorpions on it.
At this point I should mention that sound production is great, clear and bright, punchy.
"Nowherefound" add hard rock groove to its foundation, housing some nice melodic guitar textures from Lopakka and Leiviskä, whilst the more playful melodic sensibilities of "Tired of Being Broken" gives the mournful aura a sense of tranquillity.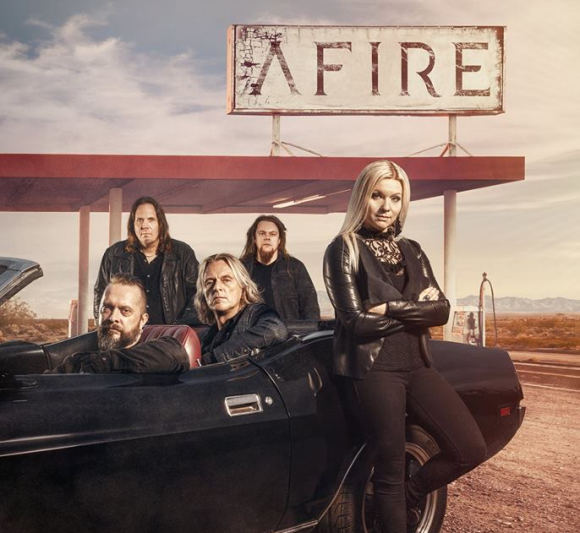 "Veiling the Tears" returns to upbeat rhtyhms, a catchy chorus and soaring vocals, there's a great instrumentation in "Rotten to the Core" (the main lick is Sentenced through and through) and a stupendous solo, then "Strangers Again" brings to my mind Warlock most melodic moments.
Closer "Forevermore" is just another effective midtempo melodic hard rocker strong in vocal melodies and guitar arrangements.
Clearly inspired by classic sounds form the genre, that's being Melodic Hard Rock yet from the harder side of the spectrum – AFIRE's "On The Road From Nowhere" is a really strong debut album from a type band rarely seen nowadays: female fronted MHR.
While at places a bit 'one dimensional' record with little variation from song to song, all numbers are solid, very well arranged and performed. Special mention goes for production / mix by Jonas Olsson (Amorphis, Poisonblack) / Hiili Hiilesmaa (HIM, Moonspell, Apocalyptica). You actually can hear the bass, a defined snare / cymbals, the guitars bite and lead vocals come clear.
Highly Recommended
01 – The One to Take the Fall
02 – Not Coming Home
03 – Let Me Be the One
04 – Nowherefound
05 – Tired of Being Broken
06 – Veiling the Tears
07 – Shining Through
08 – Rotten to the Core
09 – Strangers Again
10 – Forevermore
Suvi Hiltunen – vocals
Antti Leiviskä – guitar
Sami Kukkohovi – guitar
Harri Halonen – bass
Tarmo Kanerva – drums
BUY IT !
metalmailorder.com/en/afire-on-the-road-from-nowhere.html
.