PALACE – Binary Music [Japan Edition +1] (2018)
Swedes PALACE will release his second album "Binary Music" via Frontiers Music on December 7, just appeared in Japan with a bonus track. Despite PALACE is actually a five-piece band which play gigs, Michael decided to record the band's second album himself playing most instruments, except the drums handled by expert Daniel Flores who also co-produce with Michael.
Swede Michael Palace participated in many bands / projects such as Erika, Find Me, Jim Jidhed, Big Time and Code Red to name a few. Then Michael began working with Frontiers as a songwriter and guitar player for First Signal (featuring Harry Hess of Harem Scarem fame), Cry of Dawn (with Goran Edman), Kryptonite (featuring Jakob Samuel), and Toby Hitchcock.
The successful collaborations led to a worldwide record deal with Frontiers for his own musical output.
I really enjoyed Palace's fist album, however "Binary Music" is much, much better in all aspects. A darn good AOR album in fact.
The first good thing is that Michael Palace doesn't does the same here as on the other Frontiers projects he play in. The sound and style in "Binary Music" is his own.
And that sound and style is inspired by '80s AOR. And I love it.
I mean, Palace sound and feels true '80s here via an arsenal of synths – yes, there's guitar all over the album, but not the main instrument.
It's fun, but seems some kind of deja-vu; the album from MacALPINE we featured here few days ago is a strong point of reference for "Binary Music".
Also, think STRANGEWAYS first two albums – just listen to 'Promised Land'… wow folks, this is primo AOR of the highest order!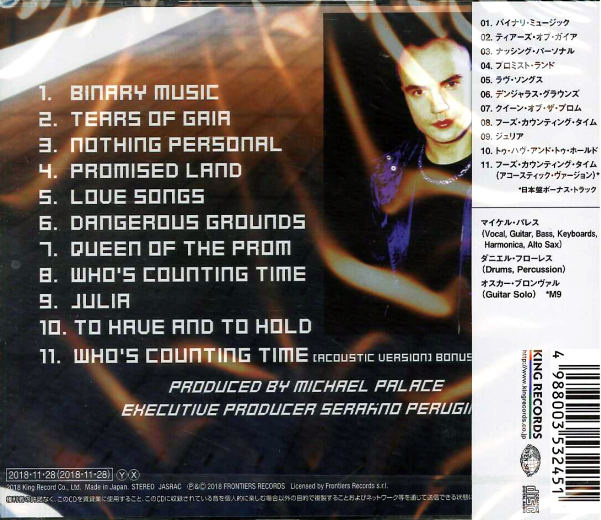 I will stop here with the review; discover by yourself the magic of "Binary Music".
Michael Palace has surprised me; instead of delivering a cookie-cutter album with a safe but generic melodic rock sound, he has delivered a superb '80s-like produced album plenty of poppy AOR songs served with that big, 'aesthetic' boom I love so much.
Eighties suckers read this: MANDATORY LISTEN
01. Binary Music
02. Tears Of Gaia
03. Nothing Personal
04. Promised Land
05. Love Songs
06. Dangerous Grounds
07. Queen Of The Prom
08. Who's Counting Time
09. Julia
10. To Have And To Hold
JAPAN BONUS TRACK:
11. Who's Counting Time (Acoustic Version)
Michael Palace – vocals, guitars, bass, keyboards, harmonica, alto saxophone
Daniel Flores – drums, percussion
Oscar Bromvall – guitar solo on "Julia"
BUY IT !
www.cdjapan.co.jp/product/KICP-1958
.